By Judy Enright, Special to BostonIrish
December 1, 2021
Lough Inagh Lodge Hotel in Recess, Connemara, is the ideal place to stay when visiting that beautiful part of the country. (Judy Enright photo)
Ireland, that magical land of myth and legend, celebrates Christmas like the rest of the Christian world, but saves the day after for a particularly Irish tradition.
December 26 is St. Stephen's Day and, in some places - especially Co. Kerry - it's known as "the Wren." Wren boys (or girls) dress in old clothes, paint their faces, and wear straw hats. They go from house to house singing, dancing, playing music, and often collecting for charity. This is a long-standing Irish tradition and, in lovely Dingle, Co. Kerry, for instance, there is a parade through the town every year to honor the Wren.
The history of "the Wren," which predates Christmas, is from Irish mythology. Birds were believed to link this world to the next. The wren is blamed for betraying Irish soldiers who were fighting Norsemen by flapping its wings against their shields. The little bird is also blamed for betraying St. Stephen, the first Christian martyr. That is probably why a wren was once hunted down on Dec. 26 and nailed to a pole that was carried at the head of the wren parade. 
In Northern Ireland and the rest of the UK, Dec. 26 is called Boxing Day, because, according to tradition, servants and tradesmen were given gifts in boxes from their masters and clients that day.
Many Irish hotels offer Christmas accommodation specials. So, if you plan to be there over the holidays, be sure to check your favorites.
ACCOMMODATIONS
Some people say that carefully choosing just the right accommodation in Ireland isn't all that important because, after all, you just sleep in those places. And for a lot of travelers, that seems to be all too true. They just move from one place to another without experiencing the history or flavor of the places they have visited.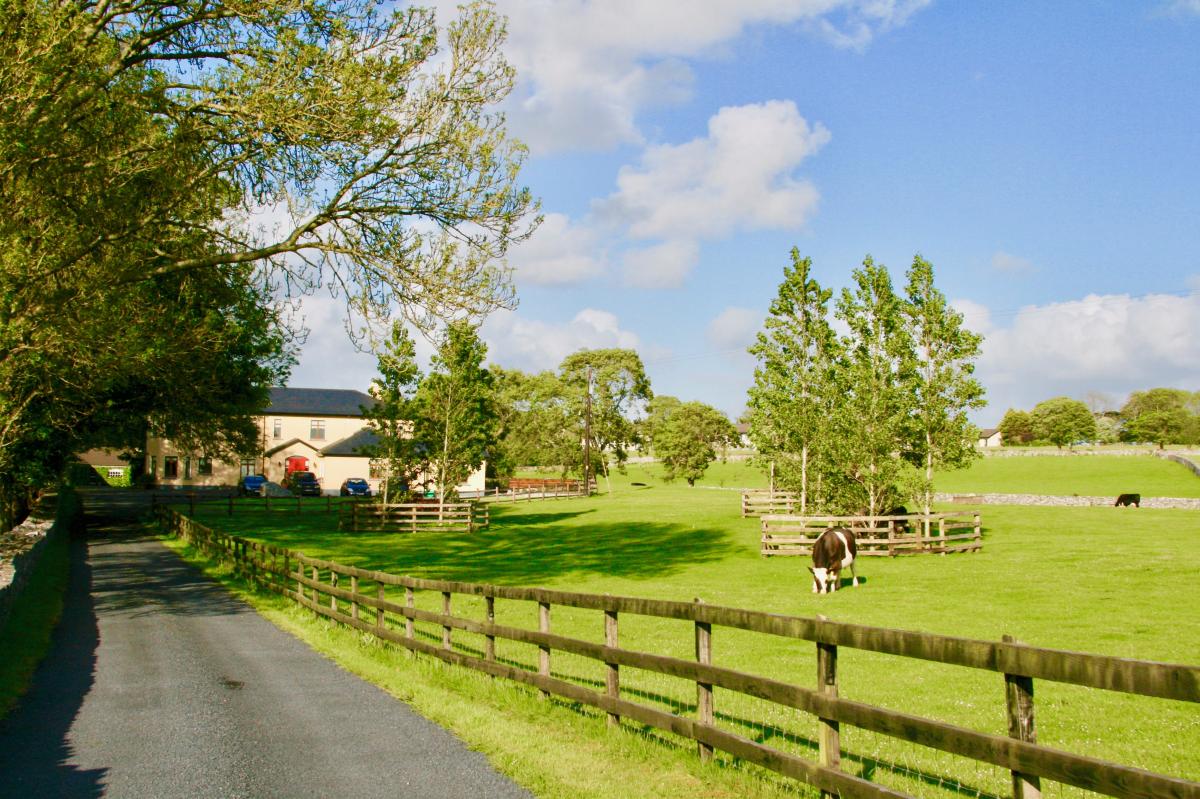 Cahergal Farm in Newmarket-on-Fergus, Co. Clare, offers B&B accommodation close to Shannon Airport, which is very handy for Boston travelers. (Judy Enright photo) 
But, fortunately, there are a number of Irish organizations that have set out to change all that. They include: Ireland's Blue Book and Manor House Hotels, The Great Fishing Houses of Ireland, Green Book Hotels, and many more. Some of the recommended properties appear in more than one book.
HIDDEN IRELAND
I have stayed in Hidden Ireland properties on more than one occasion and have thoroughly enjoyed them. Hidden Ireland offers, as the literature says, "a road less traveled." There is not one huge, faceless hotel in the lot. The houses are privately-owned and are places where, as the brochure says, "your hosts are not employees… these houses are their homes where they still live with their families, just as they have always done."
In the past, I have stayed at the elegant Delphi Lodge, in Co. Galway near Killary Harbor, which is Ireland's only fjord. There are many activities to enjoy around Killary Harbor ranging from the Sheep and Wool Museum in Leenane to a cruise on the harbor itself.
And, driving through the Sheeffry Hills in that area is a breathtaking photographic adventure that shouldn't be missed. 
Delphi Lodge's 12 rooms are all en-suite, and we were told that Americans love this lodge for "the Irish staff, the valley, the scenery and the antiquity of the house." Delphi is very comfortable and accommodating for those who are traveling alone, especially middle-aged travelers. 
A Hidden Ireland spokesman commented that visitors love the antiquity of Delphi, "but they also love the blend of that antiquity with all the modern conveniences." He said Hidden Ireland properties are not "commercial entities as such.
They're private houses where hospitality is offered. A majority are family-operated and in 90 percent of the homes, a member of the family does the cooking, and it's genuine country house cooking." The Hidden Ireland houses are also large and guests are not shoulder-to-shoulder. "It's more relaxed and more pleasant," the spokesman said.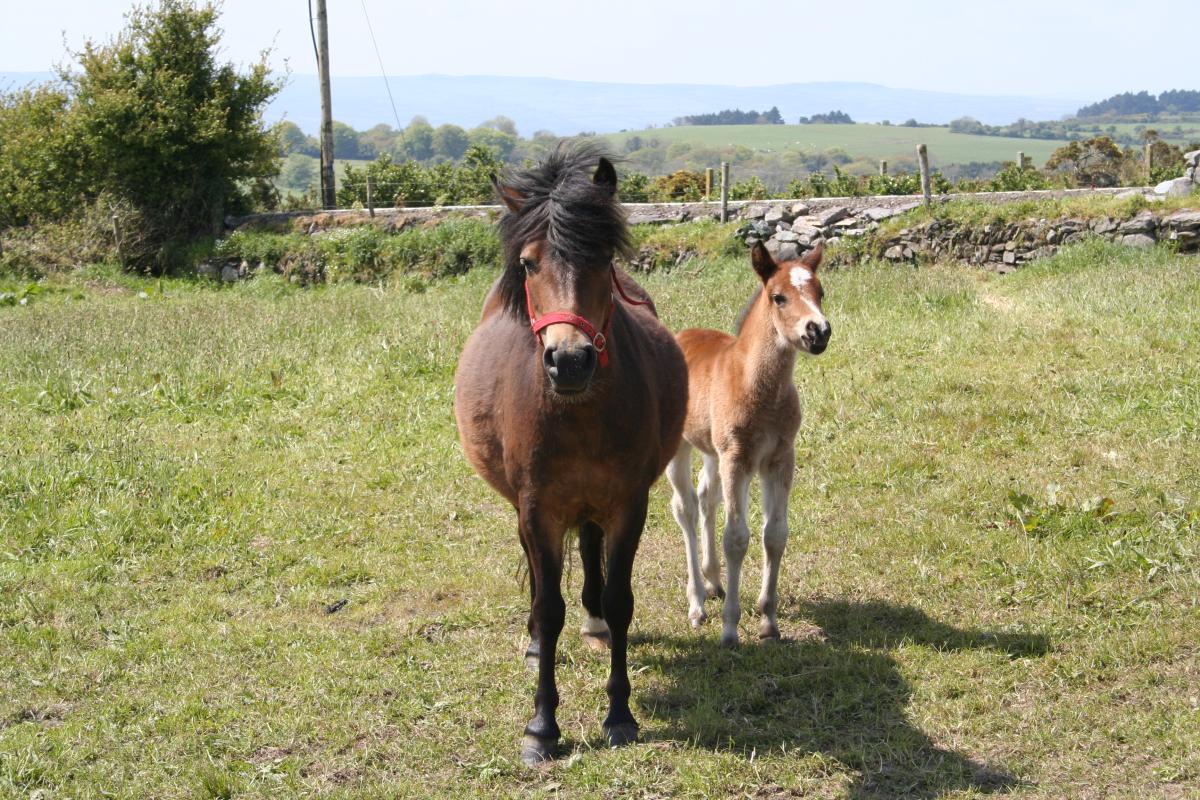 Greeting visitors to Cahergal Farm in Co. Clare. (Judy Enright photo)
Evening dinner at the properties is an experience rather than just a meal. "We recommend that visitors not use Hidden Ireland as just a B&B experience. The whole idea is to sample life in a house like Delphi and the other houses and dinner is central to the experience. Staying two nights is also essential," the spokesman said.
Most of the houses in Hidden Ireland have only a few bedrooms and many offer a single-seating dinner with guests, often from many different countries, gathered around a large table and sharing their backgrounds and interests. 
In addition to Delphi, I have visited the 14-room Quay House in Clifden, which is a wonderful place to stay and close enough to town so you can walk to a great dinner – especially at Mitchell's Seafood, one of my longtime favorites – or to a night in the pubs.
I've also stayed at Ashley Park House in Nenagh, Co. Tipperary, which was a real blast from the past, as they say, and most enjoyable. 
The Hidden Ireland spokesman said members actually own the organization and meet twice a year, while an executive committee - selected from the membership - meets monthly. Membership in Hidden Ireland is not automatic, however. In order to become a member, "the house, the person and the setting have to be right," the spokesman said.
The houses in Hidden Ireland are located all over the Irish map from Northern Ireland (Drenagh in Limavady, Co. Derry) all the way south to Co. Cork (Ballyvolane in Fermoy.) Visit hiddenireland.com for more information and an entire listing of the properties.
THE BLUE BOOK
Another accommodation group is Ireland's Blue Book of country houses, historic hotels and restaurants.
We stayed at one of the Blue Book properties - the Park Hotel in Kenmare - several years ago and it was exceptional. The rooms were elegant and meals were perfectly prepared and delicious. The hotel operates a deluxe destination spa for those who want to unwind. For more information, go to the Blue Book website (irelandsbluebook.com) and find more details. 
We've also stayed at Aherne's in Youghal, Co. Cork; Bushmills Inn in Co. Antrim, Northern Ireland; Cashel House Hotel in Co. Galway; The Merrion Hotel in Dublin; Echo Lodge in Ballingarry, Co. Limerick, and have eaten at Ballymaloe House in Shanagarry, Midleton, Co. Cork; The Wineport Lodge, in Athlone, Co. Westmeath, and at The Ice House in Ballina, Co. Mayo. All are highly recommended.
We love to try different places and experience different lifestyles and, although many of these accommodations are expensive, they have all proved to be worth the price and most interesting.
MANOR HOUSE HOTELS
My favorite hotel – Lough Inagh Lodge Hotel in Recess, Connemara – is listed in Manor House Hotels and also in Ireland's Great Fishing Houses.
Going back to Lough Inagh, as I do every spring, is like going home. Everyone there is so welcoming and accommodating, the food is excellent, the rooms are large and well maintained and you couldn't ask for a more beautiful bit of scenery than the Inagh Valley and Connemara in general.
Lough Inagh will close on Dec. 19 and reopen on March 11, 2022.
We've also stayed at Manor House's Sandhouse Hotel on the most perfect stretch of beach in Co. Donegal.
In addition to all the hotels and manor houses mentioned, you can find other wonderful accommodation all over Ireland. There are many excellent B&Bs everywhere on the island. We especially like Cahergal Farm in Newmarket-on-Fergus, near Shannon Airport. 
Aer Lingus recently restored the non-stop Boston-Shannon flights, much to the delight of businesses in the West of Ireland. 
TRAVEL PLANS
Enjoy your trip to Ireland whenever and wherever you go and don't forget to check the internet for the latest flight and travel deals. 
When you're in Ireland, be sure to stop by the Failte Ireland tourist board offices (marked with a big green shamrock) for details about festivals and other activities, to secure accommodations, and to learn about the area where you'll be traveling.