By
irishadmin
August 2, 2020
The ruin of Dunluce Castle on the coastal cliffs of north County Antrim. In the 17th century, Dunluce was the seat of the earls of Antrim and saw the establishment of a small town in 1608. The history of Dunluce is matched by tales of a banshee and how the castle kitchens fell into the sea one stormy night in 1639. Judy Enright photos
To paraphrase a well-known saying, we say "Go North, young man, go North." Beautiful Northern Ireland tends to be overlooked by too many travelers and more's the pity because there's so much to see and do there.
THE NORTH
If you head north out of Dublin, the coastal route is absolutely breathtaking in any weather. We've taken that drive a number of times and stayed at hotels and B&Bs along the way. 
Our first hotel out of Dublin was The Londonderry Arms Hotel in the little coastal village of Carnlough in Co. Antrim. The historic 35-bedroom hotel was once owned by Sir Winston Churchill and is within striking distance of Titanic Belfast and The Giant's Causeway, a pretty perfect location. Dinner there featured locally sourced fish, meat, and vegetables and was excellent. Bedrooms were clean and spacious. My sister, her daughter, and I shared one large room and we were very comfortable.
There is much rich history in the North and so much to see, in addition to just the top attraction, the Titanic exhibit in Belfast, which has just reopened, with Judith Owens, the chief executive of Titanic Belfast, commenting:
 "We are absolutely delighted to open our doors again. … As one of Belfast's symbols, we are always keen to play our part and reflect the city's spirit. While everyone in Northern Ireland has done their bit, our NHS staff, from emergency services to healthcare workers are on the front line dealing with the spread of coronavirus, and this is our way of saying thank you to our local heroes for their hard work and bravery."
Giant's Causeway in Northern Ireland is a popular tourist destination. 
    Near the coast on the way up, you'll find the Glens of Antrim and the St. Patrick Centre in Downpatrick. And then, off to the coast for The Giants Causeway, the Carrick-a-Rede Rope Bridge (which I watched my sons cross as I waited nervously on safe ground) and the ruins of Dunluce Castle. All are fun attractions to explore.
There are a number of National Trust properties – like Mount Stewart - in Northern Ireland, but COVID-19 virus has limited entry and access to many. Potential visitors definitely need to check in advance to make sure their destinations are open and accepting visitors. 
And do remember that currency in the North is the pound sterling and not the euro. We nearly got stuck at an attraction one year without enough pounds sterling to exit the parking lot. When they heard our American accents, though, the gatekeepers just smiled and let us through. 
As a side note, the gift shop at The Giants Causeway is exceptional. And, they take credit cards, so I can't blame shopping for my trouble exiting the parking lot.
If some of the coastline looks familiar, it could well have been featured in a Game of Thrones' episode, many of which were filmed there.
BUSHMILLS INN
When I last visited the Giants Causeway, a friend and I stopped for a delicious fresh seafood lunch at the Bushmills Inn in a nearby town. The staff was exceptionally gracious in the restaurant and in the hotel lobby. I stayed overnight there a number of years ago and told the front desk staff how much we enjoyed the hotel and the visit and they were very pleased to hear it. A night at this Inn is highly recommended.
Bushmills Inn, a 4-star hotel, began life as a coaching Inn in the 1600s. The village of Bushmills is home to the world's oldest whiskey distillery, which is well worth touring. 
There's lots to do in the North as you can see.
MULRANNY PARK HOTEL
If you return to the Republic on the Atlantic side, there are a number of wonderful, comfortable hotels to break up your trip. One particularly special place is the Sandhouse Hotel in Rossnowlagh, Donegal. It's a beautiful hotel in a stunning location!  Great service, friendly staff, internet (of course), good food – it has all the plusses.
Keep driving south and you'll find one of my favorite Co. Mayo hotels – the 4-star GN Mulranny Park Hotel. It recently won the AA Courtesy & Care Hotel of the Year 2020 award. Congratulations and well done to Dermot Madigan and his excellent staff.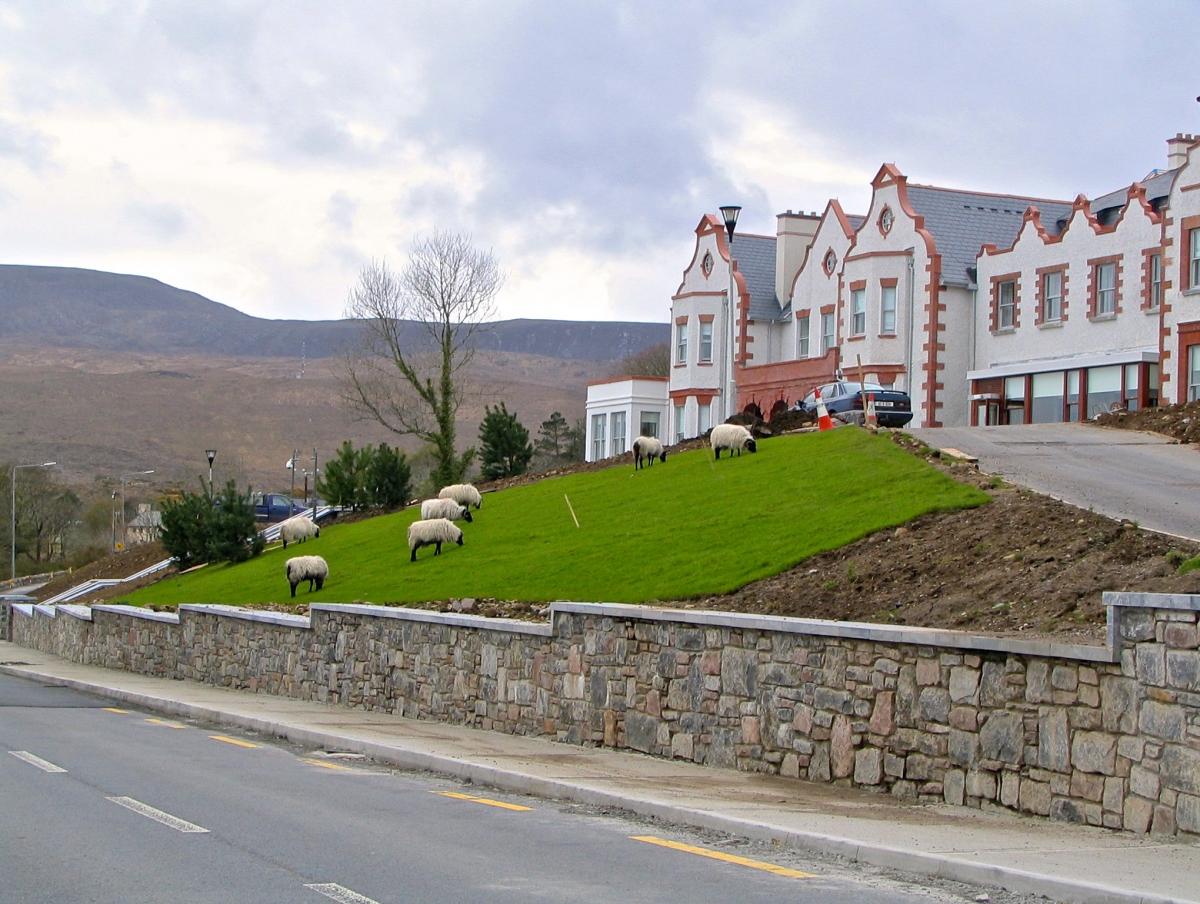 Groundskeepers at the GN Mulranny Park Hotel in Co. Mayo on the Wild Atlantic Way. 
The hotel has a rich history as a former railroad hotel and is located on the Great Western Greenway overlooking Clew Bay and Croagh Patrick, Ireland's holy mountain.
The Park is a perfect base for walking and cycling holidays on the Wild Atlantic Way and is a very popular wedding venue. There's a swimming pool, jacuzzi, sauna, steam room, plunge pool, and fully-equipped gym in addition to all the regular hotel amenities – lovely, clean rooms, award-winning dining room, and more.
Sunday brunches at this hotel are always part of my Mayo visits.
A STEAM RAILWAY
How exciting to read in The Irish Times recently that there are plans afoot to revive nearly 5 miles of the old Clifden (Co. Galway) steam train nearly 100 years after it disappeared from that area. At one time, a railway connected Galway City with Clifden, which is about 50 miles away.
Trains haven't traveled that route since the mid-1930s but, The Times says, "Jim Deegan is the chief executive officer of Railtours Ireland and a lifelong railway enthusiast with a particular grá for the old Clifden line."
 Maam Cross, where Peacocke's Hotel is located, is at the crossroads of Connemara and about halfway between Clifden and Galway City. Behind the hotel was the old railway station, which closed in 1935. It stood on 8.5 acres that were acquired by a non-profit with a view to recreating a west of Ireland country railway, complete with heritage trains and a working railway experience. The railroad will be drawing on early to mid-20th century themes of emigration, conflict, rural life, and "The Quiet Man," which was filmed in this area.
VISITING IRELAND
Enjoy Ireland whenever you visit, being mindful of limitations imposed by the coronavirus. And be sure to check in advance to make sure your destinations are open and welcoming guests.
Stay safe and well until we are beyond this current situation and travel has returned to its normal pace.