By
irishadmin
December 30, 2020
Lovely, sunny day in Burrishule, Co. Mayo. (Judy Enright photo)
One of the greatest things about the human condition is that we can dream. The past year has certainly seemed like more of a nightmare than a dream, but there is fresh hope as the new year dawns. 
The brightest scientific minds here and across the world have created Covid-19 vaccines that are now being distributed around the world according to a scheduled rollout. In the meantime, we are being asked to adhere to medical advice – wear masks and isolate as much as possible although that will not be easy for any of us in the solitude of winter.
But, while we're isolating, we can still pull out tour guides and travel books and plan the next trip to the lush green hills and fields of Ireland.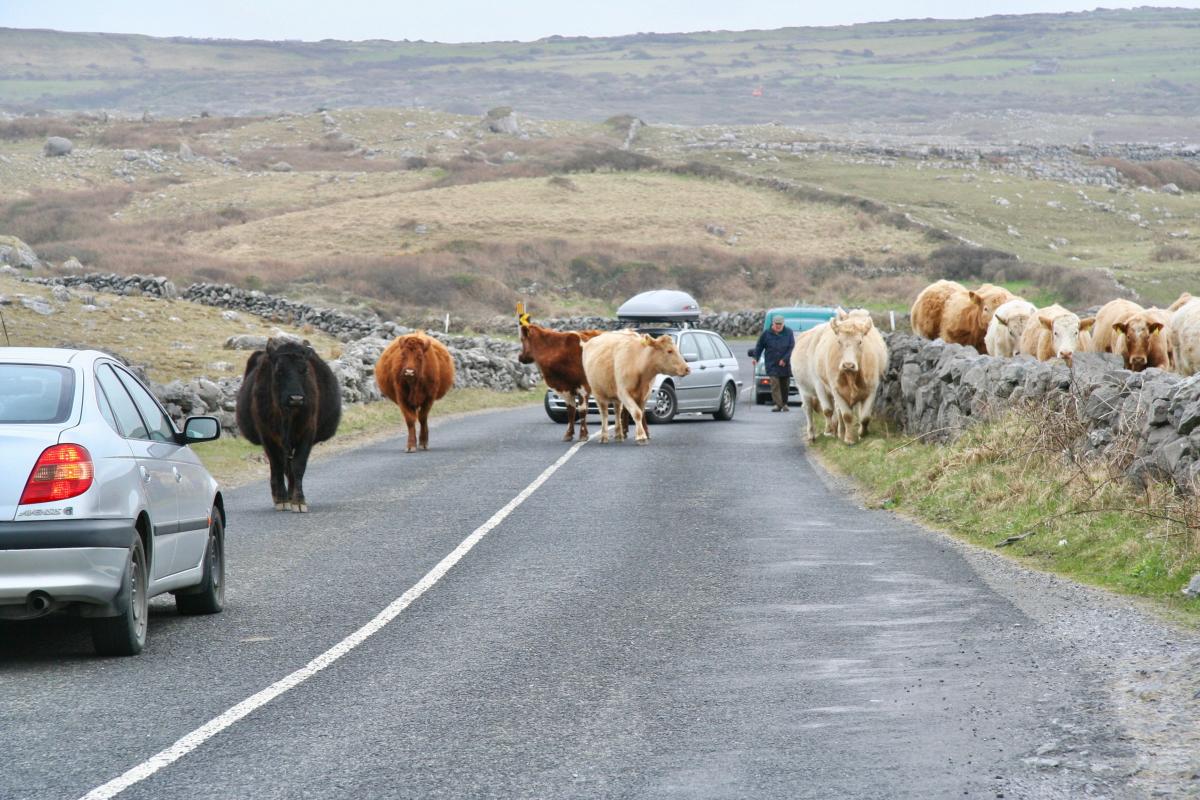 Bit of a traffic hazard in the hills of the Burren in Co. Clare. (Judy Enright photo)
OPTIONS
Those who have visited there know that the Emerald Isle has many accommodation possibilities that range from affordable to luxurious. 
Visitors can rent a self-catering apartment or house, stay in a B&B, a farmhouse B&B, an Air B&B, or in a room at a manor house or castle. Each offers a very different experience, and each is interesting and fun. Where you stay will depend on which part of Ireland you're visiting, whether you travel with others or alone, and on what kind of accommodation suits your plans and budget. 
I love Shannon Airport and hope it manages to stay open forever! Small and friendly with easy luggage collection and customs, it is always my destination when I fly from Logan. You aren't fighting a mob as you do at larger venues. Those who have flown through airports like Dublin's will appreciate those attributes that I admire so much about Shannon. I also must admit to being a huge fan of Shannon's duty-free shopping on my return, especially for the Burren Smokehouse smoked salmon and McCambridge's bread.
When I land in Ireland and before I leave, I head straight over to Cahergal Farm in Newmarket-on-Fergus, which is just minutes from the airport. Noreen and Michael McInerney welcome you into their lovely home and B&B. Cahergal is a working farm that has been in Michael's family for generations. Large windows give the breakfast crew views out over manicured fields where cows, horses, and sheep happily graze. 
Cahergal is so peaceful and quiet that you would never know that you are so close to an international airport. Breakfast is a delicious meal, thanks to Noreen's omelets and homemade scones.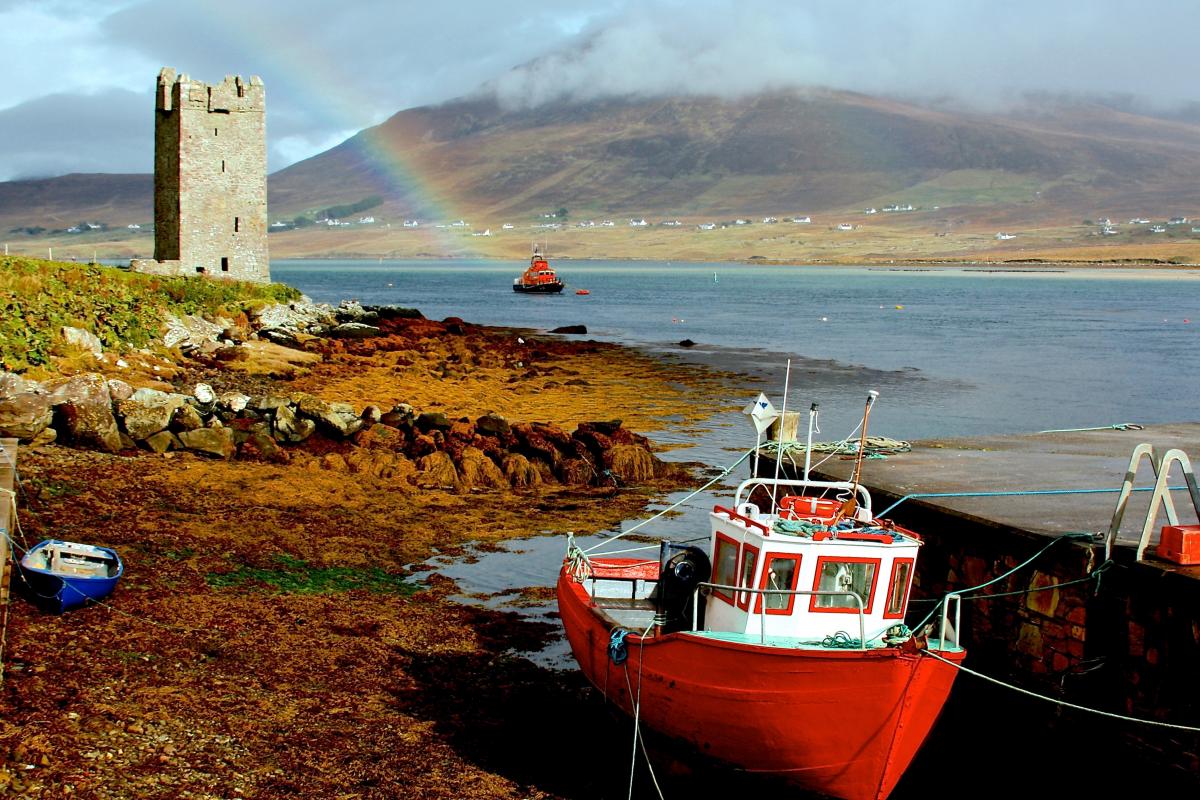 Rockfleet, once the castle home of famed Irish Pirate Queen, Grace O'Malley. (Judy Enright photo)
DOOLIN
I primarily visit Ireland in the spring and, in addition to Cahergal, have found several favorite places where I stay every time I'm lucky enough to go. 
Riverfield House B&B in Doolin, Co. Clare, is a great place to stay. I have done so many times and have become great friends over the years with the wise and witty owner, Caitriona Garrahy. 
If Riverfield is booked, Caitriona's son, Don, and his wife, Martina, have a B&B next door that's lovely, too. Both B&Bs are well located and an easy walk to pubs near the harbor or in the other direction. Very good meals and traditional music are available at McDermott's and O'Connors pubs as well as in Fitzpatrick's Bar, in the Doolin Hotel across the road from Riverfield House. Ballinalacken Castle in Doolin also offers accommodations and fine dining for that special night out. 
Further upcountry, I am a devoted fan of Connemara and all the charm and beauty that area offers. My favorite hotel there – and actually my favorite hotel in Ireland - is the lovely Lough Inagh Lodge Hotel in the unspoiled Inagh Valley. The hotel is a well-known destination for fishing but treats visitors like members of the family even if they don't fish. Tea and scones (with whipped cream and homemade jam) top my list of favorite afternoon activities there.
Maire O'Conner owns and runs the hotel with her son, Dara, and brother, Dominick, assisted by the most interesting and gracious staff, all of whom make staying at Lough Inagh fun and make the stay feel like you are home. Wander into the bar and Thomas will regale you with stories to make you laugh. And, Colin, a veteran ghillie, is on hand there to take fishermen to the very best spots. 
I've stayed at Lough Inagh every spring for more than 20 years and have met some of the nicest staff and fellow visitors there. Several fellow guests have become friends and we meet at Lough Inagh every spring when possible.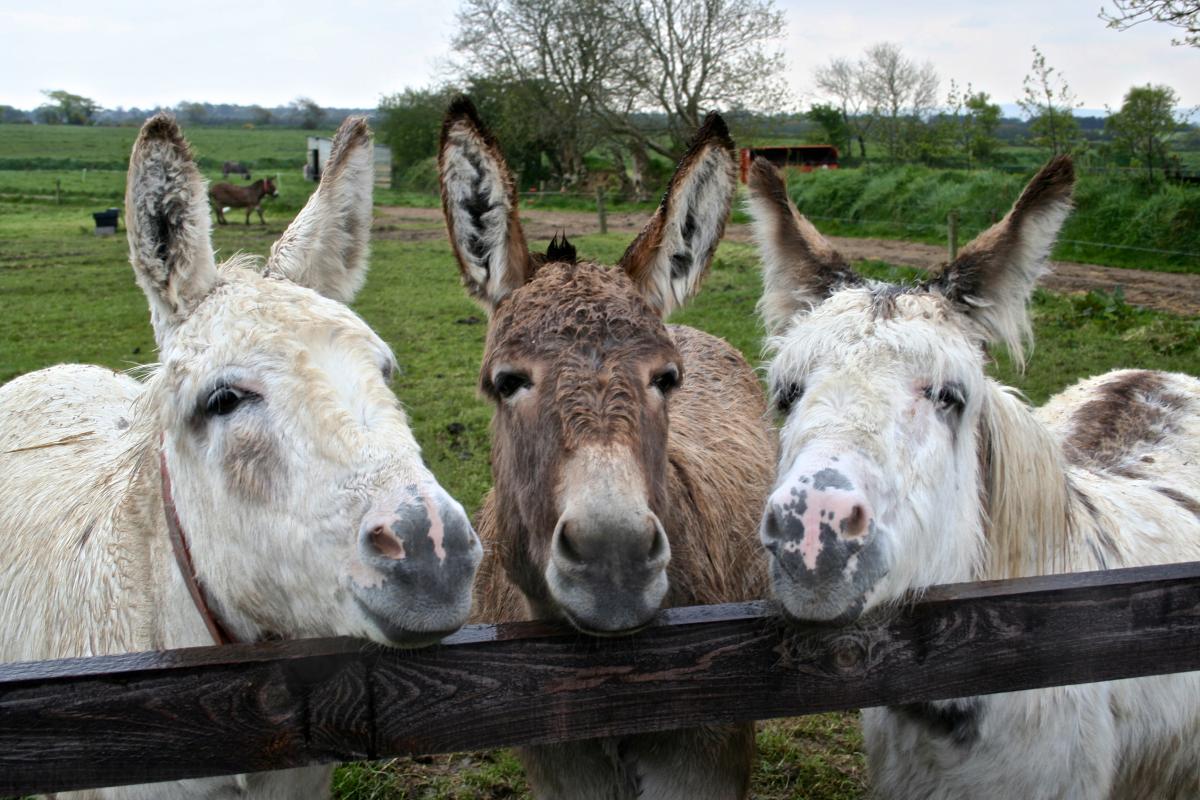 Residents at the Donkey Sanctuary in Liscarroll, Mallow, Co. Cork. (Judy Enright photo)

 
KYLEMORE ABBEY
Nearby Kylemore Abbey is well worth a visit while you're in Connemara, although it is currently closed in line with Ireland's Covid restrictions. You can order though from their online shop and have items shipped. See kylemoreabbey.com for more.
When Kylemore reopens, be sure to tour the historic home of Henry Mitchell that is now owned by the Benedictine nuns. Walk the grounds, visit the Victorian walled gardens, glass greenhouses, and stop for lunch – and be sure you don't miss Kylemore's outstanding gift shop. 
If you're staying in the area, there are other excellent food options available in Clifden and Letterfrack pubs. And, in Clifden, Mitchell's Seafood is well known and very popular with locals, which is always a sign of good food. You do need to make a dinner reservation, though, as it's usually packed. I've never had trouble just walking in for lunch with no reservation. 
Clifden also offers shopping fun at a number of nice stores, including The Whistlestop gift shop and the Clifden Bookshop.
It won't take visitors long to compile a list of their very own favorites - food or drink or shopping or accommodation. 
MORE SHOPPING
Other than in the West, is there any other good shopping anywhere in Ireland? Well, if you've been there, you already know the answer! Nearly every tourist attraction has a gift shop and most feature wonderful, creative work by local artists and artisans. Beautifully knitted wool sweaters and tweeds are sold nearly everywhere and assorted gift shops abound in major cities and also in small towns. Look around and have fun. I have always thought you could tell a lot about a place by what is on offer in local stores.
We hope these few ideas will stoke your dreams during our Covid winter and inspire you to make plans for an Irish spring!! Check out the cost of flights on Aer Lingus and other carriers and look at hotel websites now. Chances are you can score some great deals.