By Judy Enright, Special to BostonIrish
May 29, 2020
Ashford Castle in Cong, Co. Mayo, is one of Ireland's elegant castle hotels. (Judy Enright photo)
At the moment, we are in isolation because of COVID-19, but this virus can't stop us from dreaming. In fact, this is a perfect time to sit down and dream up your next adventure in Ireland.  
CASTLE HOTELS
Some say a hotel is just a place to spend the night. But anyone who has traveled knows that a hotel can be so much more.
Take a look, for instance, at Ireland's many castle hotels where you can experience an evening – or more – of royal treatment. These hotels are fun and interesting, and their staff are eager to serve and share the property's history.
Most castle hotels – and other hotels - are currently closed but have announced plans to reopen July 20.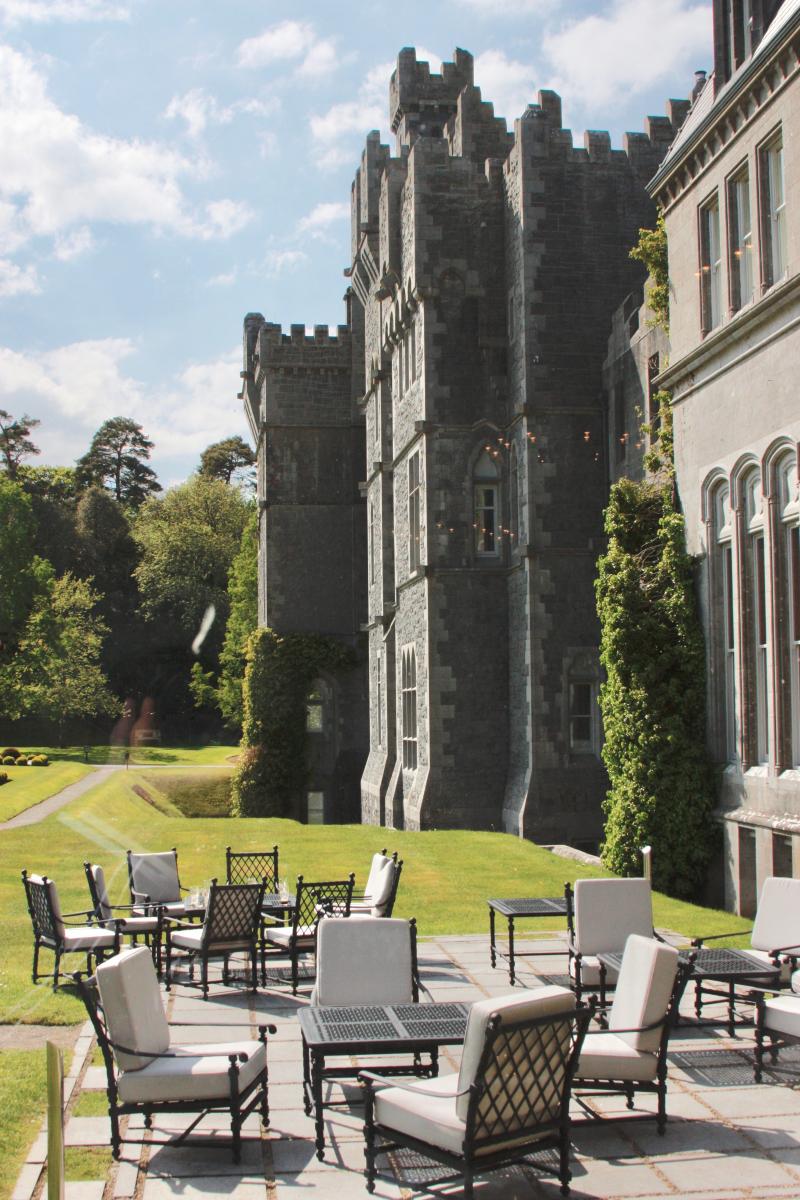 Take a tea/scone break on the patio at Ashford Castle in Cong, Co. Mayo. (Judy Enright photo)
ASHFORD CASTLE
This 800-year-old castle hotel has won more than a few awards. In addition to being named a National Geographic Unique Lodge of the World, Ashford is the first Forbes five-star hotel and was once the home of the Guinness family of brewing fame.
The castle's sitting rooms and bedrooms are exquisitely and tastefully decorated, the cuisine is outstanding, and guests can enjoy an assortment of activities on the estate and then relax at the state-of-the-art spa. 
Ashford is one of 17 four- and five-star boutique hotels in the UK, Ireland, South Africa, Switzerland and the US that are owned by Red Carnation Company whose founder and president is Beatrice Tollman. The family-run company has been in the hospitality business for more than 100 years and knows how to do it right. She is credited with designing and implementing many of Ashford's extra touches.
Manager Niall Rochford says on the castle's website that "knowing when to change our practices to keep pace with the world around us has been vital to our success. The well-being of our guests always been, and always will be, our primary concern."
He added that every member of the Ashford team has been trained in safety, sanitation, and physical distancing, with more extensive instruction for the housekeeping staff and those who have direct contact with guests. 
Public areas of the hotel will be reconfigured, he said, and adjusted to allow for physical distancing wherever possible, and all guests will be advised to social distance.
Rochford invited those with questions - and those who want help with a future reservation - to email him directlly at nrochford@ashfordcastle.com.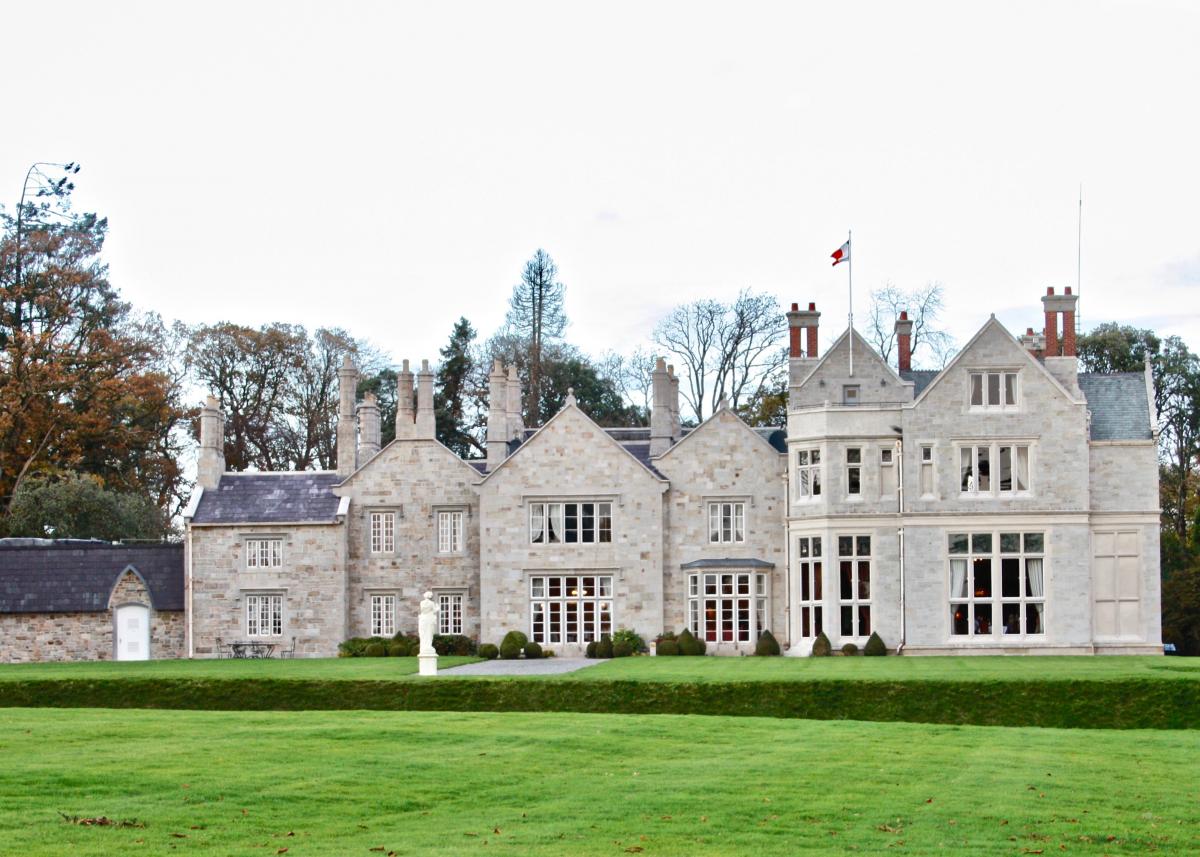 Elegant accommodation is offered at Lough Rynn Castle in Mohill, Co Leitrim. (Judy Enright photo)
LOUGH RYNN
Head over to Mohill, Co. Leitrim, and you will find 4-star Lough Rynn Castle Hotel where elegance and old-world charm blend seamlessly with modern day conveniences. The castle was formerly the home of the Clements family and Lord Leitrim and stands on 300-acres of magnificent grounds with walled gardens and activities aplenty.
This charming property was the site of a wedding I attended recently and you couldn't choose a more elegant location. Guests stayed in self-catering cottages or in the castle proper. My modern bedroom was in a turret, an experience evocative of life in another era. The breakfast buffet was plentiful and the dinners were excellent.
The hotel is currently developing enhanced operating procedures for the safety of guests and staff. Management is working with the Irish Hotel Federation and the tourist board to establish a comprehensive reopening plan for July 20. 
For more information. Email enquiries@loughrynn.ie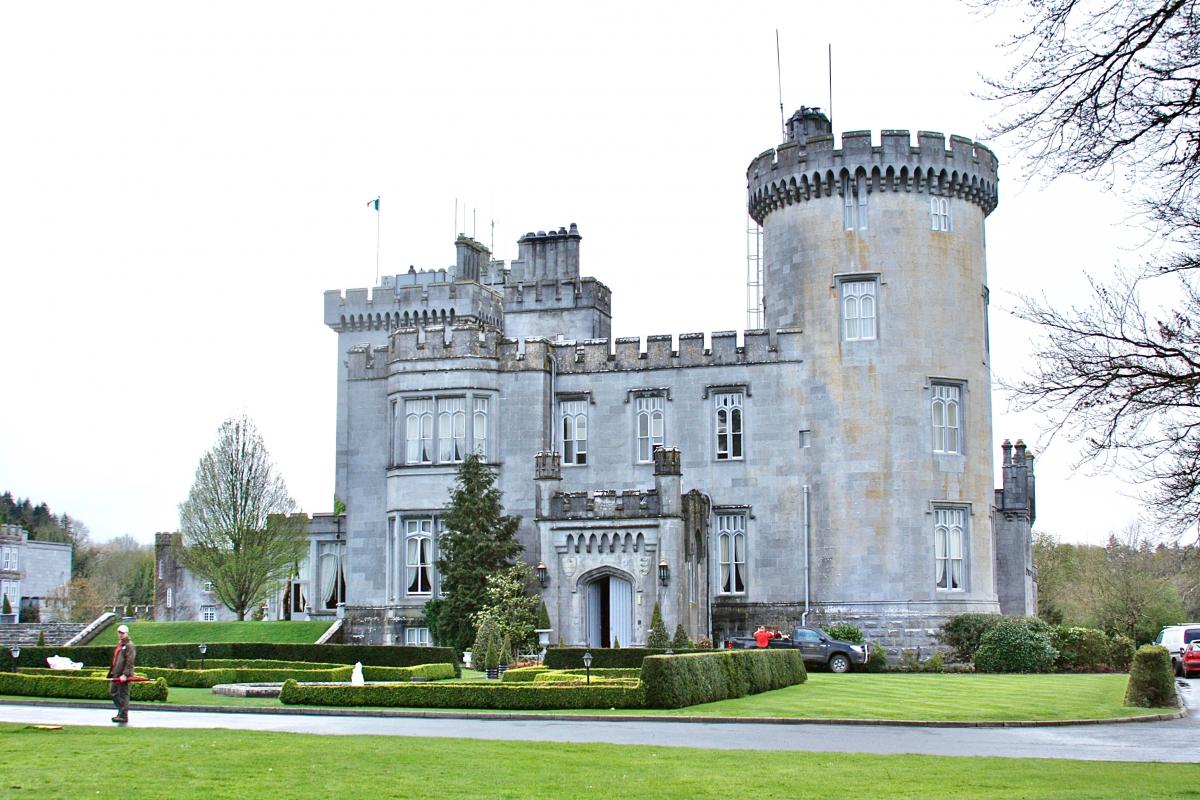 Dromoland Castle in Newmarket-on-Fergus, Co. Clare, is a lovely place to stay, especially when you fly in or out of Shannon Airport. (Judy Enright photo)
DROMOLAND CASTLE
Probably the castle hotel best known to Boston travelers is Dromoland Castle in Newmarket-on-Fergus, Co. Clare, just minutes from Shannon Airport.
Dromoland is described as "a wellbeing oasis surrounded by the purest countryside, private, peaceful and picturesque. We are a luxurious hideaway, where everyone, from children to adults, receives the warmest of welcomes."
Because of coronavirus concerns, management says some changes to procedure have been made to ensure safety and comfort for all. 
The Dromoland reservations team is available for questions or concerns regarding personal preferences, including levels of service and interaction with staff. Contactless services will be available in all areas of the hotel and all guests and staff will have their temperatures taken upon arrival. "Standard protocols will be followed for anyone with a temperature above 38C." Face masks, disinfectant sanitizers, disposable gloves,and aprons will be available to guests.
The staff have been trained in COVID-19 prevention and control measures and government guidelines will be constantly monitored. Social distancing measures include reduced restaurant and bar capacities and counter screening. Reorganization of seating areas and new reservation procedures are in place for all lounge, dining, and leisure areas. 
Bedroom cleaning procedures have been revised and all soft furnishings, telephones, bedside lockers, pillow protectors, bins and light switches are disinfected. Guest linen is laundered to strict guidelines and the spa has been updated. 
Leisure facilities at Dromoland including golf, pool and gym areas were revised to ensure social distancing. Reservations will now be limited at those facilities.
Managing Director Mark Nolan said on Dromoland's website that "our health and safety policies will continually be adapted to the latest recommendations and requirements set out by the Irish Government and The World Health Organization. The health and wellbeing of our guests and colleagues will always be number one, so please be assured that we are always doing everything possible to ensure your and their safety and comfort. We are already looking forward to welcoming you soon and promise you that we will do everything we can to make your visit as safe, beautiful, and relaxing as possible."
The hotel's cancellation policy has also been amended from seven days to 48 hours and reservations manager Blan Sexton (email, blan.sexton@dromoland.ie) will be available to discuss options. And there is a Liaison Officer, Lauren Cusack, available for all inquiries. Her email address is Lauren.cusack@dromoland.ie  and she is closely monitoring reports and news outlets to deliver current information on a regular basis.
STAY SAFE AND DREAM
We hope these suggestions will give our readers some food for thought and add to their travel dreams. When you travel, you should have as much fun as possible and try as many different experiences as you can. Enjoy all that Ireland and its castle hotels have to offer.