By Judy Enright, Special to Boston Irish
December 31, 2019
The Mulranny Park Hotel offers excellent food and is a great place to stay in Co. Mayo along the Wild Atlantic Way. Even the local sheep approve of the landscaping! (Judy Enright photo)
For your consideration: My favorite Ireland experiences
The New Year has dawned, as bright, fresh and clean as snowflakes. It's exciting and refreshing because it is a new beginning and brings hope and trust that all will be well in the year ahead. This is a time to recollect happenings – good and bad – from the year that just passed - and to plan for more adventures to spice up the time ahead. It's also when I like to share with readers my favorite Irish experiences from the past year in hopes that these recommendations will inspire readers to give some of them a try when they are in Ireland.
FAVORITES As you travel around the Emerald Isle, you'll easily find enough favorites to fill a book. Everyone has different travel experiences but when I discover a wonderful hotel, restaurant, airline, or car rental company, I stick with them. So some of the favorites I name here have been my favorites for many years and continue to be my favorites because of their consistency and excellence. Aer Lingus has been my carrier of choice to Ireland for many years thanks to the airline's amazing safety record. Travel isn't a lot of fun anymore, as our readers know, but Aer Lingus has never disappointed. Flights are usually on time (depending on weather, of course), food is pretty typical airline food (I often buy one of the special meals they offer), and seats are comfortable enough for the long haul although not overly spacious (unless you're lucky enough to get the legroom at a bulkhead.) My favorite route is Boston to Shannon, a small but efficient airport that is charming and offers easy access to the West, my destination. Last year, I had to fly Boston-JFK-Shannon and it was an all-day trip. Dublin is the Aer Lingus hub and is modern, glitzy, and huge. I much prefer Shannon and hope Aer Lingus will never abandon it. I rent a car from Enterprise at Shannon and have been pleased with the cars and service. For many years, I rented from Dooley so, when Enterprise bought that company, I was concerned that service and cars would not be as good. Thankfully, Enterprise has been great and my favorite car, a Skoda sedan, was perfect last spring – until I cut a corner a bit too close and heard a crunch as the car grazed a stone wall and gave the fender a significant dent.
DOOLIN AND ONWARD From Shannon, I drive to Riverfield House B&B in Doolin, Co. Clare, where I am greeted by Caitriona Garrahy, the owner. She makes breakfast, plugs in the bed warmer, and says "sleep well" as I crash for a few hours after an overnight, mostly sleepless flight. I've stayed at Riverfield House for many years thanks to a lucky referral from a travel company. It's clean, comfortable and in a great location – an easy walk to Doolin's shops, pubs, restaurants. I spend a few days in Doolin and, if we have time, Caitriona and I head over to glorious Gregan's Castle Hotel in Ballyvaughan for a delicious lunch and Ballinalacken Castle Hotel for a lovely dinner. Another favorite place for lunch near Doolin is the Burren Perfumery where you can shop for their products and enjoy a fresh, locally-sourced lunch. Be sure to visit the Burren Centre in Kilfenora, too, while you're in the area for an outstanding craft shop, fascinating displays, and a video by Eamon de Buitlear. The Kilfenora Cathedral next door is also well worth a visit.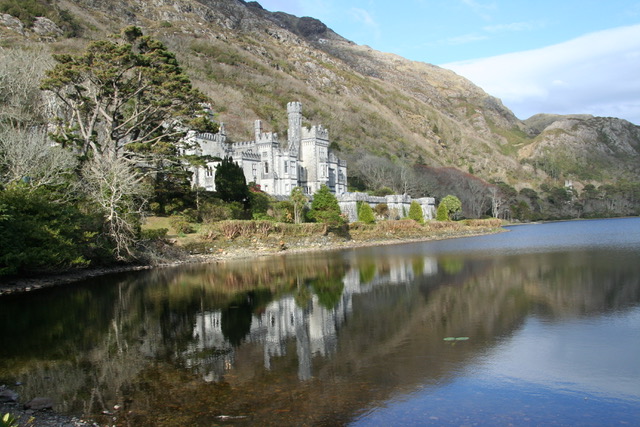 CONNEMARA Heading from Doolin up into Connemara, I recommend stopping at Peacock's Hotel in Maam Cross for a meal and a visit to their extensive craft and gift shop. My next stop is Lough Inagh Lodge Hotel in Recess, Connemara. This small, charming country house hotel is my very favorite place to stay. I keep trying new places but Lough Inagh still tops the list. It has an outstanding and accommodating staff headed by owner, Maire O'Connor, and her brother, Dominic. Rooms are spotlessly clean and comfortable, meals are delicious – especially oysters from DK Connemara Oysters - and you'll be charmed by the beautiful Inagh Valley. Clifden is close by so be sure to visit the outstanding Clifden Bookshop and have lunch or dinner at Mitchell's Restaurant. Head out of town to Kylemore Abbey, where you can spend the day walking through the beautiful and well-maintained grounds, lunching in the cafeteria and shopping at one of the best craft shops in Ireland. As I head north toward Mayo, I try to squeeze in a meal at the Blackberry Café in Leenane. Great food and staff. Once I reach Westport, Co. Mayo, I stop at Seamus Duffy's Bookshop and O'Reilly & Turpin craft shop, where owners Corry and Antoinette have assembled the best of Irish gifts, arts, and crafts. Then I travel on to Mulranny, where I rent a house.
 
 

 

 

 Pictured here is Lough Inagh Lodge Hotel in   Recess,  Connemara.
FOODIES Ireland has evolved into a foodie destination, maybe because many Irish chefs train in France or at Irish cookery schools. Great meals are easy to find nearly everywhere. But you don't have to feast on snails and oysters, if a good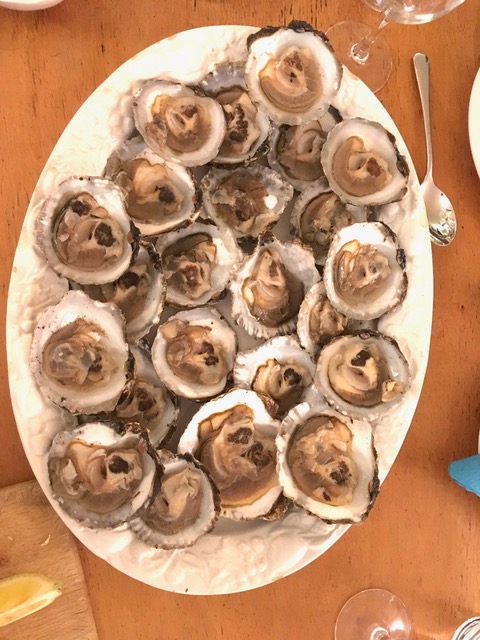 burger, salad, or sandwich is your preference. You can find those in abundance, too. There are meals available everywhere to suit every taste. I often dine at Nevins's Newfield Inn in nearby Tiernaur while in Mayo. The cozy restaurant is along the road (N59) from Westport to Achill Island and also near the Great Western Greenway. The staff is welcoming and competent and the food is excellent, ranging from pub grub to full dinners with the freshest fish and locally-sourced produce. My favorite is the Clare Island oven-baked salmon and, as visitors to Ireland know, you cannot beat the salmon offered in this island country. Nevins has a full bar and a warm fireplace that adds to the atmosphere. Food is served from 9 a.m. to 9:30 p.m. and Nevins has several B&B rooms and a large function room. This is definitely a favorite haunt for me, my friends, and visitors. See nevinsinn.com for more and do stop in if you are en route to Achill Island or Ballycroy National Park. Also along that coastal route to Achill is the Mulranny Park Hotel, which has scored many well-deserved awards for food, accommodation, and as a wedding venue. The hotel overlooks Clew Bay and Manager Dermot Madigan and his staff clearly excel in the hospitality industry. There are apartments available as well as a pool, spa, gym, and more. See mulrannyparkhotel.ie for details. When you get to Achill, be sure to drive out to enjoy beautiful Keem Bay and be sure to visit The Beehive in Keel for fresh, delicious soups, sandwiches, and meals as well as a craft shop chock full of Irish crafts and woolens.
AN CHUIRT This year, I drove along a gorgeous seaside route from Mayo to Gweedore in Co. Donegal to try a new hotel. I thoroughly enjoyed the accommodations and food at An Chuirt (Gweedore Court Hotel) in Gweedore and highly recommend it. While returning to Mayo, I visited the Donegal Sisters and Niall Bruton's shops at the Donegal Craft Village -gifted artists and great places for gifts. Lunch was at Aroma, whose owners have ended their tenure there. Hopefully new owners will continue the tradition of excellence. So, there you have it. My 2019 favorites – many of them perennial favorites. I hope our readers will have a happy, healthy 2020, and enjoy some of Ireland's cities like Dublin, Cork, Belfast, Londonderry, and Waterford, but will head west to Galway and to try some of my favorites. Don't forget that the West is alive and well and has so much to offer.