By Maureen Forry-Sorrell, BostonIrish TravelAbility 
March 2, 2023
In the most recent edition of Boston Irish Magazine, Associate Publisher Travel Editor Maureen Forry-Sorrell took up an issue that many families face when traveling: How to ensure that disability needs will be met along the way. Using her own family's experiences on a trip to Ireland with a special-needs child, she detailed in two chapters how attention to detail in all respects on their flight from Boston to Dublin proved essential to a smooth landing. What follows is her follow-up report on their mostly positive time in Ireland that concludes with this summary: "The sheer number of strangers who offered a helping hand was a testament to the overwhelming kindness of the people of Ireland."
Part 3
Dublin Airport
Our arrival in the early morning hours in Dublin felt like a sort of homecoming. The last time I had set foot on Irish soil was 2008, and the warm greeting we received by the Immigration officers was as good as a full hug. Chatting amicably while they reviewed our papers, we were waved through in about 10 minutes time.
We were fortunate to have had the help of Tourism Ireland in securing a vehicle for hire. Our Peugeot was roomy and had just enough room for everything – our luggage as well as Lianna's wheelchair.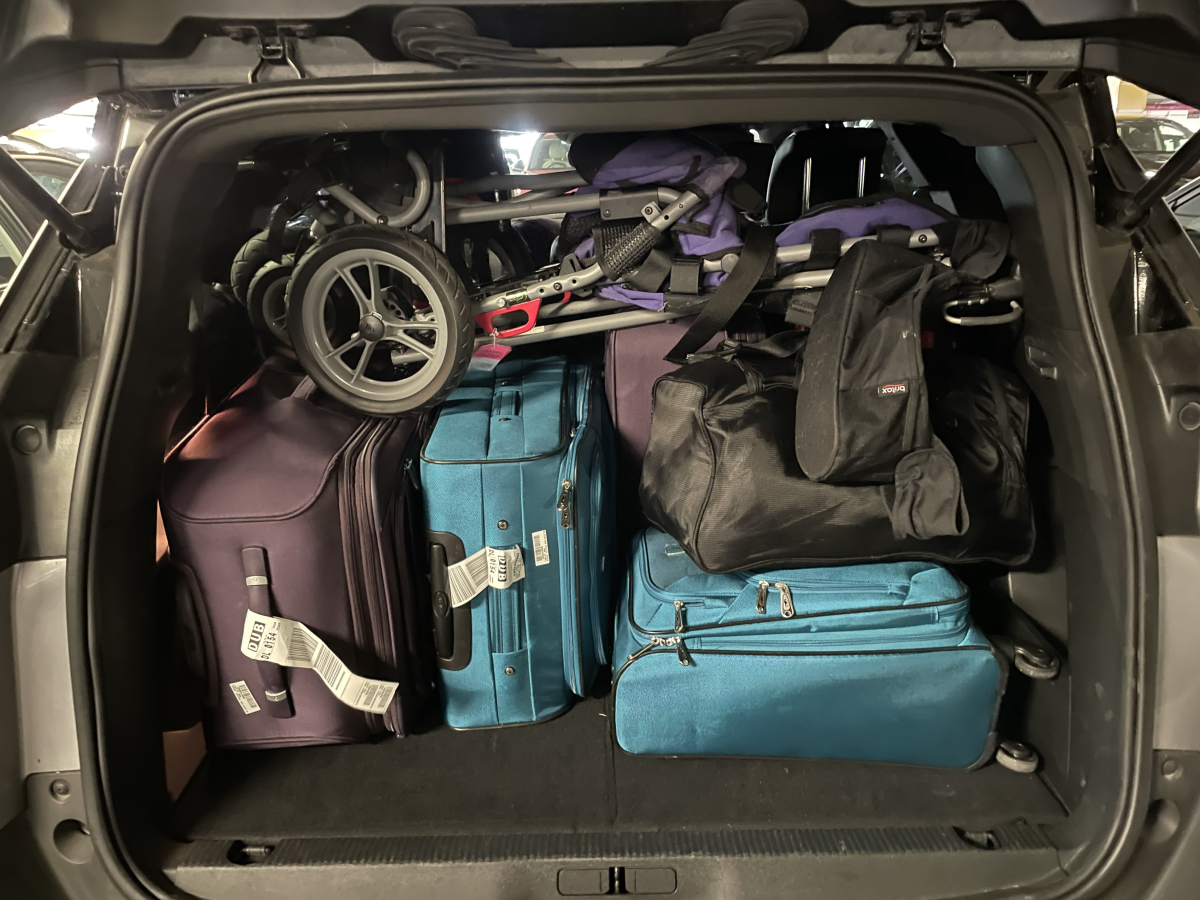 A great tip for families traveling with children: Dublin Airport has a service called The Stork Exchange, which rents out car seats and boosters. Not only do they meet you at your car with your reserved seat (you need to reserve as far out from your trip as possible), but they also install it for you. To forestall the daunting experience of rolling off a plane at 8 a.m., bleary eyed after a sleepless flight, wrangling children and luggage, and having to struggle to set up a safety seat to EU specifications, we were very happy to pay the extremely reasonable fee for the Stork Exchange to handle it instead. At this time, Dublin Airport is the only airport in the country to offer the service, but I'm told they are exploring ways to expand it to Shannon Airport as well.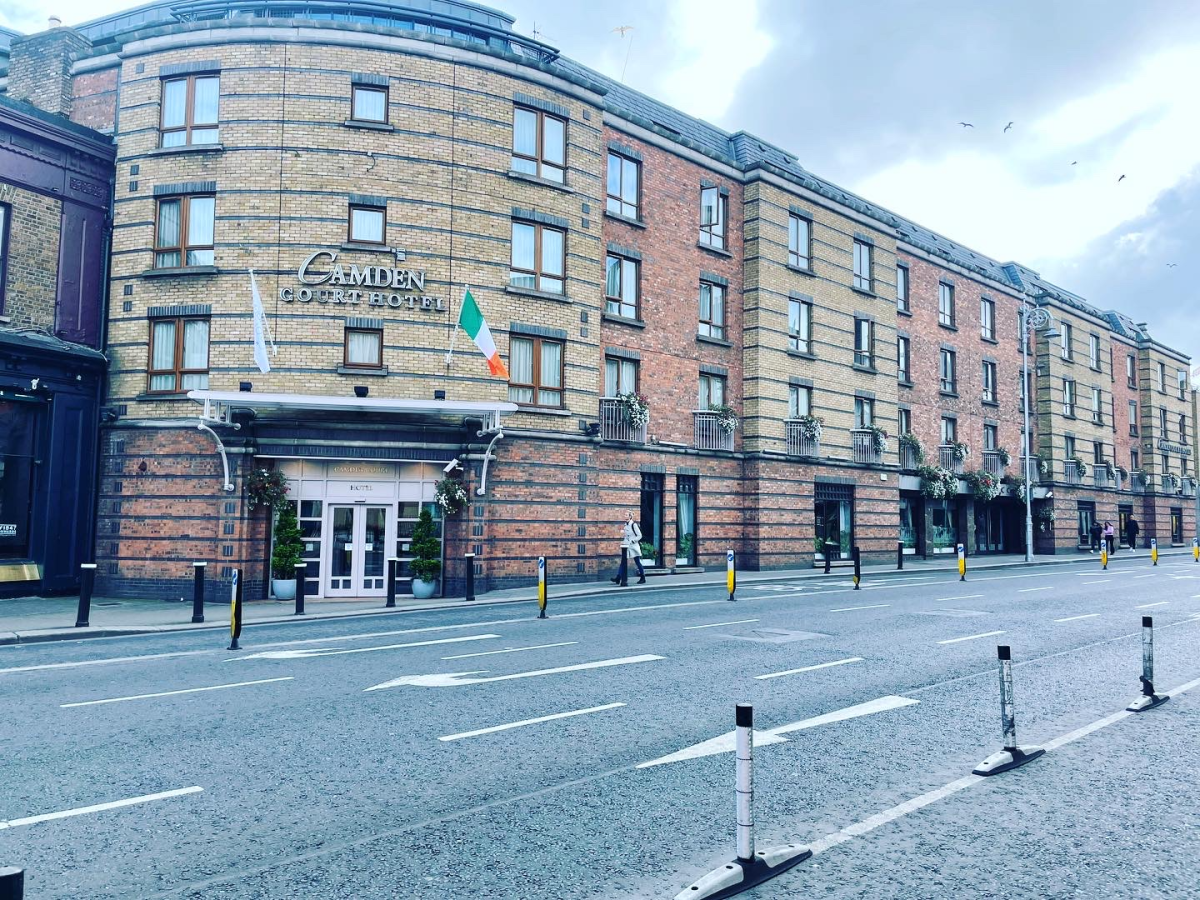 Not enough time for Dublin
Our hotel, another accommodation suggested to us by Tourism Ireland, was Camden Court in Dublin City Center. Within easy walking distance to Grafton St. and St. Stephen's Green, the hotel is also steps away from the Luas tram. Our biggest regret about Dublin was only planning a two-day stay. We walked around Grafton St, enjoyed the buskers, took a River Liffey cruise, and met up with family, who brought us to a well-appointed playground in Stephen's Green.
The best meal of our trip was prepared by Spitalfields Pub and Restaurant. This cozy, two-story pub in the Coombe district of Dublin is geared toward adults (the website notes its unsuitability for children under 16), and the experience left us raving. The manager, Declan Maxwell, pointed out to us the positive Michelin review the restaurant posts in the window, and it is well-earned. Creative, fresh, sophisticated, and swanky, Spitalfields tops our list of out-of-the-way food destinations while in Dublin.
For a more family-friendly meal, Milano on Dawson St. had great pizza in a lively atmosphere. There were steps leading up to the restaurant (which we found to be the case throughout the trip) so a staff member helped carry Lianna's wheelchair to the top. 
Saying "farewell" to Dublin, we climbed into the Peugeot and headed west, through Co. Limerick into Co. Clare.
Bunratty Castle and Folk Park
A first-stop destination for many travelers arriving in Shannon, Bunratty Folk Park is a fascinating look into Ireland's medieval past. A well-appointed castle (Note: the castle itself is in no way wheelchair accessible) and the surrounding folk park gave us a chance to stretch our legs after the long ride from Dublin. Arriving late in the day, we found the park nearly empty, save for the staff members getting ready for the evening's interactive banquet. Meandering in and out of various cottages and shops, followed by time in a wonderfully accessible playground made for a great, disability-family-friendly afternoon. Don't forget to visit the farm animals and the fairy trail! 
Doolin Ferry
Now that the movie "Banshees of Inisherin" has taken the world by storm, I'm going to predict that the ferry companies to the Aran Islands are going to see quite a windfall, and for good reason. Doolin Ferry Co.  (doolinferry.com), known as the Gateway to the Cliffs of Moher and Aran Islands, operates out of Doolin, quite close to the town of Ennis, and its picturesque and colorful pastel village has become a famous site for photographers, both amateur and professional.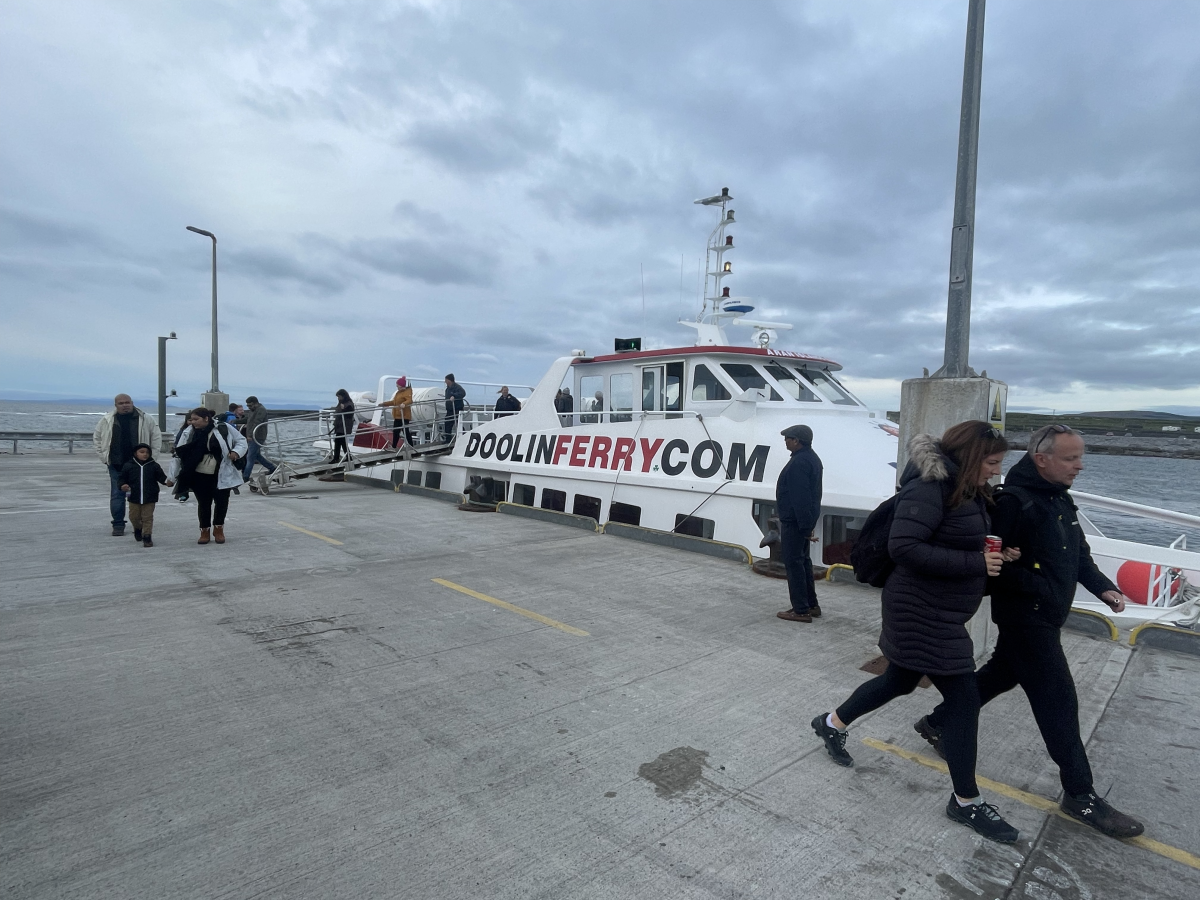 The overnight trip we planned to Inishmore was, sadly, thwarted by rough seas, and we were only granted passage to the island for the day. Though we were disappointed that our "glamping" adventure (aranglamping.ie) had fallen through, the Doolin Ferry staff very kindly offered us a sea-side tour of the Cliffs of Moher when we returned from our adventure on the island. The boat, we were happy to learn, was wheelchair accessible, though we decided to leave our chair on the mainland for a few short hours. 

Beautiful Inishmore
Our original plan for Inishmore was to rent bicycles with a child-sized buggy for Lianna to ride in, but since our overnight plans were curtailed, we opted instead for the ubiquitous trap and pony ride to Dun Aengus. Our guide, Gerry, and his horse Jack, took us on a picture-perfect and leisurely trek along the coast. We decided against the trail walk to the top of Dun Aengus due to its difficulty for Lianna, but had a delicious lunch at Teach Nan Phaidi (facebook.com/profile.php?id=100050441933170), followed by a shopping spree at the Aran Sweater Market (aran.com) that was more than enough. 10/10, a perfect day on Inishmore.
Shortly after arriving back to the dock in Doolin, we set off again by sea for the Cliffs of Moher Tour. Doolin Ferries offers this lesser-known vantage point of the most popular tourist attraction in Ireland, which features a guided tour of the history and geology of the Cliffs. The boat featured both climate-controlled cabins as well as an outside deck, along with disability accessible seating. 
Caherconnell Stone Fort

in Co. Clare: A day for the dogs
On initial consideration, one might see an attraction like

Caherconnell Stone Fort

 as perhaps just another military post similar to Dun Aengus or any other of the many bronze age remnants dotting the Irish landscape. We were delighted to learn that Caherconnell offers so much more: In addition to an in-depth tour of their privately owned stone fort, they offer 3 demonstrations each day of their gorgeous Border Collies shepherding a large flock of sheep. Sounds a bit different for a vacation activity, doesn't it? But for my canine-loving family (adults and kids included), it was a marvelous and entertaining way to spend an afternoon.
Not far from Doolin, Caherconnell is a bit of a drive on local roads and the signs leading you to the fort are borderline "blink and you might miss it." Luckily, our kids in the back seats caught sight of the Border Collie signs before we could and pointed us in the right direction.
I wasn't sure that the kids would care much about the ring fort, especially considering the fact that we dropped into the gift shop prior to the tour, which is normally a surefire way to distract my souvenir-grabby children.
My 11-year-old, Nate, was rapt as our entertaining and knowledgeable guide brought us around the property, pointing out the various types of walls and what is believed to have been A Day in the Life of an average Bronze Age family. Complete with artifacts and excavation sites, it was a fascinating glimpse into a history of the land.
Accessibility-wise, the ring fort itself is tricky. The paths leading us around the grounds were stone chips and were kept very tidy. However, walking into the fort itself wouldn't be possible for wheelchair users, or anyone who wouldn't be steady on their feet. We were able to bring Lianna in with us as she's still light enough to lift over rough spots. 
In all honesty, it was the promise of sheepdogs that brought us to the middle of the Burren on the windy and wild day we visited in October. We were expecting a fairly entertaining show but were not prepared for just how enjoyable and funny the demonstration was.
Witnessing the delicate dance between the dogs' natural instincts and their humans' commands was impressive and, at times, hilarious. Jess, the young pup of the group, was a favorite of ours. She certainly has the drive to be a shepherd for the flock someday but hasn't yet got her attention span in place. 
Members of the group were given the opportunity to "drive" the dogs, shouting commands and moving the flock this way and that. It was a very welcome change from dealing with our family dog, who regards our instructions as mere suggestions.  Check out our video here  (and please forgive the sound quality; the wind was sharp in the Burren this particular day!).
For those among us who weren't prepared for the chilly wind, there was a lovely little cafe with an assortment of yummy goodies, lattes, teas, and hot chocolate where we grabbed a bunch of treats before hitting the road to Galway.
The Galmont in Galway
The entire family was enchanted with our hotel choice, the swank and modern Galmont Hotel and Spa. A short walk from Eyre Square, the location was great, though the sidewalks in Galway City can be too narrow to accommodate a wheelchair against oncoming foot traffic. The children loved the energy of Galway – the buskers, the shopping, and the McDonald's on Shop Street.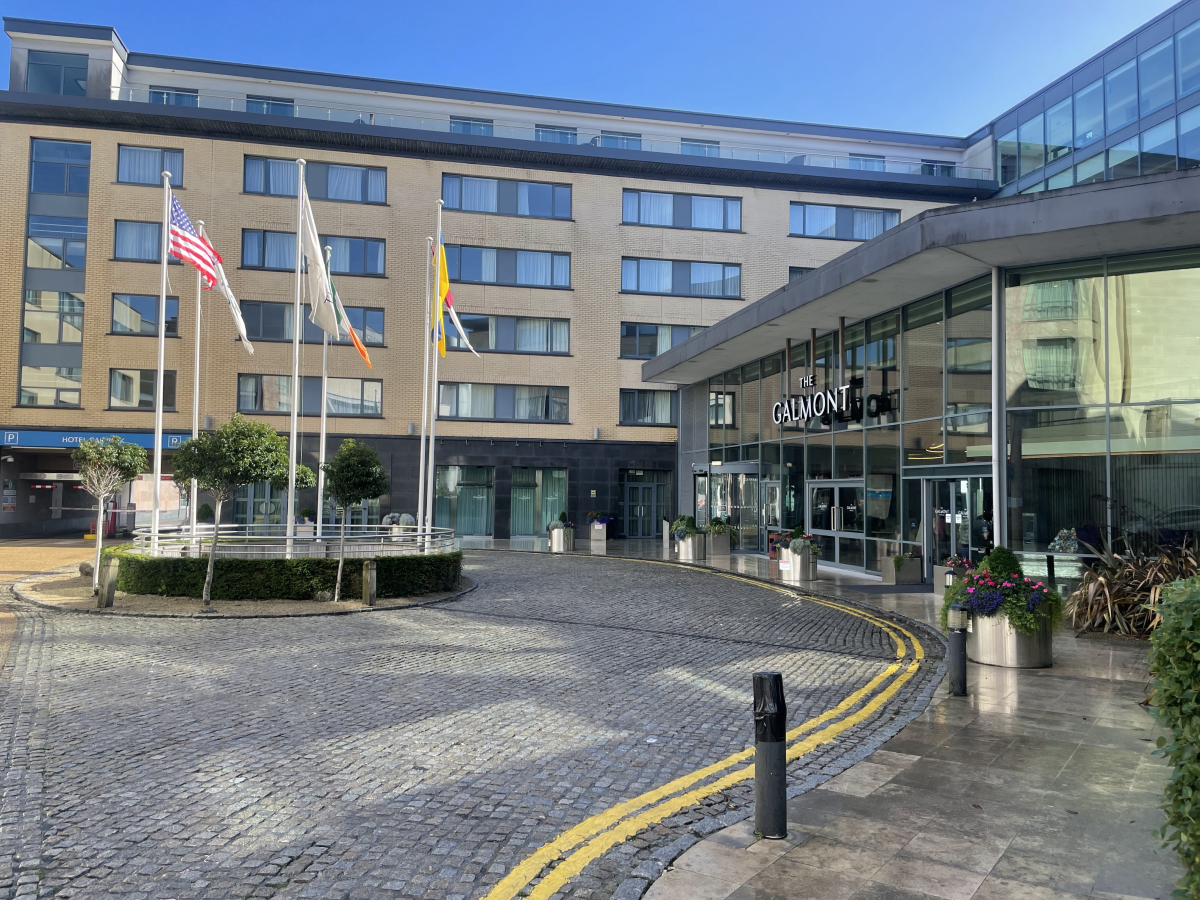 The beautiful Galmont Hotel in Galway City
The medieval city is very difficult to navigate with a wheelchair, but, as we found along every stop in Ireland, there was always a kind stranger, or employee, more than willing to offer a hand of assistance. 
Dough Bros, the famous pizza shop on Middle St., is worth the hype. It's touted as the #1 pizza in Ireland, #16 in Europe, and # 37 in the WORLD, so we waited in line for quite a little while to sample the pies in this joint and then wished we could have brought some back with us to Boston. It's one more incentive to spend more than 24 hours in Galway on our next visit.
Another (great) note about Ireland and allergies. Nearly every restaurant posted the top allergens used on their menu, so we were able to reference from the window whether any given establishment was a fit for us. This is a handy accommodation that the US should adopt (our family has more than 8 allergies among us).
As anyone living with a mobile disability understands, the world is decidedly unaccommodating, whether it's a trip to the local grocery store, or a trip across the Atlantic. While we encountered our fair share of difficulties in Ireland and had to forego certain activities like castles and long hikes, we were happy to find that the legendary Irish hospitality was often enough to make our visit a pleasant experience. The sheer number of strangers who offered a helping hand was a testament to the overwhelming kindness of the people of Ireland. We will be back!
Of special note: I must compliment Delta Airlines for being more than accommodating to our special needs. Not only were we met in the airport by agents dedicated to navigating both Logan and the airport in Dublin, but the flight crews upon our aircraft were also gracious and helpful. 
When my daughter experienced a seizure on the return flight from Dublin, the lead flight attendant was at our seats in a flash, summoning doctors on board and ensuring that all was okay throughout the flight. We were then met at the gate by Nancy Cohn, Delta's Boston Customer Engagement Lead, who had been alerted of our situation ahead of time and welcomed us back home with open arms and treats for the kids.