By Sean Smith, Special to BostonIrish
June 30, 2020
I guess I should've kept my big mouth shut.
Back around late February – you know, those halcyon, care-free days of long ago – I wrote a personal-perspective piece for Boston Irish that, among other things, took note of some considerable angst in the local Irish/Celtic music community about the shuttering of the Green Briar Pub and other recent closings of beloved venues and regularly occurring events. Did these perhaps signal a trend that might result in an imminent demise of Boston's Irish/Celtic music scene?
Nah, I said, in so many words: "Too many people have worked too hard for too long – as musicians, teachers and organizers – for it all to come crashing down."
Well, we know what happened. Within a matter of weeks, it all did indeed come crashing down, along with seemingly everything else in our lives.
 Of course, "crashing down" does not necessarily mean "eradicated forever from existence." To be sure, though, it's pretty bad. Most all the pubs we used to go for sessions are closed, as are the coffeehouses, concert halls, and other places where we enjoyed live performances. As of this writing, nobody knows exactly when or in what capacity they'll re-open – or how many will survive long enough to re-open. Even band rehearsals, or just informal gatherings at a friend's home for music, are rare now. 
Intellectually, we know that someday, surely, the all-clear signal will be given. And won't that be a wonderful thing. During the last couple of months, I've spoken with, or seen comments on social media by, friends and acquaintances who sorely miss sitting in the same room and playing music with other people. Virtual sessions, whether by Zoom or Skype or other apps, simply cannot take the place of the real thing. And everyone seems to say literally the same thing: "I didn't realize how much I took it for granted. I never will again!"
Hope vs. Fear
Yet beneath the hope and anticipation, there is also some trepidation that it won't be the same somehow.
We think of what it was like to sit and play tunes in a crowded pub, or to spin through the figures of a ceili or contra dance on an equally packed dance floor. How, we wonder, will that work in the era of social distancing? How many people will be allowed into the session or dance? Will we all have to wear protective masks while we dance or play music? 
In his book "Rites of Spontaneity: Communality and Subjectivity in Traditional Irish Music Sessions," Boston University anthropologist Augusto Ferraiuolo discusses how it's not just the music that characterizes a session; it's what happens at the intervals and along the margins, the various sensations we experience – the sights, smells, and tastes as well as the sounds – and the interpersonal dynamics and social mores among those who gather. All those things, he notes, are neatly summed up in the word "craic." 
And so we contemplate the coronavirus era, and how it might affect the craic, and those moments that just happen: You're playing along with the other musicians to some reel or jig, and you find the fiddle player immediately to your right doesn't seem to have the grasp of the tune – but the flute player to your left does, and you lean over more in that direction so that you're in synch. You do this with little or no thought; true, it's infringing a bit on personal space, but these acts tend to be forgiven in the session atmosphere.
We also think about the intimacy of these events. A musician I spoke with looked forward to getting out to sessions and ceilis, but wondered: "Will I be able to hug and kiss my friends, or even just shake hands with them?" 
It's not just music-related activities and events, of course. We feel anxious, and not a little disconsolate, because it seems we must be vigilant about practically everything in our lives for the foreseeable future. That which we used to do spontaneously and without forethought is now subject to a checklist (appropriate social distance? face mask? hands sanitized?). Sure, we can adapt, but in doing so, what do we leave behind? 
I don't make a lot of predictions, at least not in writing. Up until that aforementioned column earlier this year, I think the last prognostication under my byline was in 1983, when as part of a sports column for the weekly paper where I worked, I projected a World Series between the Yankees and Braves; that year, the Yankees finished third in the AL East, while the Braves blew a six-and-a-half game lead to wind up second in the NL West.
So with disclaimers at the ready, here are some thoughts on what Irish/Celtic music in Boston (and elsewhere) might be like in the near, and somewhat more distant, future.
It might be that in the short term, sessions become less of a public event, and more the province of someone's living room, porch, or back yard. Or, if they are held in a pub, restaurant or other setting, perhaps session participants will have to be specifically invited or designated, based on room capacity factored by social distancing. Better than nothing? On the one hand, sure. But if you're new to this area's Irish/Celtic music scene, or to the music itself, making connections could become that much more difficult, which would be too bad – I remember being a new arrival here, and the welcoming atmosphere at places like the Village Coach House or Kinvara Pub that helped me make friends and acquaintances and improve my playing.
Then again, maybe people will, in fact, adapt: Newbies will be more purposeful and resourceful in seeking connections in the music community; experienced, longtime resident musicians will likewise make an extra effort to bring newbies into the fold; pub sessions will, for the time being, be a less participatory event, but more people will open up their homes for sessions on some regular basis and at least partly fill the void. 
Maybe that's as far as things will go, and maybe that will be enough. Maybe.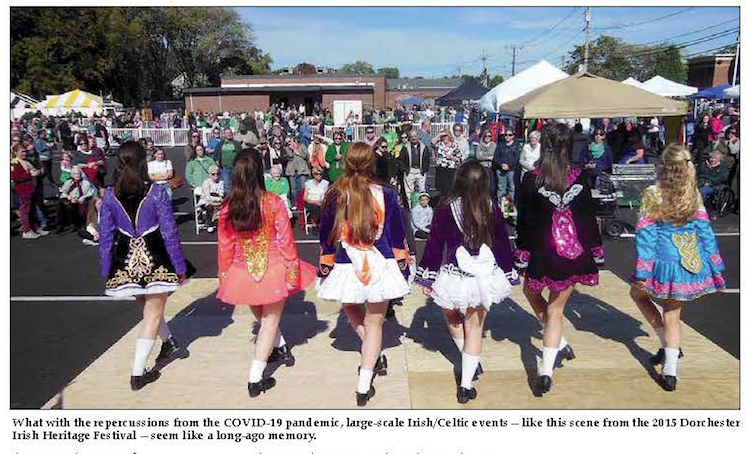 Tech and Trad
There used to be a perception that anyone involved with folk music – Irish/Celtic or practically any other kind – must surely be a Luddite of the first degree, as if playing centuries-old tunes and songs somehow rendered you oblivious to, even scornful of, modern technological advances. This notion is laughable – for one thing, have you ever noticed how many folkies work in high tech? – and most certainly does not reflect what's been happening for decades. 
For example, folk/traditional musicians have been teaching via Skype, Facetime, and other such platforms for many years now. Sure, in-person instruction is still preferable for teacher and student alike, but if you're an aspiring fiddler whose schedule doesn't easily accommodate schlepping half an hour each way for a lesson, remote learning is a welcome solution. Or, if you find a musician whose playing style is exactly what you've been looking for, but who happens to live a couple of states – or an ocean – away from you, why not work by Skype? 
Needless to say, teleconferencing has been indispensable for music teachers and students of late, including those who had given it a wide berth in the past ("Something I swore I would never do!" admits one fiddle teacher). 
Livestreaming performances via Facebook, YouTube, and other means also long ago ceased being a novelty, and have in fact become a critical medium these past few months across practically every genre of music, Irish/Celtic included. Local Irish musician Declan Houton, a member of the band Devri, hosted a series of online musical get-togethers from his home in the winter and spring and raised $25,000 for Lucy's Love Bus, an organization that supports children battling cancer. Boston-area Celtic acts such as Hanneke Cassel and Mike Block, Eamon Sefton, Maura Shawn Scanlin and Conor Hearn, and Jenna Moynihan took part in the Stay At Home Festival, a global livestream event in March held to benefit musicians who had lost income due to cancelled performances.
But this is hardly a recent phenomenon, even for the folk/trad world. Nearly 10 years ago, Concert Window – a partnership including a pair of then-Boston-based musicians, Irish-style accordion player Dan Gurney and mandolinist/guitarist Forrest O'Connor – struck an agreement with Club Passim to livestream performances from the famed Harvard Square coffeehouse. Although Concert Window closed down last year, over its lifetime it expanded to include numerous other venues beyond Boston and New England.  
The Shrewsbury Folk Festival in England has been livestreaming for more than a decade. Festival organizers clearly saw it as an integral part of the whole operation, and devoted resources accordingly: Instead of a single fixed-position camera sending grainy footage, the festival live feed (available via YouTube) features a choice of two stages, each with multiple, active cameras and overall excellent picture and sound; there are also interviews and other special segments which, along with the performances, are archived on the festival YouTube page. It's a major production. 
Again, most of us would no doubt prefer to see a performance in person, rather than via a monitor, TV screen, or phone. The energy of the performers, their rapport with the audience, the atmosphere in the venue, these are important parts of the live music experience that are difficult, if not impossible, to convey on livestream. Audio and video quality can vary greatly in virtual events, depending on the equipment used and the performance location (a professional stage? a well-illuminated living room? a poorly lit bedroom? someone's back yard?). Things sometimes go wrong with the feed, or some other technical difficulty occurs.
Some perspective is in order here, however. Much as we – understandably, and not unreasonably – might expect, even demand a certain baseline level of quality in livestream watching, it's easy to take for granted how far this technology has come along, and how much it has proliferated in a relatively short period of time. Further refinements are surely on the horizon, making livestream technology better and, hopefully, ever more affordable.
Meanwhile, each year (though not this one, sadly) when I catch the feed from Shrewsbury, I try to remind myself how really quite cool it's been to watch on my laptop as the likes of Sharon Shannon, Andy Irvine, Ushers Island, Kate Rusby, and Daoirí Farrell play live thousands of miles away. 
Ready or Not, the Future is Now
Recently, I did a story for Boston Irish on the Ministry of Folk [ministryoffolk.com], a website launched in April to aid folk/traditional musicians whose livelihood has been affected by the pandemic. The site includes a directory for performers/teachers, a calendar of virtual concert or workshop events featuring folk and traditional music, links to resources such as financial assistance campaigns for musicians, and information related to teaching and performing online.
There's a nice local angle to the Ministry: Two of its four co-founders are current Boston-area residents, and a third grew up here. All of them play folk and traditional music, though not as a full-time occupation, and have an appreciation for its presence in our lives.
Although they created the website in response to a crisis, the Ministry of Folk team has a long-term plan. As they see it, the pandemic has intensified long-evolving challenges for performers and organizers, and the impact is certain to endure for some time. Robust though Boston's folk/traditional music scene may be, it takes a lot of effort and creativity to attract audiences and listeners at a time where entertainment options abound inside and outside the home, especially in a place like Boston. That's not going to get any easier when pandemic restrictions lessen.  
Which is why the folk and trad music community needs to broaden and deepen its Internet activity, say the Ministry of Folk founders. Folkies may not be technophobes, per se, but for the most part, they haven't  embraced the full capabilities of the 'Net, either – such as using social media or platforms like Bandcamp to promote, share or sell their music, or doing virtual concerts or workshops. Now is the time to take the plunge, says the Ministry team.
"There's a learning curve for everyone," Boston-area native Sarah Collins told me. "As someone used to fiddle lessons 'in person,' the idea of doing it online felt strange to me. But then I realized I could take lessons from somebody in Ireland or Scotland while sitting in my living room. That doesn't take anything away from the importance of playing music together in the same place. It's a way to extend the possibilities of what you can do with the music."
Extending the possibilities will mean some serious thought and discussion, and could entail previously unconsidered investments of time and, yes, money. Maybe I break down and buy some decent equipment for livestreaming and home recordings, and get an account on Bandcamp and YouTube so I can make my music easily available for listening and purchase, as opposed to putting out CDs. Perhaps I supplement my e-mail list by getting on Instagram, Facebook, and Twitter, and learning to use these effectively.  Or I gussy up my website so that it's attractive and easy to navigate. 
Maybe music venues will begin to permanently offer a livestreaming option for all or most of their events, upgrading their audio-visual infrastructure as necessary to justify whatever price they might charge for viewing. In addition to a slate of on-site concerts, maybe venues will regularly host remote-site events on their livestreams – and performers will have to meet certain standards for the audio and video equipment they use. 
Perhaps as an alternative to in-person or livestream events, performers will opt to record videos to be shown on a venue's Facebook or YouTube page: straightforward, minimalist, face-the-camera-and-play episodes of, say, 30 minutes; or more elaborate affairs with sophisticated artistic and production values. Maybe viewers pay a fee – proceeds split between venue and performer – to have a permanent link to the video.
I present these scenarios as hypothetical, but some of them are already happening, albeit perhaps not as exactly described. They aren't magic pills and each comes with logistical and financial issues. They also may seem far removed from the ways many of us have enjoyed Irish/Celtic music, and I don't hold them up as being superior, or equal, to the experience of sitting in a pub or concert hall. 
Yet tech-assisted solutions and strategies will help keep the music alive and accessible, not just to its core audience but also to the wider listening public. To be sure, what's needed most of all are people dedicated to playing the music, whether as a vocation or for sheer enjoyment (or both). Fortunately, I think we'll always have them, especially in this corner of the world. 
Which brings me back to the premise for this column: Boston's Irish/Celtic music scene may have come crashing down, but not the determined, resolute community that built and sustained it in the first place. Putting things back together will take a long time, and require revising some assumptions and expectations as to what a "scene" should encompass, and how its moving parts operate. There will be frustrations, setbacks, and occasional curse words.
So best of luck to everyone involved in the great rebirth – musicians, singers, dancers, organizers, promoters and, obviously, the people who sit, watch, and listen. I look forward to raising a pint with you, whether over a table or a livestream feed.
Oh, as for the World Series match-up this year? I'll get back to you.