By Martin McGovern, Special to BostonIrish
April 28, 2020
In late August 1979, I flew from Dublin to Boston to spend two semesters at Stonehill College, a Catholic liberal arts college in Massachusetts. One academic year as a student has turned into 41 years as a Bay State resident and, today, I am one of the College's longest-serving employees. 
 Looking back, what strikes me about my arrival is how little I knew about my destination. In that pre-social media era, information was scarce. I headed across the Atlantic broadly knowing four things: 
Edward Kennedy was one of two Senators representing Massachusetts in the U.S. Senate. Boston was an Irish city but had a busing issue. George V. Higgins, author of The Friends of Eddie Coyle, wrote a mean Boston-based crime novel. A few weeks before leaving Ireland, I had seen the movie version of his book, which gave me a first glimpse of what Boston really looked like. 
Otherwise, I went clueless into the unknown.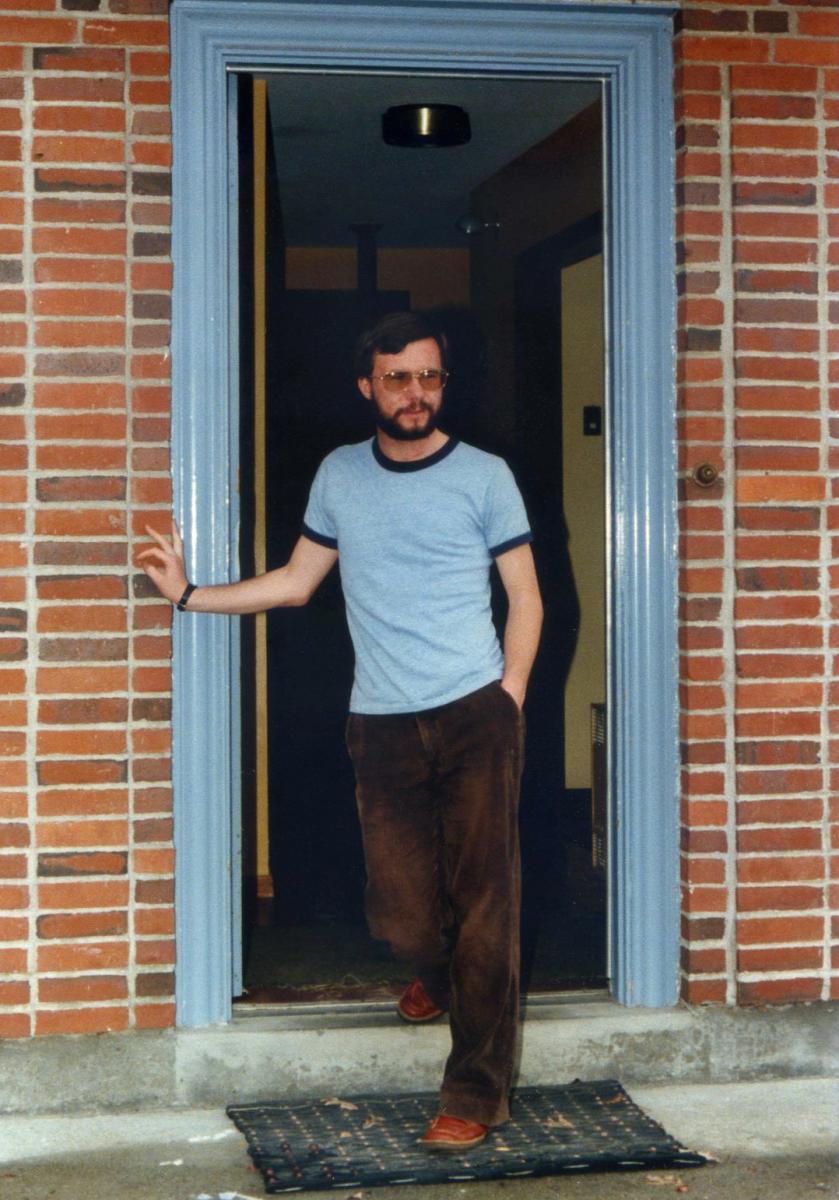 Leaving Dublin that morning, I wore a pair of dark brown, wide-whale cord pants, a wool shirt and a jumper, which of course is a sweater here. Stepping out of Logan's air-conditioned terminal, the sauna that is August heat in Massachusetts assaulted me. 
With my clothes heavy, damp and uncomfortable, I wilted. As the photo (at left) from my first week on campus shows, it took a while before I got to Sears in Brockton to buy more seasonally appropriate pants. 
The College had written that someone would greet me at the airport. Little did I expect a uniformed police officer to approach me, introduce himself as a member of the SCPD, and direct me to an official cruiser. Barely in the country and already in the back of a cop car. My head spun. 
Before coming to Boston, everyone assured me it was an Irish city. Yet, the first thing I encountered upon emerging from the Sumner tunnel was the City's North End, which was packed with Italians joyously celebrating the feast of Saint Anthony. A quick lesson in urban demographics and a sense that maybe not everyone sees it as an Irish city? 
Getting from Boston to the College, which is about 26 miles south in Easton, took forever given Friday evening traffic. I had assumed that "near" Boston meant that I could hop in and out of the City easily. Dawning reality suggested that my Irish sense of near was not in sync with an American one. Stranded in suburbia, I would be relying on buses and trains to get me into Boston. Ugh. 
Arriving at the College, the cop dropped me off in front of a building called the Sem, a former seminary used for student housing. There I stood for several minutes alone, just me and a chorus of crickets chirping in the warm night, something I had never heard before. 
A door opened and a voice said, "hello, I am Bob Kruse. Please come in." As my bags vanished, he guided me to a dining room where he prepared a pasta supper, opened a good bottle of red wine and began talking to me knowledgeably about Ireland, particularly the Wood Quay archaeological dig, then a big news story. 
After dinner, as he showed me to my room, we entered a corridor full of students in party mode with The Doors' Roadhouse Blues blasting and the kids belting out the words, Let it roll, all night long with gusto. 
Leaving the wing, Kruse, who was the academic dean and a Congregation of Holy Cross priest, looked at me with amused tolerance, rolled his eyes and smiled. Then, pointing to my room, he said, "have a good night, welcome to America." 
After a long, anxious day, his hospitality and humor put me at ease. The beat of music notwithstanding, I slept well that night. 
Not in my wildest dreams, however, did it cross my mind that I had landed in a place that would shape the rest of my life—a career in communications at the College, meeting my wife, finding wise mentors, and making friends and colleagues who stood by me during cancer and other challenges.  Clueless into the unknown, an adventure had begun. 
***
From Dublin, McGovern lives in Mashpee and is the Director of Communications and Media Relations at Stonehill College.