By R.J. Donovan, Special to BostonIrish
October 9, 2023
Nora Sullivan (Bridget) in "Lizzie: The Musical" Credit:  Jim Sabitus
"Lizzie Borden took an ax
And gave her mother 40 whacks
And when she saw what she had done,
She gave her father 41."
So goes the macabre children's ditty referencing the horrific Fall River family murders possibly carried out by Lizzie Borden in 1892. Lizzie was tried and acquitted of the crimes, but doubt and suspicion still loom more than 100 years later.  The murders and the subsequent trial were the tabloid fodder of the day.
Was she a killer? Did she work alone? Or was she wrongly accused?  
History tells us Lizzie was home at the time of the killings, along with Bridget, the family's 26-year-old Irish maid.  Both were extensively quizzed during the murder trial. It was highly suspicious that both women could have been on site and oblivious to the heinous hacking deaths — one on the first floor and one on the second. Bridget's specific and highly detailed testimony (some say too detailed) played a significant part in Lizzie's acquittal.
Was Bridget an innocent casualty of the crimes? Or was paralyzing fear at play?  Was she covering up more than she would ever admit to knowing?
Rumors circulated extensively back in 1878.  Mr. Borden was a well-to-do businessman.  Could he have had a violent enemy or two?  Mrs. Borden was actually Lizzie's step-mother. It was well known that Lizzie resented her.  Was there physical abuse in the household?  And was Lizzie's relationship with Bridget more than simply employer-employee?  
Ultimately, both Lizzie and Bridget took their truth to the grave.
There have been countless books and many films made about the crimes.  And the Fall River house where it all happened is now a bed and breakfast museum, cashing in on the crimes.  The curious can actually sleep in the upstairs bedroom where Mrs. Borden was bludgeoned to death.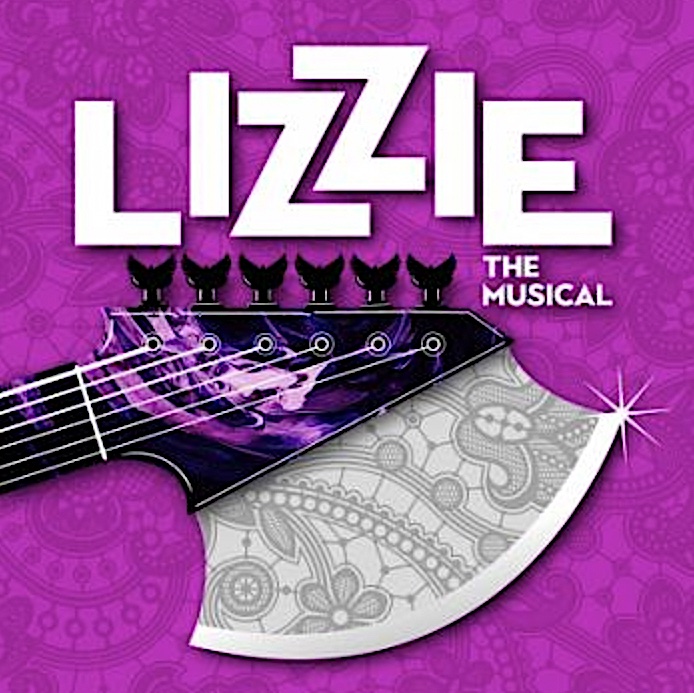 One of the latest incantations of the tale is "Lizzie: The Musical," a searing, multimedia rock opera playing at the Umbrella Arts Center in Concord through November 5.  Detailing rage, retribution and betrayal, the production takes an eye-opening look at the crimes.  And Lizzie finally has her say.
Nominated for three Drama Desk awards, "Lizzie" is the creation of Steven Cheslik-deMeyer, Tim Maner and Alan Stevens Hewitt.  The Umbrella production is directed and choreographed by Ilyse Robbins.
Nora Sullivan is taking on the role of Bridget in the Umbrella production.  A Wellesley native, she has worked extensively in the theater since her childhood.  She comes from a very pro-musical theater household.  Her brother is an actor, and her mom is a music and drama teacher, while her father always had a hand in building sets for whatever production Nora was appearing in.
Nora got an early start in the arts, joining The Weston Friendly Society — reportedly the second oldest community theater group in the country — at the age of seven.  She remained with the company straight through college, appearing in everything from "Beauty & The Beast" to "The Sound of Music" and "Spelling Bee."   She later appeared off-Broadway in "Playboy of the Western World" at Irish Rep.
Locally, audiences have seen her at Reagle Music Theater and Flyleaf Theatre Company, among others.  She also serves as the Executive Director for Sullivan Rep, the new professional repertory theater company established by her brother, the actor Daniel Forest Sullivan.
Nora originally attended college to study political science.  However, she simultaneously maintained a full rehearsal schedule in the theater — not just on the weekends, but virtually every day after class.  She eventually reassessed her choices and decided to take a year off from school.  
She later discovered an ad for The American Academy of Dramatic Arts in New York.  She knew almost immediately it was where she belonged.  She applied, was accepted, and fell in love with the school.  She also fell in love with the faculty.  And she fell in love with New York.  She considers AADA to be one of the best decisions she's ever made.
Nora and I spoke recently about her role as Bridget in "Lizzie" between rehearsals, prior to the show's opening.  Here's an edited look at our conversation. 
Q. How much did you know about the Lizzie Borden case before you joined the cast?
A. I knew the rhyme that we say as kids.  And I knew the name, because funnily enough, my sister's name is Bridget Sullivan.  So, if it ever came up, we'd always joke about it . . . but I didn't know a lot of the details.   
Q. Considering that the subject matter is the real-life murder of two people, what tone does the rock opera take?
A. It's interesting.  In rehearsals, we used the tone for Bridget's character as irreverent.  She kind of makes Lizzie tell this story.  For me, it's fun to be a little wild on that stage . . . It's just four women in the cast and it puts the focus on empowering these women (Lizzie, her sister Emma, Bridget, and Lizzie's friend Alice) . . . This musical takes a very clear stance . . . At the beginning, the first time we really meet Lizzie alone, she kind of explains to the audience, to get them on her side, what was happening.  It shows why maybe she did what she did.  The audience can decide for themselves if they sympathize with her or not.  Watching in rehearsals, it's incredible what Sophia Muharram, the actress playing Lizzie — what she did with it to bring you on her side.  It was so powerful. It was beautiful to watch.
       Sophia Muharram (Lizzie Borden) and Nora Sullivan (Bridget) in "Lizzie: The Musical"  Credit:  Jim Sabitus
Q. I suppose some people coming to see the show may have an opinion, even a limited one, about Lizzie's guilt or innocence.  How does that impact you and your cast mates?
A. I think it's a benefit because it creates intrigue and gets people excited.  There are definitely some things that I didn't know — details of the story . . . There are some adaptations that say Bridget was part of it, and that she committed one of the murders even.  And that she and Lizzie were in love, and that played a part in it.    But that's not really what this show is about.  This one tells a different story.  Bridget is a bit more on the outside watching it all happen, making it all happen, almost . . . Some people will be surprised by some details that they didn't know were always part of it.
Q. If you read the transcripts from the trial, Bridget was very detailed about where she was while the killer was supposedly in the house.  Which doors were locked.  Which doors were unlocked.  Which were triple-locked.  When she re-locked them.  There were suspicions about whether she had been coached.
A. I think about it, too.  If something like that happened, I don't know if I'd remember if I locked the door or not.  I don't know if I'd remember such details — and they went into detail.  You're right, it sounded rehearsed.
Q. Or worse, was she perhaps coerced by her employer — who, as you know, reportedly gave Bridget a hefty sum of money from the Borden estate once the trial was over and Lizzie was free.  What did you learn in your own research?
A. It's interesting because a lot of the sense that I got was that she almost seemed afraid of Lizzie . . . They describe her as quiet and that she wouldn't look Lizzie in the eye during the trial. Some accounts say that.  It's interesting because in our show she is not afraid of Lizzie at all.  It's exciting for me to know that maybe she was a little timid and for me to get to play the exact opposite.  She's definitely there.
Q. Have you drawn any conclusions of your own?
A. I don't know.  I personally think Lizzie had a part in it.  But you definitely could convince me that Bridget did, too.  It's a small house, how did she not hear anything.?  That's crazy.
"Lizzie: The Musical," Umbrella Arts Center in Concord, through Nov. 5.  Info: 978-371-0820, theumbrellaarts.org