By Sean Smith, BostonIrish Contributor
June 22, 2021
Boston-area musician Colm Gannon will be part of "Cairde Cairdín (Accordion Friends)," to be presented through   the Séamus Ennis Arts Centre Online on June 12. 
 
"Virtual Celtic" explores online concerts, festivals, workshops and other events that feature or include Celtic music. Please note that details may have changed, or the events may have been postponed or cancelled, since press time.  
•Dorchester-born accordionist Colm Gannon will be among the guests at a squeezebox summit on June 12 at 8:30 p.m. (Irish Standard Time) via the Séamus Ennis Arts Centre Online. "Cairde Cairdín (Accordion Friends)" will be hosted by Paudie O'Connor with Johnny Óg Connelly and Conor Connelly as well as Gannon discussing – as well as playing (of course) – the music that has influenced them.
Gannon – a resident in Ireland for some years but now back in Boston – is a former All-Ireland Fleadh champion who toured as part of "Riverdance" for five years and with bands such as Dervish and Dé Dannan, and has performed with none other than Dolly Parton. One of his major influences was his father, John, who passed on his copious knowledge of the Connemara accordion tradition to Colm and Colm's older brother Sean (who died in 2014); John has been a regular at sessions in The Burren for years. Gannon recorded two well-received solo albums, including "The Rights of Man," on which his wife, concertina player Kelly Gannon, makes a cameo appearance. 
Johnny Óg Connelly, from Galway, also grew up with a well-respected musician for a father, melodeon player Johnny Connelly. Starting on the accordion at age nine, Connelly went on to make numerous solo or collaborative recordings, including his own "The Bees' Wing," as well as "Dusk Till Dawn" with Charlie Lennon and "Dreaming Up the Tunes" with Brian McGrath, and "Siar," which consists almost entirely of his own compositions.
The 2019 TG4 Young Musician of the Year, South Galway native Conor Connelly infuses his accordion style with influences from the uilleann pipes and fiddle, inspired to a great degree by recordings of traditional Irish music going back to the 78-RPM era. 
 O'Connor launched the landmark 2005 recording of Sliabh Luachra music, "Different State," and contributed to "The County Bounds," a compilation of music from the Cork-Kerry border. He also presents a monthly slow session for adult learners that, since moving online, has gained hundreds of subscribers from around the world.
"Cairde Cairdín" can be viewed via the center's YouTube or Facebook. If you want to be part of a live Zoom audience for the event, you'll need to get tickets (which are free). Go to tseac.ie/event/2899-12-06-2021-cairde-cairdn.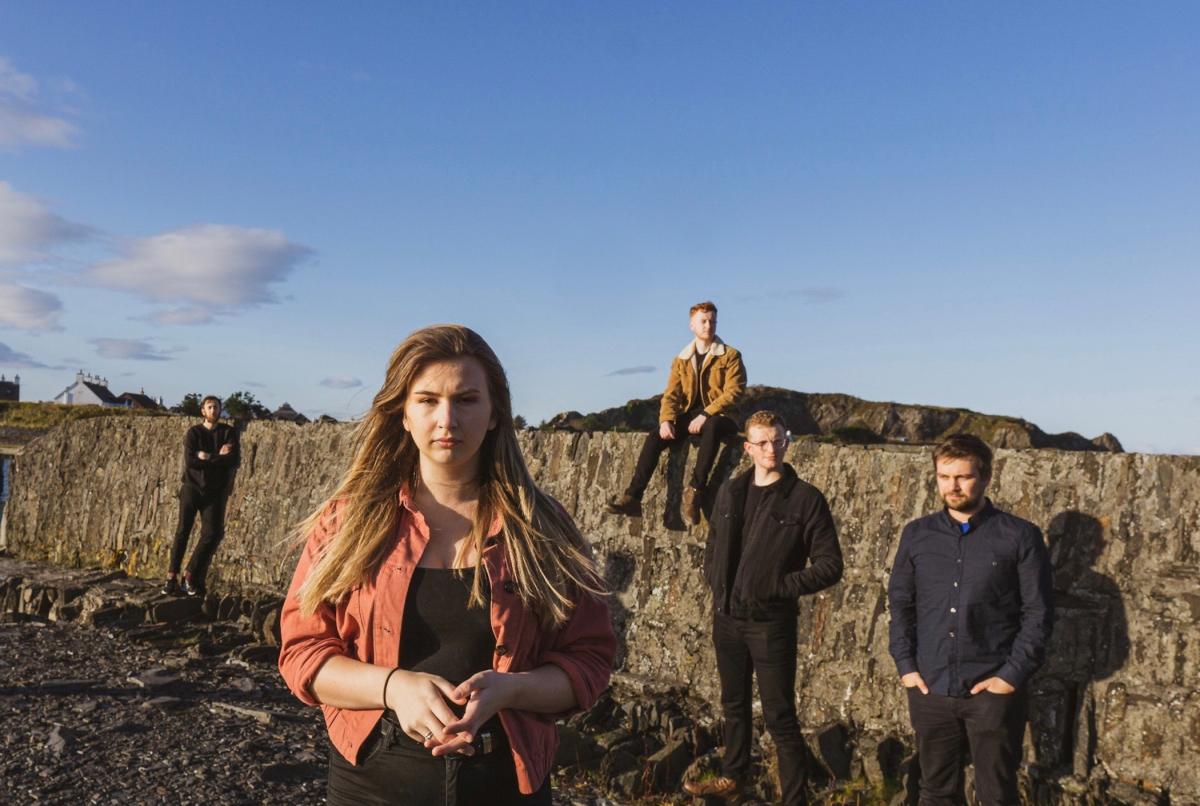 The Irish Cultural Centre of New England in Canton offers a virtual concert of Heron Valley on June 4. 
 
•The Irish Cultural Centre of New England in Canton has, of course, been a go-to place for music events big and small over the years, and over the course of the pandemic, the center has branched out into the realm of virtual concert sponsorship. Their next one will be June 3, featuring Scottish quintet Heron Valley (Abigail Pryde, fiddle, vocals; Keith Morrison, keyboards; Nick Hamilton, banjo, guitar; Alastair Maclean, bagpipes, whistles; Callum Cronin, bass, guitar). The band plays music of their native Scotland, as well as of Ireland, while also integrating country, bluegrass, and contemporary folk. Their most recent recording, the 2019 EP "Erie Storm," comprises some high-octane instrumental sets along with original songs inspired by sights, scenes, and people they encountered during their US tour (which included a return trip to the Burren Backroom series).
To register for the concert, go to myplayer.uk/heronvalley and click on the link for "Irish Cultural Centre of New England."
•Love it, hate it or tolerate it, Facebook has emerged as a ubiquitous outlet for virtual/livestream performance events, and among them is the "Quarantine Happy Hour" group, which runs a daily showcase at 5:30 p.m. Pacific Time featuring different kinds of folk and acoustic music styles. The first week of June spotlights a couple of prominent Irish/Celtic performers: On June 1 is guitarist/vocalist John Doyle, co-founder of Solas, active in several different ongoing/occasional collaborations (including The Alt with Nuala Kennedy and Eamon O'Leary, and Usher's Island with Andy Irvine, Donal Lunny, Michael McGoldrick, and Paddy Glackin), and by now a quite experienced and celebrated songwriter. Tony DeMarco will be the guest on June 4. A fine exemplar of the New York City-Sligo fiddle tradition – "The Apple in Winter" album he recorded with Brian Conway is regarded as a hallmark of the twin-fiddle Sligo sound – DeMarco has been a mainstay of the city's Irish session scene for decades.
A virtual tip jar is available to support the performers, which you should do, obviously. You also will need to formally join the Quarantine Happy Hour group to get access. It's at facebook.com/groups/quarantinehappyhourmusic.
•The Killaloe Music Festival, which is centered in 900-year-old St. Flannan's Cathedral, has largely focused on Irish performers of chamber music, but seems to have widened the lens a little this year. The festival livestream will include a concert by fiddler Zoē Conway and husband/guitarist John McIntyre on June 5 at 10 p.m. (Irish Standard Time). Conway has long straddled the classical and traditional music domains. She studied at the Dublin Conservatory of Music and Drama, led the Cross Border Orchestra of Ireland, and has appeared at Carnegie Hall, the National Concert Hall in Dublin, and Moscow's Kremlin Palace, among other places. She has also been a musician with "Riverdance" and in a trio with Irish music legends Donal Lunny and Máirtin O'Connor. Her debut album with McIntyre, "Go Mairir I Bhfad (Long Life To You)," consisted of specially commissioned fiddle-guitar pieces composed by such Irish music luminaries as Liz Carroll, Steve Cooney, Frankie Gavin, Andy Irvine, Charlie Lennon, Tommy Peoples ,and Peadar Ó Riada.
You can watch the Conway-McIntyre concert, and the rest of the festival, for free but you need to book tickets; there is an option to donate to the festival. Go to killaloemusicfestival.com.
•Over the past decade-and-a-half, the St. Paul-based Center for Irish Music has been a hotbed of activity for traditional Irish arts in Minnesota and elsewhere in the Midwest. One of its signature activities is the Minnesota Irish Music Weekend, which will mark its 13th year June 10-14 in virtual format – hence its enhanced title "Minnesota Irish Music Weekend at Home," or MIM@Home. This year's performers/instructors include Boston-based duo Laura Feddersen and Nathan Gourley (part of the band Ship in the Clouds, which is featured this month in Boston Irish) as well as Mary Bergin, Bríd Harper, Edel Fox, Dáithi Sproule, Michelle Mulcahy, Tommy Fitzharris, Conor Connolly, Páraic Mac Donnchadha, and Nell Ní Chróinín.
MIM@Home features concerts but also a strong participatory element: There are workshops for adults, a two-day "Trad Irish Immersion Camp" for 9-to 12-year-olds and a special all-day program for teenagers in the intermediate-advanced range. A "Great Session Experience" also is in the works.
Details and registration is at centerforirishmusic.org/events/mim.
•Moving from the Land of 10,000 Lakes to the Lone Star State: The Houston School of Irish Music will present Gulf Coast Cruinniú June 18-20 ("cruinniú – pronounced "cren-new" – is Irish for "gathering") with concerts, special "Irish Journeys" presentations, classes, and two kinds of sessions, one led by teachers/performers, the other by participants.
The roster includes Liz Knowles, Eimear Arkins, Randal Bays, Marla Fibish, Anna Colliton (also a member of Ship in the Clouds), Kevin Crawford, Theresa O'Grady, Grainne Hambly, Frances Cunningham, Nuala Kennedy, John Doyle, Danielle Enblom, and Joanie Madden.
The Houston School of Music, by the way, evinces a strong commitment to helping young Irish musicians learn the tradition and have fun with it. The school's offerings include an Irish Youth Band ensemble that gives public concerts and volunteer performances at various festivals and local events. Its managing director is Larry Mallette, a flute and whistle player who co-founded Houston's popular Irish band The Jig Is Up! 
Go to gulfcoastirish.org for details.
•The Seosamh Mac Gabhann Summer School in Mayo is named for a beloved educator and administrator whose commitment to teaching traditional music to children achieved something of a classic underdog tale when his tiny village of Kilmovee won two youth ceili band competitions in the 1976 All-Ireland Fleadh and a third eight years later. The school is bringing back its weeklong "Facebook Lives" series of online tutorials June 28-July 2. Pupils get the opportunity to learn a tune, a song, or a dance every day; each tutorial lasts for approximately 45 minutes.
Among the "Facebook Lives" presenters will be Oisín Mac Diarmada (fiddle), Breda Shannon (concertina), Michael Hurley (tin whistle), Theresa O'Grady (banjo), Laura Ganley (sean-nós dance), and Caoimhe Kearins (traditional singing). 
It's all free. The school adds that viewers can make a donation to the school's chosen charity during the week. Get all the particulars at smgsummerschool.com.