By Sean Smith, BostonIrish Contributor
September 6, 2021
"We were very fortunate to create this work when we did,"
says Lily Honigberg of her "Sunrise Summit" EP album. "Looking back I
think of it as a meditation on how musicians and performers adapted to
the challenges of the pandemic, even as global issues confronted us
all."
After seven years as a quite active musician in Greater Boston's Irish/Celtic and folk scene, Lily Honigberg has traded in "Love That Dirty Water" for "California Dreaming"; cold, icy winters for warm, rainy ones; the Atlantic for the Pacific; Red Sox for Dodger Blue.
Last month, Honigberg packed up her fiddle and other possessions and headed out via the scenic route to Los Angeles, the latest development in what has already been an eventful period for her, highlighted by the release this past summer of her debut recording, the EP "Sunrise Summit." The album – the first volume of an envisioned larger work – comprises mainly original tunes by the Washington, DC, native that reflect her wide-ranging musical experiences and interests, including Irish, Scandinavian, and Americana, and features renowned Irish guitarist John Doyle on two of the tracks.
For many years, Boston's Irish/Celtic music scene has been energized by the presence of young people who come to the area to attend college, especially the New England Conservatory – Honigberg's alma mater – and Berklee College of Music but also the likes of Harvard, BC, BU, Northeastern, and other institutions. They fan out to area sessions, form ties with local or other college-age musicians, start a band or two (or three), play at coffeehouses and festivals, and contribute fresh energy and ideas while enjoying Boston's fertile landscape of Irish and related music traditions.
Not all of them end up staying in Boston, of course. Maybe it's the tug of home and family, graduate school or employment opportunities elsewhere, the cost of living, or as in Honigberg's case, the desire to explore other musical vistas: She's looking to spread her wings in the contemporary/singer-songwriter domain, and since she already has contacts in LA in the form of old high school friends, she's feeling hopeful about her prospects (a trained Pilates instructor, Honigberg also can find work outside of music to support herself).
"I just turned 25 in June, there's nothing tying me down, and I feel I want to explore my musical identity," says Honigberg, who earned bachelor's and master's degrees from NEC. "It seems to me that I'll have better luck finding the kind of music I want to be involved with in LA than Boston, and I feel that some of the skills I have – being able to read, write, and arrange music –  will be helpful in these kinds of collaborations. It's a leap of faith, but sometimes when your gut instincts tap you on the shoulder, you just have to pay attention."
Still, Honigberg values her time in Boston, a significant chunk of it spent building on her childhood interest in Irish fiddle, which she traces to her mother's own enthusiasm for learning the instrument after a trip to Ireland. When at age 10 first she listened to recordings of Irish fiddle, Honigberg – who, raised by musical parents, began classical violin at age four – recalls, "I thought, 'Wow, the violin can do that?' And I kind of tucked that in the back of my mind." But it wasn't until her freshman year at NEC that she began playing by ear, a vital skill for Irish fiddlers, and this enabled her to get a handle on learning tunes ("I played along to Martin Hayes in my dorm room"). As her comfort level grew, she began meeting and playing with other musicians through sessions at The Burren and The Brendan Behan Pub, among other places; a couple of sojourns in County Mayo strengthened her Irish fiddle-playing.
But Honigberg notes that NEC, and its own community, took up the majority of time and head space in her life. Her most substantial Boston-based venture was joining five other NEC students to form Night Tree, which fused Irish and Scandinavian music with classical, jazz, klezmer and Afro-Cuban influences and incorporated improvisation as part of its sound. The band recorded two albums that were produced by former Solas member Seamus Egan, and performed locally at The Burren Backroom series and Club Passim as well as venues around the East Coast and even at the Kurro Musikfestival in Sweden. Solas co-founder and fiddler Winifred Horan also worked with Night Tree as an NEC faculty coach.
Night Tree parted ways amicably in 2019, but planned to reform for a reunion concert last year at The Burren that was subsequently cancelled because of Covid. Some of its members, including Honigberg, played in a short-lived successor, Fade Blue.   
"Night Tree was an incredible experience, such a huge project for us all. We missed so much school, I'm surprised NEC allowed us to graduate," she says with a laugh. "I feel that those three years we were together gave me a lot of the tools – and the courage – to do 'Sunrise Summit.'"
After Night Tree broke up, Honigberg found herself with a "huge window" in which to work on ideas with fiddle. This led her in early 2020 to Asheville, NC, and a fellow NEC alumnus who had set up a recording studio and invited her to come try it out; accompanying her was Fade Blue bandmate bass player James Heazelwood-Dale. Asheville also is home to John Doyle (another Solas co-founder), whom Honigberg had met and jammed with in Sweden. It would have been unthinkable not to let Doyle know she was in town, so Honigberg sent him an "I'm here!" text. The ball had started to roll.
"I sent John the tunes we were going to play, and when he showed up at the studio, we just got right down to it," says Honigberg. "It was tremendously inspiring to have this powerhouse player with us. I actually had what I think was an out-of-body experience in the middle of it – I just thought, 'Wow, I'm sitting on a couch in Asheville with John Doyle.' He brought all his years of experience into that moment, and I felt like I could do anything."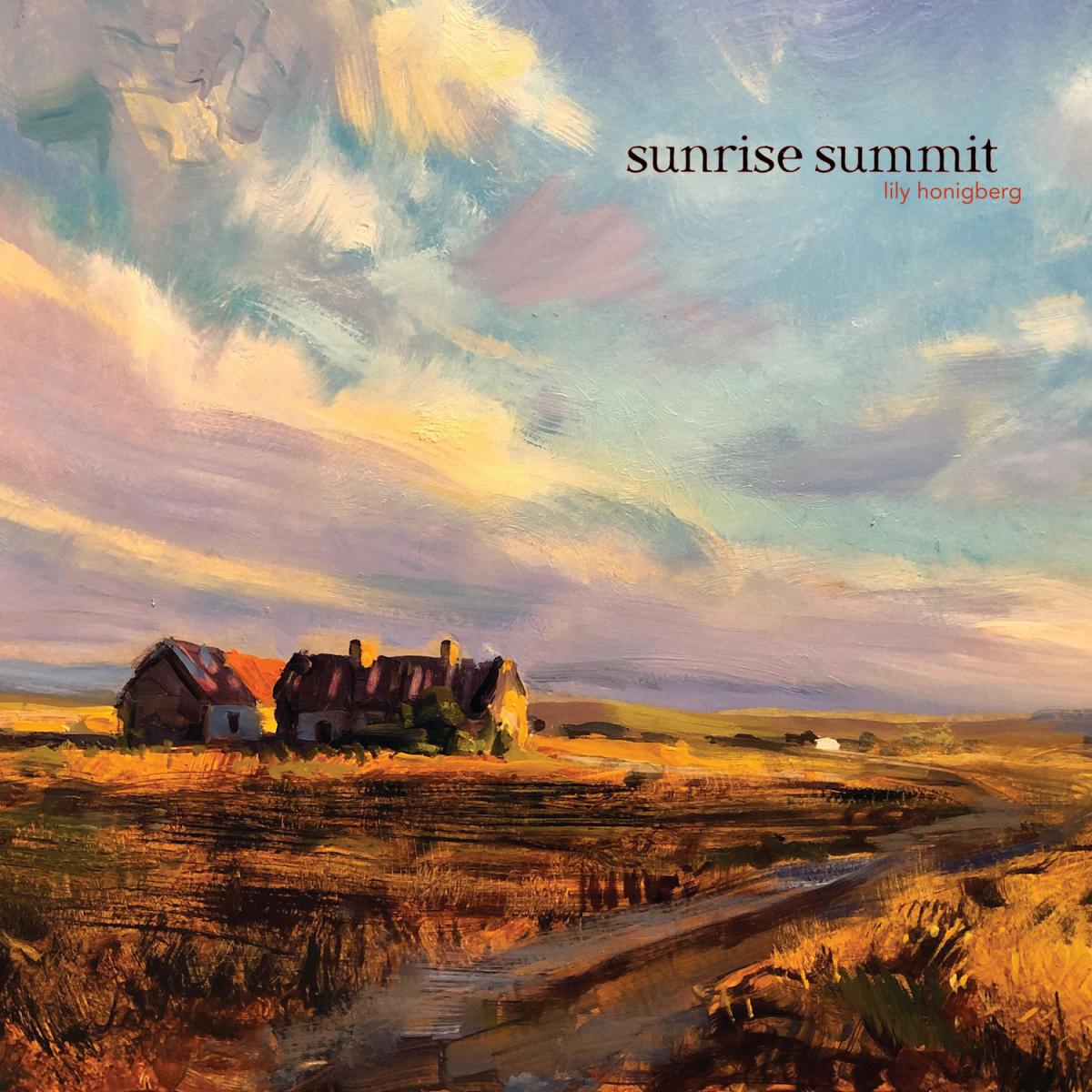 "Reunion," the EP's first track, begins with a classic pulsating Doyle introduction that lays a 6/8 groove for Honigberg's delectably soulful fiddling, which here tends toward the lower register; then Doyle breaks off into a 4/4 rhythm and Honigberg revs up into reel time, displaying lift and attack with gusto. Doyle's other appearance is on "If and Only If," composed by traditional/experimental/avant-garde fiddler Caoimhín Ó Raghallaigh, and an entirely different animal: a pensive sojourn in a slow, stately 6/8, Doyle adding occasional harmonies in his accompaniment and leading a lovely little interlude with Heazelwood-Dale.
Also on the EP is "Eleanor," a homage to Honigberg's grandmother and her Norwegian ancestry that was inspired by Swedish-born accordionist Sunniva Brynnel, a former member of Night Tree. Honigberg tunes her fiddle to GBGB, which, along with Heazelwood-Dale's bowed double bass, creates a moody Scandinavianesque soundscape before segueing to a sprightly old-timey vibe. The title track – the name of the Asheville street where the studio is located – has an American-Scottish feel to it, Heazelwood-Dale playing both acoustic and electric bass to supply a jazzy undercurrent ("Having James along was fantastic, just changed the whole dynamic of what I do," says Honigberg).
Honigberg sees the "Sunrise Summit" project as a potential springboard for other musical adventures, in LA or elsewhere (she has a tour scheduled later this year with her cello-playing father).
"I listen to the album, and I can't believe it's me, yet I feel so connected to every track. I find it comforting music, though it was recorded in a highly emotional time for the world. We were very fortunate to create this work when we did, and looking back I think of it as a meditation on how musicians and performers adapted to the challenges of the pandemic, even as global issues confronted us all. "
For more on Honigberg, and to purchase "Sunrise Summit," go to lilyhonigberg.com