By Sean Smith
March 4, 2020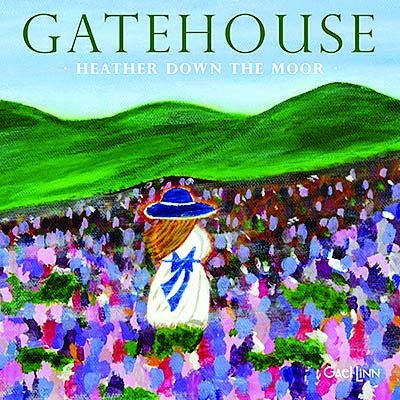 Gatehouse, "Heather Down the Moor" • This quartet's second album carries the same appeal as its first: masterful technical proficiency among the musicians, but also those indefinable yet invaluable qualities – spirit and temperament – with which they invest the music. Gatehouse is oriented to the North Connaught/Roscommon tradition (which has given us, among others, Michael Coleman, Kevin Burke, Frankie Gavin and, more recently, Mossie Martin) and its core is around the rapport between John Wynne (flute, whistle) and John McEvoy (fiddle, mandolin) – who made a favorable impression with their 2007 release "Pride of the West" – with McEvoy's wife Jacinta supplying concertina and splendidly versatile guitar (her intro and backing on the slow reel "Jack Rowe's" is gorgeous). Rachel Garvey sings in English and Gaelic, her voice equally elegant, winsome, and forceful as when appropriate.
Gatehouse is obviously steeped in tradition but also very cognizant of stylistic innovations, especially in arrangements, that have taken hold over the course of the Irish folk revival. So while the "Monasteraden Set," a pair of reels, is basic all-hands-to-the-fore from start to finish, their medley of flings, "Kitty Got a Clinking Coming from the Fair," has some variety: fiddle and whistle churn away to subtle backing and lovely chording by Jacinta McEvoy, and then John and Jacinta's son Paddy – one of six special guest musicians on the album – takes up the rhythm on piano on the second tune as Wynne shifts to flute. "On the Edge" is a trio of John McEvoy originals that begins with an accented 4/4 dark modal-minor-type tune, Michael McCague's bouzouki alongside Jacinta's plucked guitar; another McEvoy offspring, Conor, joins John on fiddle as he shifts into the first of two jigs, and bodhran virtuoso John Joe Kelly plus Paddy McEvoy's piano helps bring the medley home. Other guests include Alan Kelly – he of Alan Kelly Gang renown – who plays accordion on four of the tracks, including two of the songs, "The Death of Queen Jane" and "Heather Down the Moor."
Oh yes, the songs: In addition to "Queen Jane" and "Heather," Garvey has a go at "As I Roved Out" and "The Cocks Are Crowing." These are familiar, yet dearly loved entries in the Irish trad canon, sourced by Garvey from the estimable likes of Rosie Stewart and Paddy Tunney to the Bothy Band and Voice Squad, and she – and the band – do them plenty of justice. Sometimes a good song is, quite simply, a good song, and it's an even better one with a singer like Garvey who can provide the proper care and attention. Her treatment of the album's two Gaelic songs, "Seán Bán" and "Mo Cheallaichín Fionn," is similarly exemplary.
The album finishes, appropriately enough, with two more John McEvoy compositions, both inspired by longstanding rituals and ancient beliefs – the latter, "The Healing Stone," comes from the idea that water gathered in the hollows of stone possessed special virtues and healing powers. There's something delightfully elemental in that, and it's the kind of affability to be found throughout "Heather Down the Moor." [gael-linn.ie]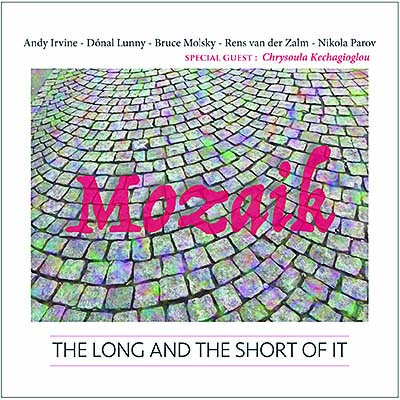 Mozaik, "The Long and the Short of It" • This space sang the praises of Andy Irvine last month, with the recent release of his "Old Dog Long Road" retrospective. Well, here we go again, although in this endeavor he's got plenty of company: old Planxty chum Donal Lunny, American old-timey musician Bruce Molsky, Dutch multi-instrumentalist Res van der Zalm, and Bulgarian Nikola Pirova. As Mozaik, these five have for almost two decades now been finding common ground between the Irish, Appalachian, and Balkan music traditions. And on this, the group's third release (recorded in 2015 but only issued several months ago), they add yet another element: Greek folk music, in the person of guest vocalist Chrysoula Kechagioglou who, while only appearing on a quarter of the album's 12 tracks, is an absolutely enchanting presence.
The sheer variety of instruments these guys play make up a small orchestra: bouzoukis, mandolins, harmonica, guitars, fiddles, five-string banjo, whistles, uilleann pipes, bodhran, and from the Balkans, the violin-like gadulka, kaval (a wind instrument) and the gaida (bagpipes). Irvine leads on four of the songs, Molsky two, adding Dublin and American voices to the mix. Not to be overlooked is another guest singer, Ágnes Herczku of Hungary, who vocalizes a Moldavian tune that leads into a dance melody ("Gyimes"). The overall effect is exotic to say the least: vintage Irish folk revival fretted-string accompaniment, old-timey/Appalachian drive, Eastern European rhythms and intervals – sometimes intertwining, other times set off against one another, but always holding together the vision of commonalities in cultures and music traditions.
In addition to fine renditions of traditional American songs "My Little Carpenter" and "Old Virginia," Molsky holds forth on a pair of fiddle tunes, "The Black Hills Waltz" and "The Red Steer," the latter at times resembling that great Irish reel "The Foxhunter's."  Irvine offers up a rather graphic whaling song from England, "The Coast of Peru," the start of which features a Parov-van der Zalm duet on whistles that has a South American tint to it.
Irvine's excellent songwriting is spotlighted here, too, with one of his trademark historical biographies, this time of the enigmatic, tragic Harry Houdini – who, as Irvine relates, for all his incredible feats most desired to escape from "the chains of eternity." There's also another in his series of memoirs from his youthful travels in Eastern Europe, "As Good As It Gets." The song was on the album he recorded in 2017 as part of Usher's Island (with Lunny, John Doyle, Michael McGoldrick and Paddy Glackin), but this was its earlier incarnation. It is particularly appropriate to the Mozaik repertoire, since this period of Irvine's life was so integral to his involvement with Balkan/Eastern European music. And above all, it's just a brilliant song – fun, playful, self-deprecating, a joyful reminiscence of being a young Irishman in the midst of overwhelming sensual wonders.
But the real gem is "Rainbow 'Mid the Willows," Irvine's take on an Ozark ballad sung by the legendary Arkansas singer Almeda Riddle – he wrote a couple of new verses and adapted a melody by UK musician Chris Algar. It's a powerful tale of forbidden romance, lyrics full of intense, vivid emotions, yet Irvine and the band treat the song with a gentle poignancy.
Which sets the stage for the next track, Kechagioglou's outstanding performance of "The Song of the Nightingale," a traditional song from Thrace (translated, for the most part, into English) that presents as a parable on wealth and poverty. The delicacy and sensitivity of the arrangement complements Kechagioglou's warm, engaging vocals. She's also featured on "Like a Soft Breeze," a setting of a poem by Napoleon Lapathiotis, duets with Molsky on "My Little Carpenter" and – in an indication of the band's respect for her – does an a cappella solo to close out the album: "Neratzoula," a song passed along to Kechagioglou by her grandmother who as a young woman, Kechagioglou writes in the liner notes, "was rough, ran faster than anybody else, and had the voice of an angel."
However one might laud Kechagioglou, Irvine and Molsky on "The Long and the Short of It," the artistry of Lunny, Parov and van der Zalm should not be overlooked. Like its namesake art form, Mozaik can be admired for both its carefully arranged and assembled individual pieces and the greater-than-the-sum-of-its-parts picture it produces.  [andyirvine.com/disc/Mozaik-disc-new.html]