By Sean Smith, Special to BostonIrish
August 1, 2020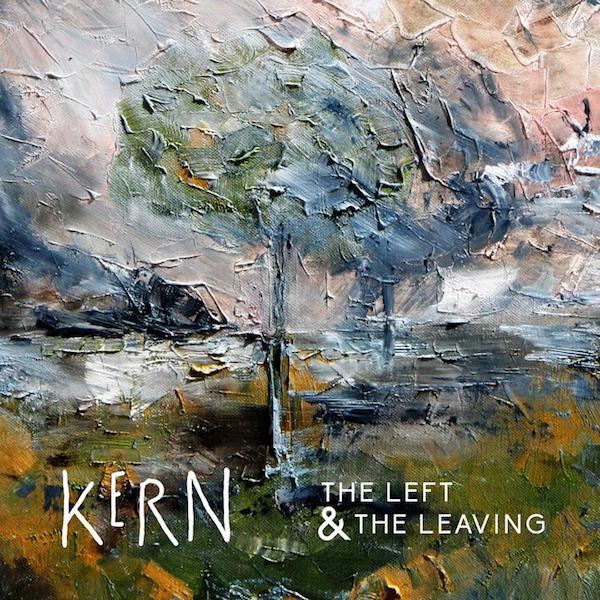 Kern, "The Left and the Leaving" • An inherently strong sense of place, combined with a blended musical purposefulness, helped County Louth trio Kern's 2016 debut album, "False Deceiver," garner acclaim. That's how it is when you have Barry Kieran (fiddle) and Brendan McCreanor (uilleann pipes, whistles, harmony vocals), both solidly grounded in traditional music while plainly comfortable in a contemporary milieu, and SJ McArdle (vocals, guitar, mandolin), whose songwriting conveys a deep, profound appreciation for Louth's history and character. All these qualities and more invigorate "The Left and the Leaving."
McArdle, who has had a successful solo career cultivating a rootsy folk-rock sound, can't fail to capture your attention, with a sonorous voice – not unlike Garnet Rogers's – that can be gritty and gruff yet also unexpectedly tender, even vulnerable. His writing exhibits a similar versatility, especially where it concerns Louth's centuries-old maritime legacy – in fact, he has written an entire song cycle around the port of Drogheda. He doesn't go in for salt-air/wind-at-your-back romanticism, though; in his songs, the sea plays multiple roles, as a backdrop, an enabler,  a witness, a cause-and-effect, for the stories and circumstances he relates. 
"The Porcupine," for example, depicts an actual ship and its captain from Drogheda history, although everything else is from McArdle's slyly deployed imagination – notably the vow the captain's wife makes: "If someday that ship goes down and you don't come home to me/I'll find you, I swear/You will hear my voice on the wind of summer." For all the humor in such hyperbole, there's an underlying poignancy, too, when you consider the challenges and compromises couples like these have had to bear down through the ages.
In "Little Things," the sea is a path taken by the song's narrator that, on the one hand, offers a new beginning but also possibly permanent separation from his lover, and he agonizes about his decision: "Did I offer love far too fast/Or maybe not quite quick enough?/Either way it's too late now, my heart is in your hands." Rather than a harbinger of freedom and opportunity, the sea – and the industry it spawned – represents a veritable, soul-sucking prison in "Till the Docklands Drown," as McArdle sings plaintively:  "Oh God, get me out of this place/I don't care if I never see another familiar face/I don't care who wins this sad, stupid race."
McArdle also has a good feel for traditional songs, and on the album he offers up two, both associated with legendary Louth singer Mary Ann Carolan: the unapologetically rakish "Bold Doherty" and that tragic Napoleonic ballad "Bonny Light Horseman." 
But let's not overlook Kieran and McCreanor, who provide first-rate, thoughtful accompaniment to the songs, such as the fiddle and low whistle breaks on "Till the Docklands Drown" and "Great Hunger" (a joint composition by McArdle and Greg McAteer that sets spiritual hunger in the context of the Great Hunger), McCreanor's piping riff on "Bold Doherty" and his reel "Whipping the Herring" that crops up during and at the end of "The Porcupine," and Kieran's "End of Time Waltz," which he weaves into "Bonny Light Horseman."
The instrumental sets, of course, are where the two are truly in the spotlight. One of the best is "The New Jigs," where the gravitas and greatness of McCreanor's pipes comes forth, especially on John Carty's magnificent "Seanamhac Tube Station"; he's also at the forefront of "Farewell to Connaught," which leads off the pulsating "Russian Reels" medley (none of the reels are in fact from Russia; McCreanor put the set together while on tour there). Another set has the unconventional pairing of a hornpipe ("Drowsyman's," championed by Louth's own Gerry O'Connor) – with delightful fiddle-whistle harmonies – and a polka by McCreanor, "Martin Young's." 
McArdle doesn't fade into the background on any of these. In fact, he shows off his prowess as a guitarist by flatpicking "The Clapton Jig" at the beginning of "New Jigs" and also leads off "Somers March/Daragh Patrick's," a cracker of a march-jig combo by Kieran. And he's equally outstanding when he plays rhythm, such as on "Martin Young's" or "The Jolly Tinker" (closing out "Russian Reels"). 
It bears mentioning that Lúnasa's Trevor Hutchinson not only produced "The Left and the Leaving" but appears throughout on double bass, as was the case with "False Deceiver." One more reason, alongside the numerous others, why Kern is among the most compelling bands to emerge in Ireland these past few years. [kernmusic.com]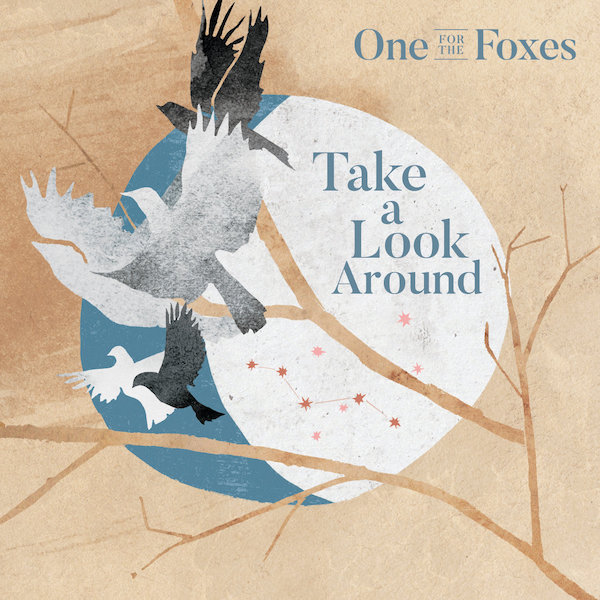 One for the Foxes, "Take a Look Around" • This transatlantic trio started out as the spousal duo of fiddle-vocalist Joanna Hyde, a Denver native, and Dubliner Tadgh Ó Meachair, an All-Ireland piano champion. The name derives from a tune Hyde and Ó Meachair wrote that subsequently became the title of their 2017 album; in the course of recording they enlisted the assistance of Galway-born guitarist-vocalist David Curley, and ultimately decided to become a band. The adjective "transatlantic" is key here, not just in terms of geography but as a description of their musical style and inclination: clearly grounded in Irish and American traditions, while comfortably engaged with soft-edged contemporary folk.
The songs on "Take a Look Around" – all but one of them original – fairly glide along on Hyde and Curley's graceful, inviting vocals. The instrumental pieces also are mostly written by the trio and are modern-minded and inventive. Certain passages tend to linger in the mind after just a few listenings, such as Ó Meachair's jig "Lost Pints and Shiny Shoes," on which he demonstrates his All-Ireland form by taking the lead at the outset, and Hyde adds some Americana shadings in her own rendition of the melody. Ó Meachair (also a member of highly praised quintet Goitse) shifts to accordion for the endearing "Toby's Fancy," a group composition that at times sounds plucked from a New England contra dance.
Another highlight is "The Forgotten Tune" set, which starts with "The Unnamed Patrons," a medium-speed jig by Hyde and Ó Meachair which gathers force thanks to Hyde's lovely bowing and Curley's banjo (he also plays mandolin on the album), leading into the traditional reel, "Tailor's Thimble"; the set ends with "Ríl na Cásca," by Tommy Fitzharris, and stops are pulled out entirely, as Ó Meachair displays his propulsive piano accompaniment and layers in Hammond organ as well, with Byron House and Kieran Leonard supplying, respectively, bass and percussion. 
If One for the Foxes has a signature song, it would probably be Curley's "When We Became None," a post-breakup reckoning delivered with a quintessentially Americana feel and superb fingerpicking by Curley, whose guitar-playing is another of the album's virtues. There are hints of bitterness ("So dress yourself in your fancy clothes/I hope they break your brittle bones"), but these are offset by appeals for self-evaluation ("Take a look around, see what we have done/Take a look around, now, see what we've become") and, above all, the tenderness of the melody and Curley and Hyde's harmonized voices, enhanced by the understated accompaniment of Ó Meachair's keyboards and House's bass. (It's somewhat disappointing, however, that the trio elected to include a shortened "radio edit" of the song at the end of the album, rather than reworking the arrangement or going with something altogether different.)
Another Curley original, "Ghosts and Dreams," is a counterpoint of sorts to "When We Became None": Here, the disappointed lover is ready to make a clean break ("Well you won't know until I go, but I don't need you now/So I will rise and take my leave, I won't know you anymore"). Curley sings solo here, but Hyde's relaxed fiddle along with Ó Meachair's accordion provide a reassuring warmth.
In contrast to the unlucky-in-love theme, the trio offers up a buoyant rendition of the traditional ballad "Pretty Fair Maid in the Garden" and a band original, "We Wander Through," a breezy, bluesy, jazzy ode to taking the plunge ("It's our fate, love dictates/We'll dance until dawn"). 
A band may be admired for its musicianship, and its aptitude for conceiving and arranging its material. One for the Foxes has all that, but the sheer amiability the trio projects on "Take a Look Around" is also a quality to be celebrated, and savored. [oneforthefoxes.com]