By Rian Immigrant Center
November 8, 2023
Olivia McAleese, a final-year student at Queen's University Belfast majoring in Food Quality, Safety, and Nutrition, embarked on an enriching journey to the Town of Nantucket's Health and Human Services Department for her third-year J-1placement. Her experience was nothing short of transformative, providing valuable insights into her future career and revealing unexpected opportunities along the way. While initially seeking internships that aligned with her academic goals and would enhance her global employability, Olivia's time at the Health Department in Nantucket surpassed her expectations.
From the onset, Olivia discovered that her internship was going to be dynamic and full of surprises. Each day presented new and unique challenges, and she found excitement in the variety of tasks she was assigned. Inspecting restaurants, validating HACCP plans, sampling beach water, and inspecting pools and housing allowed her to understand the intricacies of ensuring public health and safety, reaffirming her passion for this field.
The summer spent in Nantucket not only contributed to Olivia's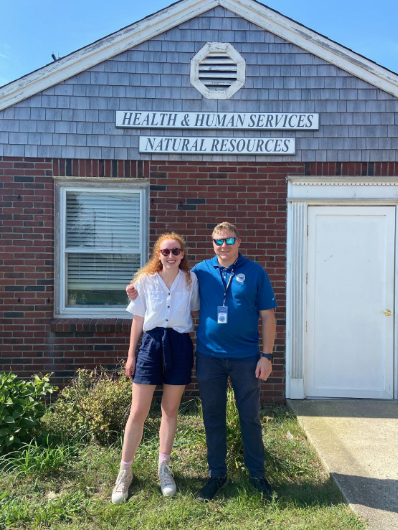 professional growth but also gave her the opportunity to immerse herself in the island's natural beauty and rich culture. She developed a deep appreciation for the stunning beaches, delightful cuisine, and the warm and welcoming community. Nantucket became a home away from home, where Olivia cherished quality time with her local family and even joked about acquiring a rare suntan, a testament to the exceptional weather and the island's charm.
In reflecting upon her experience, Olivia highlighted how the internship broadened her perspective on various aspects of the food industry. It allowed her to bridge the gap between academic theory and practical application, instilling confidence in her abilities and solidifying her aspirations for a career in this field. This summer in Nantucket inspired Olivia to return to university with renewed determination to complete her degree and step into the industry upon graduation.
Olivia's journey also yielded valuable advice for future J-1 participants, urging them to seize the opportunity without hesitation. She emphasized that the assistance and support from the Rian team were instrumental in making her positive experiences and growth possible, commending their guidance and efficient handling of the internship process.
As Olivia fondly reminisced about her internship, she found it challenging to pinpoint a single favorite aspect, as every facet of her time in Nantucket was memorable and fulfilling. Her summer in this beautiful island town has undoubtedly left an indelible mark on her academic and professional pursuits, setting the stage for a promising future in the food quality, safety, and nutrition industry.