By Seth Daniel
December 16, 2022
FoodCloud Development Director Tara Clarke, FoodCloud Co-Founder Iseult Ward, and Rie Sugihara of the Drew Company sat for the interview with Boston Irish last month as the firm's representatives were networking at the American Ireland Fund Gala and spreading their message of having "no good food go to waste" in Ireland.
Seth Daniel photo
 Using surpluses to combat hunger
When Iseult Ward and Aoibheann O'Brien started FoodCloud in Dublin 10 years ago the pitch was to environmentalism, frugality, and eliminating waste. But in today's Ireland, with steep cost of living increases and many still struggling to get on their feet post-Covid, the appeal of FoodCloud has become its use of surplus food to eliminate hunger among the working class and the poor.
FoodCloud existed long before the pandemic as an organization bent on convincing supermarkets, farmers, and restaurants that the preservation of their surplus food made both environmental sense and dollars and cents sense, given the cost of carting away excess food. Much of the food was edible, with some of it simply being mislabeled or misshapen, and fine for the supper table.
That appeal was successful on both approaches, Ward told Boston Irish in an interview in Boston last month, but the organization's role changed during coronavirus time Now, more families than ever in Ireland rely on FoodCloud to stretch the family budget.
"The pandemic has entirely accelerated the problem of food access," she said. "A lot of families that were just managing before are now in situations where it's a lot more challenging. If one or two people lost their jobs, they aren't able to support themselves. The amount of food we've distributed since the pandemic has doubled. It's the largest increase in our history, and it's all demand focused. It has changed the way we work, and people really rely on our food more than ever."
Transitioning from a focus on environmental stewardship to a status as a critical food resource has had everything to do with not just the pandemic but dramatic cost of living increases, rising fuel costs, and the arrival in Ireland of some 60,000 Ukrainian refugees. Meanwhile, 75 percent of Irish non-profits cannot meet the demand for food, and 50 percent of Irish residents report they could not survive a 1,000-euro "shock bill."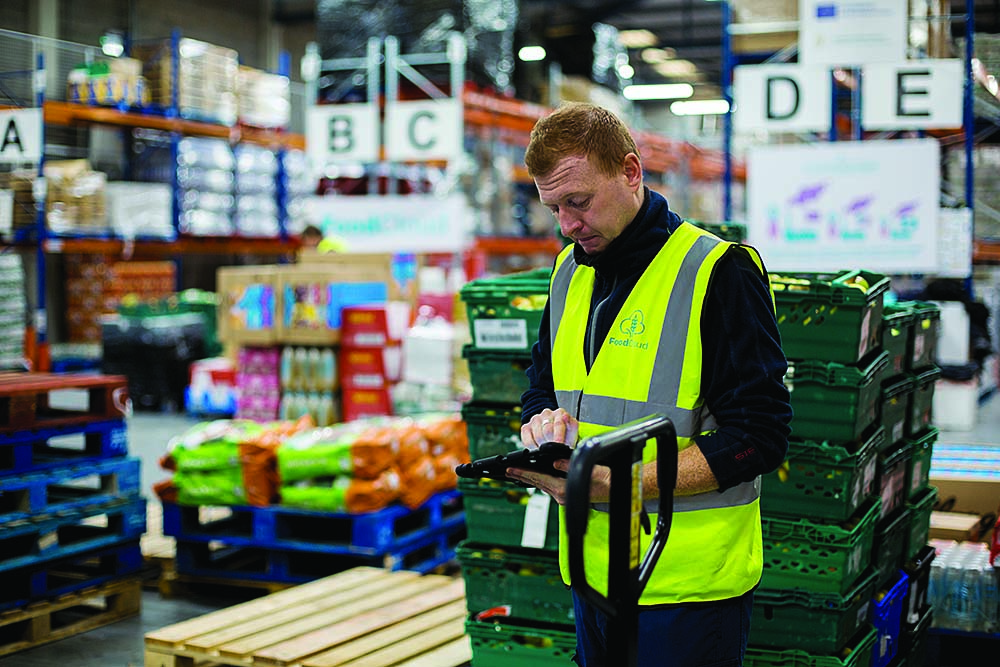 "It is a situation where people are making decisions about fuel or food or skipping a meal to fill up their car," said Ward. "If we can take that one thing out of the equation – that being food – we feel that can help."
FoodCloud had its beginnings by reasoning that surplus food – though it might be imperfect in shape, mislabeled in a box or near the expiration date – could be re-directed to those who wanted it. Using some legal maneuvering, Ward and O'Brien created waivers that limited the liability of companies donating old food. Then they made their economic case to supermarkets, restaurants, and farmers, many of which were already paying steep costs to have surplus food carted off to the rubbish. Soon, the duo was working closely with charities, consumers ,and food stores, bringing them together to re-use surplus food.
Then came Covid-19.
Ward said they immediately received inquiries from large food operations that needed to deal with food already in the supply chain. They also got a donation from McDonald's at that time, a rarity in the food surplus world.
"Once they saw how easy and helpful it was, they continued working with FoodCloud. "We've had more businesses donate this year than ever before," said Ward in noting that they partner with more than 3,200 retail stores – and more than 600 charities – across the United Kingdom and Ireland.
They have even developed a FoodCloud software platform to connect local stores to local charities in the moment. Stores that have surplus food at the end of the day can register it on the platform, and charities can claim that food and pick it up right away. The platform has now spread to other countries entering the food re-directing space.
Development Manager Tara Clarke noted that "because we're a non-profit and a social enterprise and so dependent on the food industry, fundraising has been an essential part of our organization and helps us meet the new demand," she said.
Their work has been hailed as 2022 Charity of the Year by the Charity Institute of Ireland and, tellingly,, become a case study at Harvard Business School for its MBA course on Socal Enterprise and Systems Change.
Their efforts also grabbed the attention of World Trade Center Dublin (WTCD), which is headed up by Maureen (Drew) Pace, who has deep roots in Boston with the John Drew Company that runs WTCD.
WTCD provides business and trade organizations across Ireland with a gateway to new international trade opportunities, collaboration, and education. It also serves as a resource for companies around the world seeking opportunities in Ireland.
In the end, Ward and Clarke said, it's about building ties in the community to help others in need. "That connection is so valuable because it goes beyond food-sharing and we just love to see these relationships built within the local community that started with food-sharing," saids Ward.