By Chris Lovett
December 12, 2022
Mary (Delaney) Swanton, the executive director of the Irish Pastoral Centre. IPC photo.
When she was growing up in Ireland, the first thing Mary Swanton remembered hearing about from American tourists was something called a three-decker. "My Dad was a tour driver and Dad and Mom often had us play our musical instruments for the Americans when they were there," she said. "I remember that I was six years old listening to Americans who were talking about Boston, and they said they lived in a three-decker. It's one of my first memories, and I wondered, 'What in the name of God is a three-decker?'"
With an entry level and room to move up, a three-decker was, for many immigrants, the dream of a future. It was quite unlike a tourist's dream of the past, such as Bunratty Castle, the 15th century stone tower house in County Clare that was a favorite landmark shown off to visitors by Swanton's father. A musically talented driver and cultural ambassador for the transport company CIE Tours, he took visitors all over Ireland, And, during the summer, Mary's Mom piled the kids into the car and they followed their Dad's coach bus.
"I took it for granted, but I literally was in every county in the republic of Ireland as part of my childhood," said Swanton. "It was lovely. It was a great thing to experience." It was also a beginner's lesson about the power of music—as self-expression, but also as a connection between different people and parts of the world because, as Swanton could boast, "Dad sang his way through every county in Ireland."
One of five children of John and Teresa Delaney, Swanton grew up in Limerick City, the birthplace of Bill Whelan, later famed as the composer and visionary for the Irish theatrical show Riverdance. Like Whelan, Swanton attended the Limerick School of Music, close to where she lived. She also had a sister who played the harp and guitar, another sister who played piano, a brother Ger (RIP), who was the artist, and a younger brother Joe who played bagpipes.  Later, during his time in the Boston area, Joe was the Instructor for the IBEW pipe band, and performed on the first album by the local Celtic punk band, the Dropkick Murphys.
Swanton started on the violin when she was six. When she was ten, she was tall enough to be recruited for double bass. That filled a need in the school's orchestra, resulting in a chance for her to play with the Irish National Youth Orchestra. She also learned there was more to being a musician than following a score.
"Although a musical composition is someone else's style and you are directed to play as written," she said, "you'll often find your own style within your adaptation of it, which can be more meaningful." Joining the orchestra allowed her to meet more than two hundred young musicians from all around Ireland, and to perform anything from classical symphonies to arrangements of traditional music.
In 1983, at age 14, Swanton was selected to go on tour in the United States with Ireland's National Senior Irish Youth Orchestra. During a stopover at Shannon Airport to clear customs, she called home from a pay phone and told her father she had been interviewed by a reporter and would be on television. "And he said, 'That's great,'" she remembered. "'Mind yourself. Have a great time.'"
Once she checked into a hotel in Boston, that's exactly what Swanton planned. She did not plan a conversation with a Boston area priest she saw approaching her, and whom she recognized from her father's tours. "I was in America," she said. "I was going to see a three-decker. Remember that? And I said, 'I'll talk to you in a minute.'"
The priest couldn't wait. He broke the news and told her she had to go right back to the airport. "So, while I was on the plane," she explained, "Dad left work and ran to get to his car to see me on television and got a massive heart attack and died. We were all shattered."
For the time being, there would be no three-deckers and no debut at Symphony Hall.
Back in Boston for good
It took another four years before Swanton came back to America, this time as an immigrant and entry-level worker. She got her first job by falsely claiming she knew how to make pizza, which she had only seen watching "Sesame Street."
Within a couple of weeks, her boss caught on and reassigned her as a waitress. A few months later, she was working at a retail pharmacy. She became certified and worked at area hospitals for 10 years.
When a music teacher left St. Brigid's School in South Boston, that led to another entry-level opportunity, but this time in a field she knew well. Swanton also formed a choir at Saint Vincent's Parish, which included children from the West Broadway public housing development. There was also a grant from Eversource  to pay for some instruments, which, she said, was greatly appreciated. From that came a "side gig," singing and playing at weddings and funerals.
During her time in South Boston, Swanton met her husband, Albert Swanton. Among the "many great people" she met in South Boston was a certain regular at the Galley Diner, a breakfast-and-lunch spot on P Street, near Castle Island, with four tables and twelve counter stools. "On Sunday mornings," she said, "I often met a kind soul named Joe, and he was very much an 'ordinary Joe.' He was the nicest, most unassuming man. He'd ask me about Ireland, and how am I getting on in Boston, and things like that."
It was only later, looking at a TV screen, that she realized the man at the diner was Congressman Joe Moakley. Her take-away: "One thing I learned about America, about Boston, that still impresses me to this day is how unassuming people are. And they don't live in their titles, and they don't elevate themselves because they have a title. What a great lesson!"
After Moakley's passing in the spring of 2001, Swanton's choir was asked to sing for the funeral at St. Brigid's Church, which drew an overflow crowd, including the-then president, George W. Bush, his predecessor, Bill Clinton, and US Sen. Ted Kennedy.
Swanton's work at St. Brigid's led her to the music program at St. Mark's School in Dorchester and, later, to work for the consortium of schools brought together as Pope John Paul II Catholic Academy. That put her into the orbit of Father Dan Finn, whom she had known since 1988. The pastor of St. Mark's parish for 22 years, he was a founder of the Irish Pastoral Centre Boston (IPC), which he still serves as chaplain.
Among Swanton's music students at St. Mark's were two children of IPC's operations and programs assistant, Jennifer Molloy. She credits Swanton with approaching students in a way that made them receptive. "They wanted to do a good job for her, and they would practice, and they would play for all of us. And you wouldn't hear a pin drop," said Molloy. "They were all in unison, and they all played so well. And they were all so proud of themselves."
The students even got to experience what Swanton missed when she was 14: a trip to Symphony Hall. And Molloy said the lesson from that went beyond the music. "I think it's the experiences of going to Symphony Hall," she said, "and just never being in an environment like that and walking in and just seeing that there's a whole other world out there."
At St. Mark's, Swanton also encountered a whole other world, with students of different racial and ethnic backgrounds. "You're meeting people from all over the world and everybody brings something different to the table, and it's great," said Swanton. "I mean, what an education! It couldn't be learned in a school. It couldn't be learned in a classroom."
Bill Whelan, the Grammy Award winning composer and producer of Riverdance, visited the Columbia Campus of Pope John Paul II Catholic Academy on Nov. 30, 2010, where he was entertained with songs by members of the Academy's music program.  Ed Forry photo
And it was at St. Mark's that she met Bill Whelan of Riverdance fame.
"We grew up in the same neighborhood. and it was a personal highlight when Bill visited the school where I was teaching music," said Swanton. "He conducted our students' performance of Jingle Bells at Christmas time. What a moment!"
A 'parish without boundaries'
A nonprofit organization funded in part by the Irish government and donations from the Irish American community, the IPC was founded in 1987, just as Swanton was settling in Boston.
Partly due to immigration reforms by the federal government in 1965, the channels to legal status and citizenship for Irish immigrants were drying up. But, with a sluggish economy in Ireland during the 1980s, its immigrants were still heading for the US, often staying, illegally, past the time limits on their visas. Even when a special visa program was created in 1990, with key support from Congressman Brian Donnelly, legal immigrants still had less access than their predecessors to help from relatives and social networks in the community.
"A lot of them were on their own, and they fell through the cracks. And in many ways the American dream became a nightmare," said Fr. Finn. "So we were the next best thing to being family for them in those services and programs that we provide. When the person came, we brought them in to this kitchen table, made the tea and the coffee and had the talk."
The IPC offered job training, counselling, and help with housing and the legal process around immigration. For immigrants without legal status, the organization that Fr. Finn described as a "parish without boundaries" was also a place where they could freely discuss their needs. "Having a place of trust and confidence where you would know that the story would go no further was so totally important to them," he said, "And so that's still ongoing in so many ways."
While teaching at St. Mark's, Swanton started going to IPC events and bringing her son Seán to its mother and toddlers program. "It helped us stay within our heritage in a broader community," she explained. But she also stressed the value of networks developed by the IPC, including employers and landlords who could provide jobs and housing, legal and immigration issues, and reduce isolation and loneliness for those living alone. The IPC is a comprehensive community resource organization.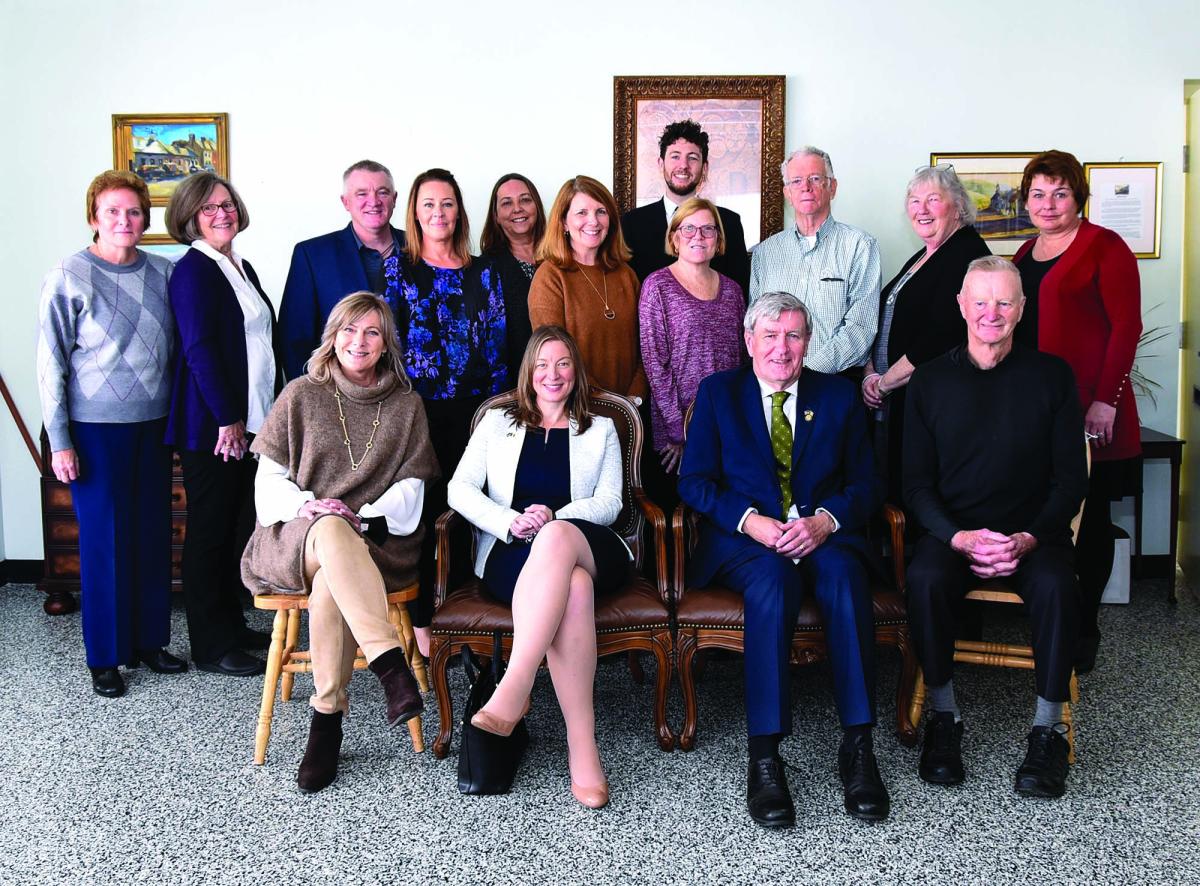 The IPC staff greeted former Irish Ambassador Daniel Mulhall when he dropped by their offices in Adams Corner in July of this year. Back row, from left:  Vice Consul Shane Caffrey, Neil Hurley; middle row: Peggy Conneely, Anne Finn, Mark Porter, Jennifer Molloy Audrey Larkin, Patsy Conneely, Mary Gorman, Mary Swanton;  front row IPC Board Chair Maryellen Brett, Consul General Laoise Moore, Ambassador Mulhall, and Rev. Dan Finn. Below, hurling enthusiasts Father Finn (Cork) and Mary Swanton (Limwrick) display their allegiance colors. IPC photos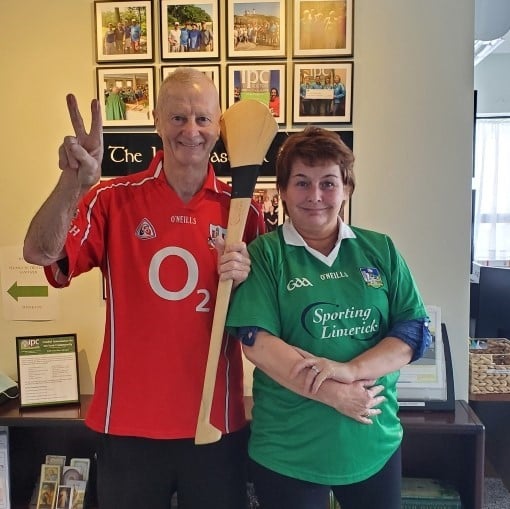 Before joining the IPC as a staff member, Swanton expanded her range of contacts through work as content manager and editor for the weekly paper The Boston Irish Emigrant. In that role, said the IPC's director of operations, Audrey Larkin, Swanton was "very open" to giving the organization more recognition.
"She was always very welcoming and including us in the newspaper weekly," said Larkin, "which spread out what we were all doing in a way that we hadn't been able to do previously, because The Boston Irish Emigrant was very important to many people beyond Boston in the wider area."
After the paper ceased publication in 2019, Swanton joined the IPC as a staff member and expanded the content and reach of its newsletter.
"I learned that community news is an essential conduit for blending culture and heritage with identity and a sense of belonging," she said. "It's a vital connection which proved essential at the Pastoral Centre during lockdown, when we created and mailed a monthly 32-page magazine to seniors in our community. We now print almost a thousand copies of the newsletter per month."
And that led to her being named the executive director in January of last year. "She was the right person for the job," said IPC board member Della Costello. "Mary is an organizer. She has the background of all things Irish, in a way. She's also able to reach out to people. She has a great sense of community spirit in helping people." Added to that is what Costello called a "welcoming attitude."
"Walking into the center, the first thing you're always offered is a cup of tea—and some brown bread," she said. "It was like walking into a very nice Irish home."
And Swanton's organizing skills led to Costello being asked to head a weekly knitting group that donates some of its creations to homeless children. A native of Loughrea in Galway, Costello grew up in a family active in local politics and business. Before coming to the US, she lived in London for a time, working in the accounting department for Lloyd's of London. She became acquainted with the IPC through Fr. Finn, while helping with accounting and serving as a lector at St. Mark's.
To serve aging members of its population, the IPC has a growing number of groups meeting at locations in the Boston area.
"People come together for coffee, for bingo, for trivia, for talk, just to, for support system and music," said Fr. Finn. "Many of them are all alone in their homes. And we'd probably be the only family that they'd have. And so those get-togethers every week can mean so much to them. And many who cannot come to those groups every Tuesday, we have a group of volunteers who make calls to them on their phone, at home."
Among the other regular IPC activities are meetings of sobriety groups and immigration legal clinics, 4 weekly Senior Café's in Brighton, West Roxbury, Dorchester, and Weymouth. There's the Irish Senior Network where weekly calls are placed by volunteers to keep in touch with older members in our community.
On Monday evenings, a clinical social worker is available for appointments and there is a weekly card game on Thursdays. There is also a weekly Mother and Toddler group and knitting club. Monthly get-togethers include an Irish language conversation night and a First Friday gathering with music and fish and chips ordered from the Adams Fish Market.
In March of this year, the IPC helped find temporary accommodations for the family of Oisín Traynor, a four-year-old boy from Co. Armagh who needed specialized medical treatment in the Boston area for quadriplegic cerebral palsy. Costello said the IPC helped with outreach to Irish and British consulates, and noted that, because the boy was unable to eat solid food, Swanton tracked down a restaurant-grade blender for the family to use while state side. After just four weeks of treatment in Boston, the boy and his family came by for a meal at the IPC. "And," Costello said, "I saw that little boy with a chicken nugget, actually chewing it."
The IPC also made itself more accessible with its recent move to a new location, at 540 Gallivan Boulevard, near Dorchester's Adams Village. In contrast with the previous location, visitors can enter without using a stairway, and there's more convenient parking.
"This place that we are in needed a whole lot of work that would cost thousands, hundreds of thousands of dollars," said Fr. Finn. "But, because of Mary reaching out to local construction workers who volunteered to give their time and work, for this place to be up and running for us August first was amazing. Without her reaching out and, and getting so many companies to donate things, it would not have happened."
"It was the Irish community who stepped up huge, whether it was monetary donations or donations of labor and materials," said Swanton. "We still had quite an expense, but it was nothing, nothing in comparison, to what it should have been."
For board president Maryellen Brett, the person-to-person character typifies the IPC method and mission – and Swanton's role.
"There has to be someone who is exposed to both sides, and Mary is out there in the community. She's been part of the Irish community here in the Boston area for a really long time," said Brett. "She has strong ties back home. She's really sort of perfectly positioned to do that. And her personality suits it as well."
For Audrey Larkin, the person-to-person cycle went from getting free help from the IPC to volunteering. She came to the US from Dublin at age 40, working as a personal care attendant for the elderly. Having previously worked in the buying office for a major Irish wholesaler, she later found administrative work in Boston. After taking charge of the IPC's employment and housing support program, she would later become its business manager.
Fr. Finn came to the US when he was 18 years old. He was from County Cork, and his mother was from Clonakilty, the birthplace of Michael Collins. When he finished high school in the Boston area, he decided that he wanted to become priest, but he had no knowledge of Latin. The remedy: parlay his skills in hurling to get a night job and housing, along with summer school to learn enough Latin for getting into St. John's Seminary. After his tenure at St. Mark's, he ministers to a wider territory.
"Our mission is very much like the corporal works of mercy—feed the hungry, shelter the homeless, visit the sick, visit the prisoner, bury the dead, and help the poor and comfort the afflicted," he said. "That's very much the spirit of a parish, when we are a parish without boundaries. And I go in so many places to do funerals. I did five last week, and there are funerals at home in Ireland, and some of the family members can't go home because, if they do, they can't come back."