By Seth Daniel
December 12, 2022
Jon Cronin in front of his St. Regis development at the Seaport.      Seth Daniel photo
Jon Cronin is universally described as a calming presence, as generous financially as he is unflappable in temperament and not afraid to "show up" and work in the trenches for the many causes he supports.
A Cork man who came to Boston in the late1980s, Cronin, 56, saw the opportunity here very quickly and catapulted hard work and acumen into a successful restaurant and real estate career. Now living in South Boston with his wife, Nicole, and three children, Vivienne, Alanna and Stone, he talked about his success in life with humility.
"I realize how lucky I am and how lucky my kids are," he said. "As long as we're healthy, nothing else matters. So many people have so many needs and have been dealt a terrible hand in life. Our family travels around the world and sees the poverty and suffering out there. There are 25 percent of kids in Massachusetts who go to bed hungry. What do we have to worry about? People arguing over $1,000 or $1 million; we're lucky to be in that situation. People would kill for that. You can't lose sight of that."
Cronin's story is one rooted heavily in County Cork, the Irish sport of hurling, and the patience of a man starting over in a new country who found success in demanding industries. But that's only a slice of the Cronin story. His quiet generosity over many years is heralded not only for the financial gifts, but also for his time.
"He shows up at everything," said Kathy Lafferty, director of the South Boston Neighborhood House, one of Jon's many causes. "We'll have a staff get-together, and not only will he show up, but he'll also offer to host it. Everyone here knows him. They've met him. He's not just a board member whose name is on our letterhead."
Michael Kineavy, chief operating officer of the Cronin Group, described him as the calm amidst the storm.
"John is always even-keeled, even when the rest of us are not," he said. "We're all on berserk and he's telling us to put the facts on the table. 'Let's relax,' he'll tell us. It's a good trait to have and he's like that every day."
Added Steve O'Neill, general counsel for the Cronin Group: "He's very optimistic and kind, but he's also very intelligent. I worked with Bill Weld for a long time, and he is very well known for being a man of great intellect. I would put Jon up there with Bill Weld in that sense."
Attorney Bill Kennedy, a member of the Irish Honors Award Committee, said that Cronin is just the type of person the committee seeks to celebrate.
"He's a good businessman and has a keen eye for business, and at the same time, he uses that success to benefit the community," said Kennedy. "As a member of the Committee and as a recipient, I think he is the kind of person the Irish Honors award is intended to recognize for his journey from Ireland to Boston to make for himself a successful life. I think that's something we can all admire and respect. We are grateful to have him as part of our Irish community."
Cork man heads West
Jon is the son of John and Angela Cronin, natives of Ballinhassig, County Cork – a place known as "rebel country." But it was in England, in Derby, that he spent his early years when, as many Irish did in the 1960s, his father found employment there as an ironworker, and his mother as a teacher. While there was economic stability, the Cronins endured their share of difficulties abroad.
'
Jon's paternal grandparents, Peter and Anna Cronin on the occasion of their 50th wedding anniversary.
Photos courtesy the Cronin family.   
"It was tough in those times because of the Troubles in Ireland and having an Irish accent," he said. "There were times when my mother was refused service at a supermarket because of the accent. My parents had grown up with a country life and wanted that for us as well."
In 1974, when he was 7, the family moved back to Ballinhassig. His father, relying on his ironworking skills, quickly found work, and that led him to start his own steel fabrication business.
At the same time, young Jon was showing a talent for hurling, joining with friends like his schoolmate Seanie McCarthy on the local pitch.
"We were really fortunate," said McCarthy. "We had a great sport team at the time. Jon slotted in seamlessly at our school and our GAA (Gaelic Athletic Association) club and became an integral part of our team.
"He was a smart player and an intelligent player and used the ball well," he added. "Because we were in the country, getting someone of Jon's ability and skill was huge in those days."
Cronin, McCarthy, and their fellow hurlers continued on to secondary school and the team only got better and more celebrated in the GAA.
"It was just a lot of laughs growing up for us," recalled McCarthy. "We were your typical teen-agers up to a little mischief without doing any harm. It was innocent fun, and we had great memories and we still talk about it today."
For his part, Cronin laughed about his days on the celebrated Cork team, noting he was only a defender because he "wasn't skilled enough" for offense.
"The people I met on that team I continue to be friends with," Cronin said. "I suppose I just grew up kicking a ball. I never stayed inside. I was always outside with a soccer ball or a hurley in hand. I think it's the friendships you make that drove the enjoyment of it for me."
McCarthy and Cronin went to college in Cork, with Cronin achieving an associate degree in engineering and continuing to maintain the close friendships he had from primary and secondary school. After college, he joined his father in his work full-time. He carries great memories of those days:
"I loved it; they were probably some of the best days of my life and came with a lot of freedom," he noted.
Even so, the Irish economy in the 1980s was bleak and the pull for young men and women to leave for Europe, the United Kingdom, Australia, and the United States was strong. Many left, including Cronin and McCarthy's closest friend Derry O'Regan – who had played sport with them. O'Regan headed for Boston while McCarthy elected to chase his athletic pursuits at home.
"There was a choice; I chose sport, and they chose travel," said McCarthy, who went on to have a marvelous career in the GAA as a hurler, playing at the senior level for Cork and being a key member of the 1990 All-Ireland Medal team.
He was active from 1986 to 1997 and translated his success in sport to a successful restaurant business in Cork – a business where Cronin and O'Regan are also key partners and "idea men," said McCarthy.
Cronin's sister had earned an engineering degree and moved to Australia. He booked a flight there to see her, with a 10-day layover in Boston so he could catch up with O'Regan. It was a visit that changed Jon Cronin's life.
"Derry and Jon lived in Boston over five years and Derry came back, and Jon stayed in Boston and became the person he is today," said McCarthy.
"We maintain Jon has 34 or 35 years in Boston now…He's spent a majority of his life in Boston, but we still track him as a native to our area and Cork and Ireland as well."
Added Cronin, who frequently travels over to Ballinhassig: "Cork is always home…Once a Cork man, always a Cork man."
Landing in Boston
It was during the fateful layover in Boston in 1989 that a friend asked Cronin if he would paint his house in Winthrop. Jon agreed, and says today that he had a great time on the coast painting a New England home. But it was the pay afterward that opened his eyes.
"At the end he gave me $100 cash," said Cronin. "At the time in Ireland, I was making 40 pounds a week. That was like two week's pay made in one day. I ended up staying in Boston and saw there was a lot of opportunity…It's a big city, but a small town."
The Boston attorney Aidan Browne, a partner at Sullivan and Worcester and a long-time friend of Cronin's, said the 1980s is regarded as the time of the largest migration of the Irish to the United States since the famine of the 1840s.
"We all came without any relationships or relatives in the Boston area," said Browne, who moved here in 1986. "Most of us had been to the states in our college summers. When I look at my Irish peers – Jon being one of them – it was an adventure to come to the states. It was an exciting time and there was a lot to offer."
Browne's Dublin father jokingly described Cork people as "Kerrymen with shoes." But, Browne says, it was the Cork spirit that likely helped Cronin find success in a new land.
"He has a great eye for opportunity, a deep sense of entrepreneurship, and a very strong Cork competitive streak that all combined to form his success," said Browne.
In his early days in Boston, Cronin worked construction as a laborer. He quickly realized that he needed to turn his associate degree into a bachelor's and began going to school while bartending on the side. He said his parents "scrimped" to help him pay for college – a gesture he remains grateful for.
Afterward, with a degree from UMass Lowell in hand, Cronin worked on the Deer Island Harbor project by day and bartended four nights a week. He purchased a single-family home on East Fourth Street in South Boston. Piece-by-piece in his spare time, he began to re-assemble the four-story brick home into its former self. That home would later become a key to funding his next enterprise: he and several friends joined forces to buy a commercial building on Broadway in Southie that included what was then a derelict bar.
Cronin also tapped his brother and sister for what turned into a life-changing investment, he said. As they gutted the newly purchased business to re-build it as a bar, he made a dramatic move: "I was able to sell the home and I was able to fund the first restaurant, the Boston Beer Garden," he said. It opened in 1995.
An engineer in the hospitality world
Cronin's restaurant empire is now centered in the Seaport, with the Lawn on D, Tony C's Sports Bar & Grill, and Temazcal Tequila Cantina among his holdings.
In 1995, though, there was no thought to branching out beyond Broadway. The Beer Garden broke the mold of the dingy, window-less cottage bars that dominated old-school South Boston. Cronin installed large glass windows in the front and offered an expansive wine list to welcome female customers. The idea came from a girlfriend at the time.
"She was always saying she had to go downtown to go out because there was nowhere in South Boston for a lady to get a glass of wine," he said. "That was true. We felt there was a market for it and wanted to open things up and make it like Sonsie on Newbury Street. We wanted to make it safe and secure and make sure women felt welcome.
"It was a stretch at the time and there was pushback, to say the least, but we had a lot of support in the community," said Cronin.
The Boston Beer Garden also became a center for activity and fundraisers in the neighborhood.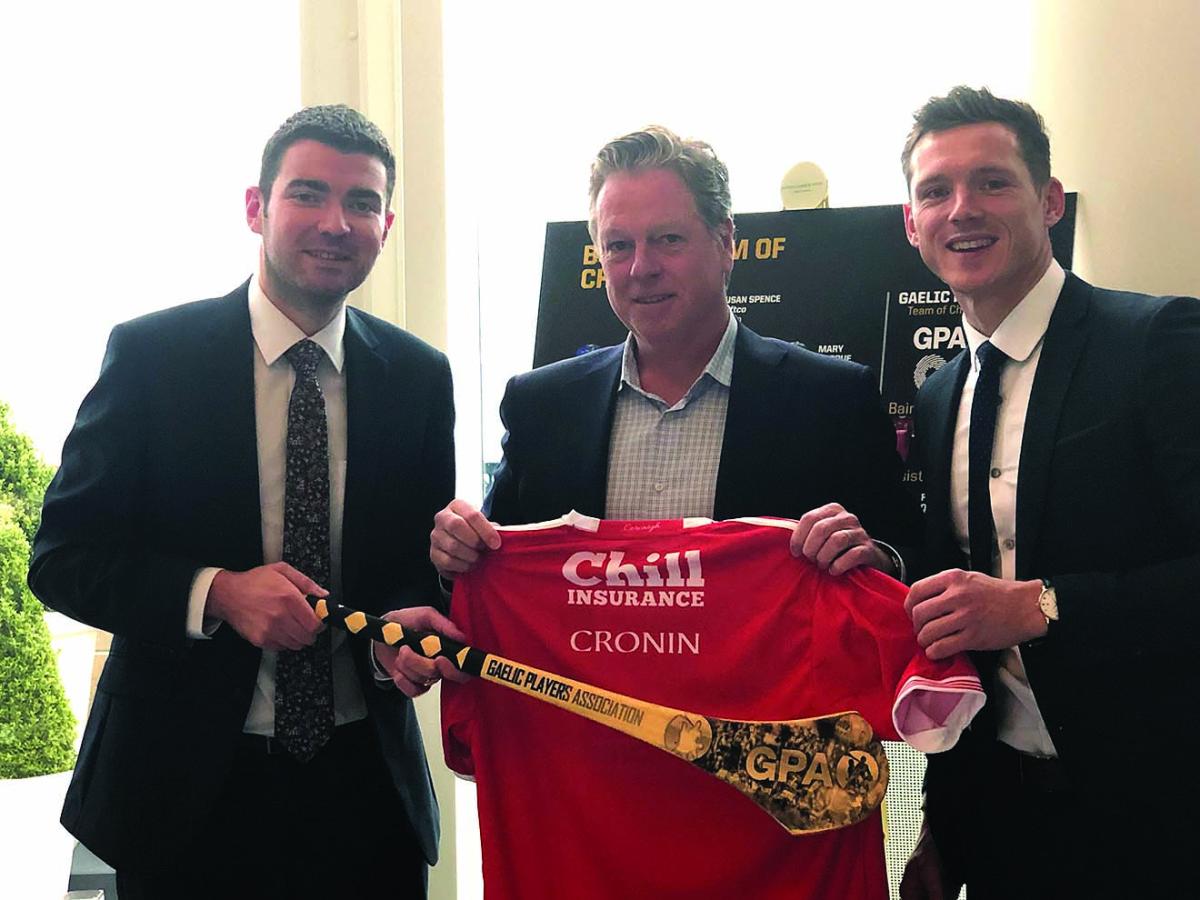 Jon Cronin, flanked by Ireland's Minister of Sport Brendan Griffin, left, of Kerry, and Paul Flynn, a six-time All-Ireland champion for Dublin and former CEO of the Gaelic Players Association (GPA), are shown at a Boston event to support the GPA hosted by Jon and Aidan Browne. Bill Forry photo.
"I knew him first as a reputable business owner, and someone who runs good restaurants," said Lafferty. "He always hired local kids and was quick to respond to neighborhood concerns. He's a really great businessman and community person. As someone that lives in South Boston, where there are a lot of bars and restaurants, it's important to have someone responsible like Jon running the show."
That reputation for hospitality soon transferred over to real estate development, where Cronin now focuses much of his energy.
"The next opportunity [after the Beer Garden] was a three-family being sold that we converted to condos," he said. "You keep getting bigger if you can and you keep going. What it's all about, really, is getting the right people around you. If you build a three-family, you aren't going to also be able to build a 22-story building, but there are a lot of people that can."
Noting that his background in engineering and construction made the transition to development easier, he said the real estate world in Boston is not easy. Right now, his team is about six weeks away from finishing their largest project yet, the St. Regis Residences at 150 Seaport Blvd. That development required a lot of unique engineering, years of permitting, and a great deal of goodwill in the community.
"For 27 years we've been involved in the community," he said. "It's building that relationship with the community and political leaders and the organizations. When you say you'll do something, you do it, and follow through and don't' deviate from that path. If you have that relationship…it smooths the path."
Cronin and the Cronin Group are already head-on into their next project, a $1 billion development in South Boston to save the shipyard and dry dock via the construction of three new buildings containing lab space. The 12-acre shipyard and its 200 union jobs could not remain solvent without development on the land, but with Cronin's project, the jobs and the work will remain.
Cronin said he envisions a very symbiotic relationship over time. "You'll have the shipyard on the ground floor full of welders and workers and the top floors full of PhDs," he said. "They'll all one day have a beer together after work hopefully."
A Quiet Generosity
It wasn't just hurling that Cronin learned in Ireland, but also a sense of generosity picked up directly from his parents.
"Growing up here, he would have seen people pulling together and it was always people helping each other," said McCarthy. "The 1980s were recessional and times were tough. All this he would have learned from his mother and father. They were dedicated people and country people and extremely hard-working people. His father would have helped a lot of people. 'No' was not in his vocabulary. Jon would have learned his humility and work ethic completely from his mother and father and his immediate family."
Cronin said his parents were generous, sometimes to a fault. He recalls his mother and father being very charitable to the African missions and the poverty agencies in Ireland. Though they had little to give, he saw them often giving more than they could afford.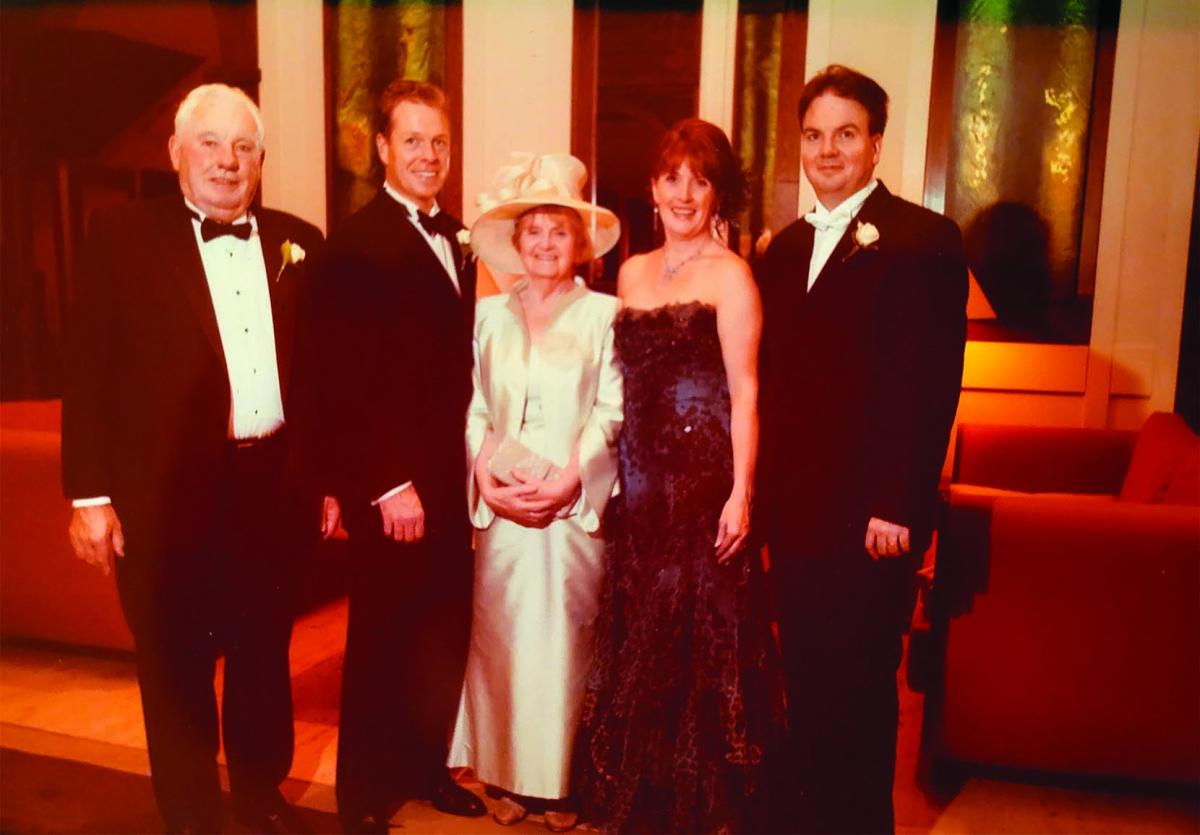 Father John Cronin, son Jon, Mother Angela, who died in 2014, Sister Anna (Cronin) Murphy, Brother Richard Cronin.
"My mother used to say, 'There's no pocket in a shroud,'" he said. "You can't take it with you, so you better do something while you're here. I grew up that way with my mother and my father."
Early in Jon's career, people around South Boston began to note his involvement. Kineavy, who was a chief aide to Mayor Tom Menino, recalled meeting Cronin when there was an uptick in snortable heroin in South Boston. With the problem festering in the Old Colony development, the South Boston Collaborative set up a drop-in center at one of the public housing units. Cronin was very involved and became even more involved when the drug problem morphed into a suicide cluster, Kineavy said. He would provide food and help wherever possible. Kineavy recalled seeing the non-profit's rickety old van replaced with a brand-new vehicle.
"There was a new van suddenly," said Kineavy. "I asked them if they wanted to tell me about it. They said they couldn't, and I asked why.  They said the person who gave it to them made them promise not to say anything to anyone. It ended up being Jon."
Paul Burton, executive vice president of the Ron Burton Training Village (RBTV), said that Cronin joined their board and is part of a group that gives at least $22,000 to the organization each year. With a mission to train challenged youth on the core values of love, peace, patience, and humility, Cronin has become heavily invested.
"To me, Jon Cronin is a lifesaver and a wonderful, angelic type of person who doesn't want an accolade, but just wants to help others and expects nothing in return," Burton said.
"That's an extraordinary way to live life. He really has a passion to make sure those that fall through the cracks get a hand up."
"He genuinely cares about other human beings and that drives him," added Lafferty. "His passion is just really about people."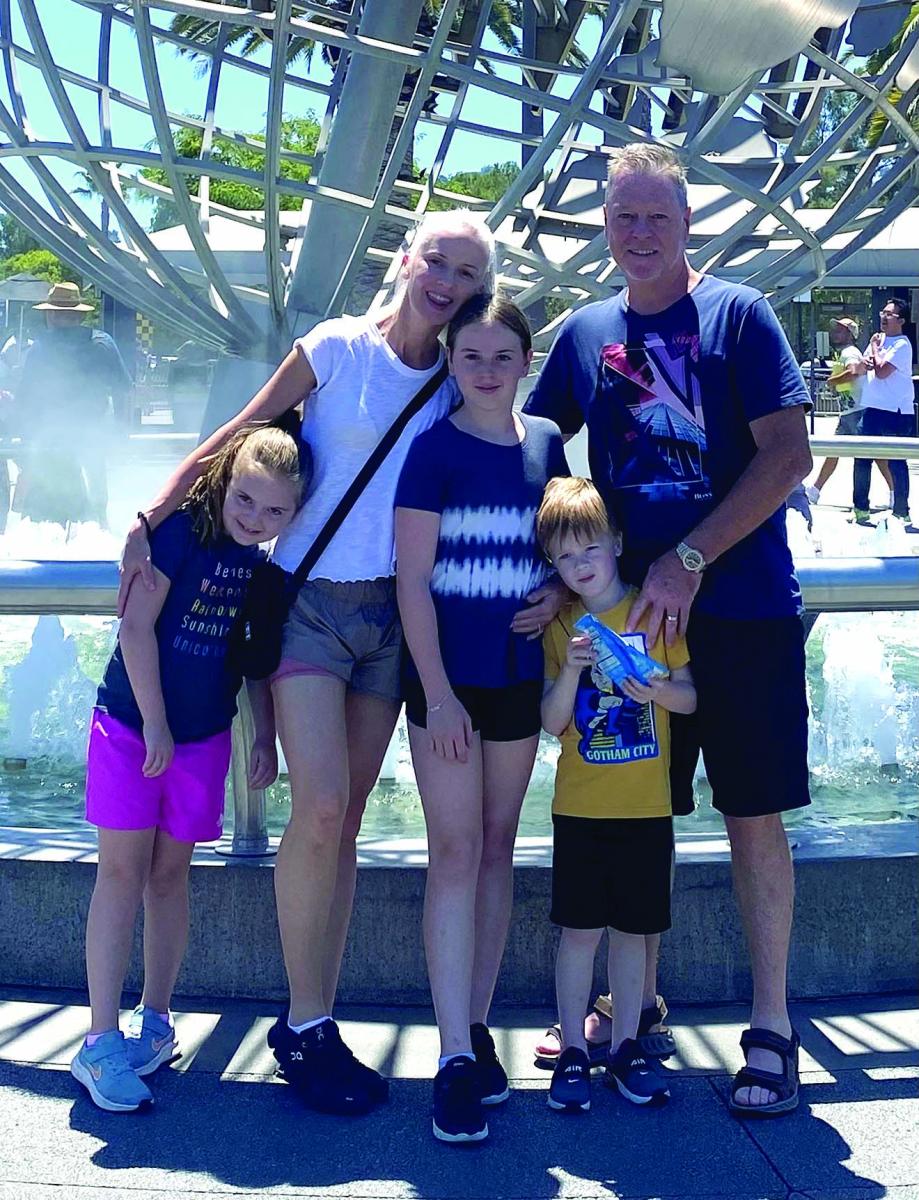 Jon, his wife Nicole, and their children Vivienne, Alanna, and Stone.
Cronin said his dedication is about having seen the suffering and poverty locally and around the world. Nicole and their children are often part of the effort as well. However, when compared to the folks who run these causes, he feels his effort is minimal.
"It's enjoyable to help in that way," he said. "I don't golf, and I don't sail…The people who do this work do it 60 hours a week. I do it two hours a week. I don't see it the way others might…You make a tiny, tiny difference and it makes your day."
Cronin's friends and acquain-tances on both sides of the Atlantic describe him as someone admirable for his success and his quiet generosity. With an eye for opportunity and the patience to carry things out, he is seen as much a success in Boston as in Cork.
Perhaps it all is best described by his childhood friend and business partner, Seanie McCarthy.
"What people don't see is the amount of work Jon does behind the scenes for the ordinary person and that he has a big heart and a very big heart for Irish people," said McCarthy. "Our loss in Cork has been Boston's gain. That's the way we put it."