By Rian Immigrant Center
July 1, 2020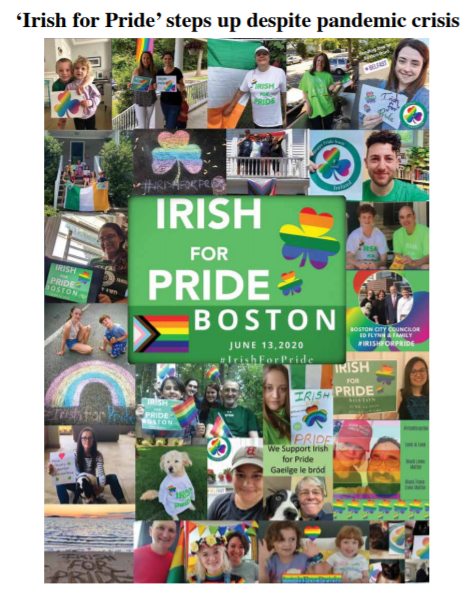 In the absence of the Pride Parade this year, members of the 'Irish for Pride' group still came together on June 13 to celebrate the event virtually as a way to demonstrate their ongoing support and commitment to equality and inclusivity of the LGBTQ+ community. 
We were delighted with the response and enthusiasm from the community, and it was great to see all the photos coming in all weekend.  We had over 50 people participate, from Boston to Rhode Island and New Hampshire; we even had folks from Ireland joining in the fun. We were very impressed with how creative people got, and it was so fun to see people get their pets involved!  
Thank you to all who participated, we look forward to June 2021 when we can come together in person as a group and join in the parade once again.  
The virtual celebration was organized by the Rian Immigrant Center, in partnership with the Consulate General of Ireland, Boston and partnering organizations Boston Irish, Boston Northeast GAA, Charitable Irish Society, Cumann na Gaeilge i mBoston, Enterprise Ireland, Boston Friends of the Gaelic Players Association (GPA), IDA, Ireland Funds, Irish American Partnership, Boston Irish Business Association (BIBA), Irish Cultural Centre of New England, Irish Network Boston, Irish Pastoral Centre, Eire Society, and the Irish Film Festival Boston.  
Thank you to all these wonderful organizations for getting involved and spreading the word, and a special thanks to the team at the Irish Consulate for their work on this event and their ongoing support each year.