By Sean Smith, BostonIrish Contributor
February 17, 2023
A look at upcoming Irish/Celtic (and Celtic-related) music events in Greater Boston – and yes, there are rather a lot.
•The annual "St. Patrick's Day Celtic Sojourn" production will be on stage at four locations this year: Shalin Liu Performance Center in Rockport (March 15); Groton Hill Music Center (March 16); Sanders Theatre in Cambridge, MA (March 18, two shows); and Cabot Theatre in Beverly (March 19). The show is similar to its "Christmas Celtic Sojourn" cousin, with plenty of music, dance, and songs from Irish/Celtic strains, as well as recitations and general warmth and wit. So far, performers include Nuala Kennedy (flute, whistle, vocals), Eamon O'Leary (guitar, bouzouki, vocals), Kevin Burke (fiddle), Katie McNally (fiddle) and Neil Pearlman (keyboards). Inevitably, there will be attention and concern regarding the health of "Sojourn" founder and guiding spirit Brian O'Donovan, but at "Christmas Celtic Sojourn," the cast, crew, and community displayed an overwhelming level of support and caring that gave the whole thing an extra lift – and there's every reason to think the same thing can happen again.
Details and updates at celticsojournlive.com
•Before "Celtic Sojourn" comes to The Cabot, the theater will be host to Canadian Celtic music power couple Natalie MacMaster and Donnell Leahy on March 2 at 8 p.m., a show that was rescheduled from earlier. Representing the union of two legendary family music traditions, fiddlers and step dancers MacMaster (native of Cape Breton) and Leahy (Ontario) have now one of their very own: Their children typically travel with them on tour and join the pair during their concerts of powerful, up-tempo instrumentals as well as intimate, heartfelt melodies. MacMaster and Leahy have earned numerous honors, including JUNO and East Coast Music Awards, and have starred in their own family Christmas special. 
Tickets, info at thecabot.org 
•Another "Celtic Sojourn" venue, the Shalin Liu Performance Center in Rockport, will present three additional Celtic music events this month, starting with the Seamus Egan Project on March 5 at 7 p.m. It's the most recent venture of the Solas co-founder, a master of multiple instruments and an esteemed composer and arranger, as well as interpreter of traditional music and original music with traditional elements. For his Project, Egan gathers assorted musical friends and acquaintances to perform his original works, which were highlighted on his 2020 album "Early Bright." Joining Egan (flute, whistle, banjo, guitar, mandolin) here will be Boston-area fiddler Jenna Moynihan, guitarist Kyle Sanna, and bouzouki/harmonium player Owen Marshall.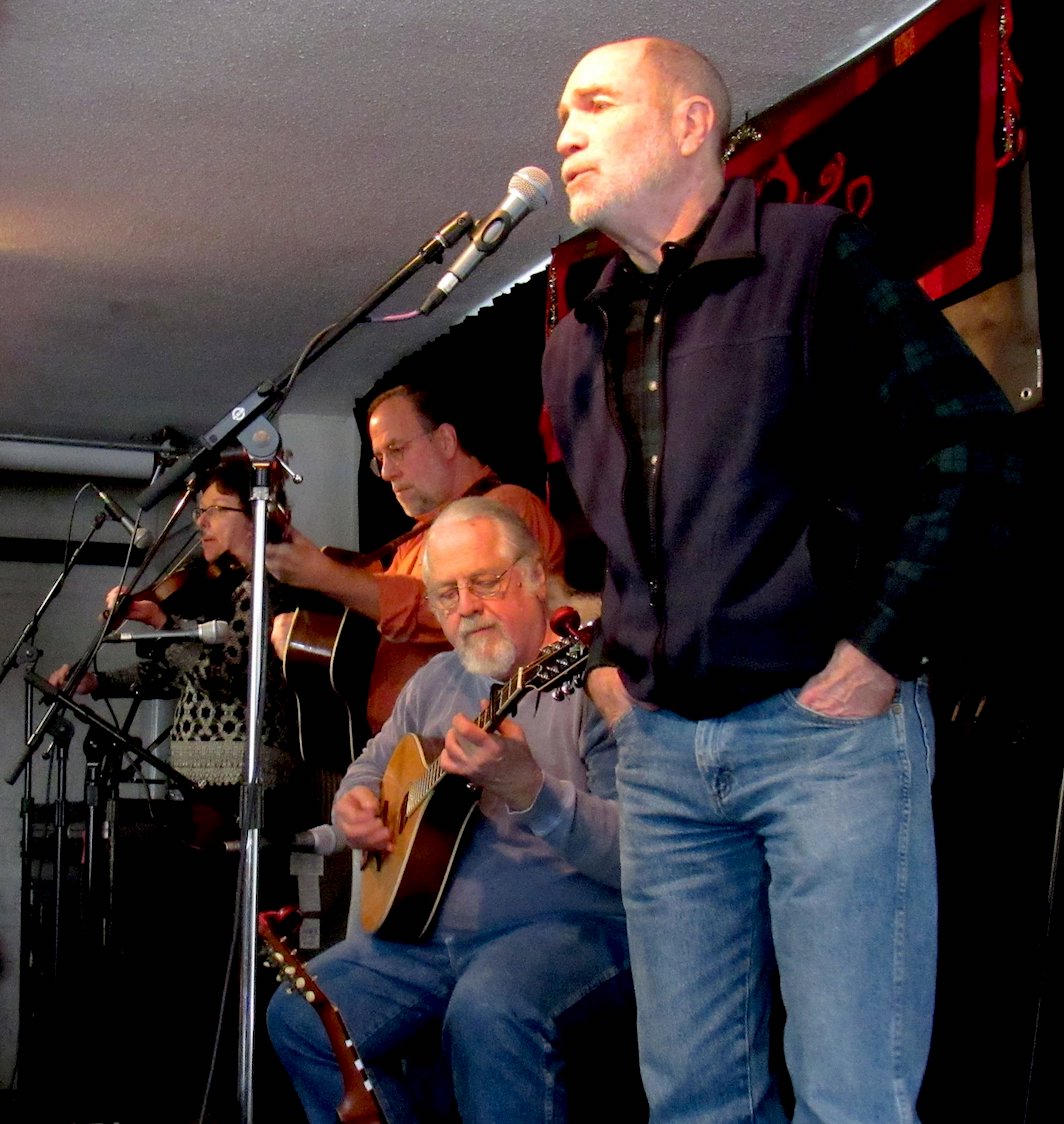 Michael O'Leary (right), Steve Levy, and Bob and Jen Strom are at the Shalin Liu Performance Center's "Upstairs on Main" series. Photo by  Sean Smith
On March 10, Shalin Liu's "Upstairs on Main" series hosts a concert and ceili by Cape Ann singer Michael O'Leary with friends Bob and Jen Strom (guitar, fiddle, vocals) and Steve Levy (tenor banjo, mandolin, bouzouki, guitar). O'Leary is a singer of Irish, Scottish, and maritime ballads and songs who has appeared at BCMFest, Portsmouth Maritime Folk Festival, Rockport Celtic Festival, Irish Connections Festival, New England Folk Festival, and other events and venues in New England. He also organizes music cruises in Gloucester Harbor and sessions on the North Shore. In 2003, O'Leary was co-recipient of a Massachusetts Cultural Council Traditional Arts Apprenticeship grant that enabled him to study the traditional Irish sean-nos singing style from Bridget Fitzgerald. 
Donegal band Altan also will be in this month's line-up. See just below.
Go to rockportmusic.org for tickets and information.
•Naturally, the Burren Backroom series will do its part in contributing to March merriment, as Dervish pops in on March 8 in for shows at 6 and 8:30 p.m. Originally formed in 1989 as the Boys of Sligo, the band acquired a key part of its identity with the arrival in 1991 of lead singer and bodhran/bones player Cathy Jordan. Since then, Dervish – besides Jordan, its members are Shane Mitchell (accordion), Liam Kelly (flute/whistle), Brian McDonagh (mandola/mandolin), Michael Holmes (bouzouki) and Tom Morrow (fiddle) – has been a compelling exemplar of the instrumental and song traditions of Sligo and Leitrim. They've performed at events and venues all over the world, represented Ireland in the Eurovision Song Contest, served as cultural ambassadors to China, and received a BBC Lifetime Achievement Award in 2019. Their most recent album, "The Great Irish Songbook," features classic Irish songs sung by special guests like Steve Earl, Andrea Corr, Vince Gill, Kate Rusby, Imelda May, and Rhiannon Gidden.
Another groundbreaking and well-respected band, Altan, comes to the Backroom on March 28 at 7:30 p.m. as part of a swing through Massachusetts that will include stops at the Center for Arts in Natick on March 24 (natickarts.org) and Shalin-Liu Performance Center on March 25 (rockportmusic.org). A foremost exponent of the Donegal tradition, Altan – Mairéad Ní Mhaonaigh (fiddle, vocals), Martin Tourish (accordion), Ciarán Curran (bouzouki), and guitarists Mark Kelly and Dáithí Sproule – also are adept at making connections to music of other cultures and genres. The band's most recent album, "The Gap of Dreams" (2018), celebrates its birthplace and the valuable role of music, songs, dance, and stories played in helping past generations cope with the demands of rural life, as well as famine, conflict, and emigration. 
The following night, March 29 at 7:30 p.m., will be Celtic-American roots band RUNA, which fuses Irish and Scottish music with Americana/roots, adding harmonies, rhythms and tints of jazz, bluegrass, flamenco and blues. The quintet of Shannon Lambert-Ryan (vocals, bodhran, step-dancing), Fionán de Barra (guitar), Cheryl Prashker (percussion), Jake James (fiddle), and Tom Fitzgerald (fiddle, mandolin) has a distinguished record of achievement in its nearly decade-and-a-half history, earning honors in the Irish Music Awards and Independent Music Awards. In 2020, they extended their artistic reach with an album of seasonal music, "The Tide of Winter."
The event to end all events at the Burren during March is, of course, the St. Patrick's Day Variety Dinner Show, helmed by owners Tommy McCarthy and Louise Costello, and with a bevy of special guests like Robert Elliott, Rose McCarthy, Padder Giles, Seamus Noonan, and an Irish step dancer or two (or more). The show runs March 17, 18 and 19 at various times. 
For tickets and other information, see burren.com/music.html.
•Not exactly a quiet evening is in store at Medford's Chevalier Theatre on March 18: Gaelic Storm and The High Kings play a double bill beginning at 8 p.m.
Gaelic Storm is, of course, "that band from 'Titanic,'" but they've gone well beyond that cinematic moment, having built a solid and loyal fan base through some 25 years of constant touring, the release of more than a dozen albums, and in particular their crowd-rousing mix of Celtic, country, and rock/pop. Greater Boston native Natalya Kay is the group's new fiddler (since last year), joining co-founders Patrick Murphy (accordion, bodhran, harmonica, lead vocals) and Steve Twigger (guitar, bouzouki, lead vocals) as well as long-serving members Ryan Lacey (percussion, vocals) and Pete Purvis (Highland bagpipes, uilleann pipes, whistle). Gaelic Storm has appeared on the same bill with such acts as the Zac Brown Band, the Goo Goo Dolls, Emmylou Harris, and Lyle Lovett, and at various events and venues including the Telluride Bluegrass Festival, and Milwaukee's Summerfest. Oh, and their song "Scalliwag" was featured on the World music channel in the expansion pack for "The Sims 2" – in "Simlish."
The very model of a 21st-century Irish ballad group, The High Kings derive their sound from the classic style that swept into popularity during the 1950s and '60s through such bands as the Clancy Brothers and The Dubliners. Vocalists and musicians Finbarr Clancy, Darren Holden, Brian Dunphy, and Paul O'Brien have toured extensively throughout the US and Europe, recorded five studio albums and four live albums (including 2020's "Home from Home Live"), and released two live DVDs, combining modern songs in the folk idiom – and from other genres – with some of the benchmark ballad repertoire.
Go to chevaliertheatre.com.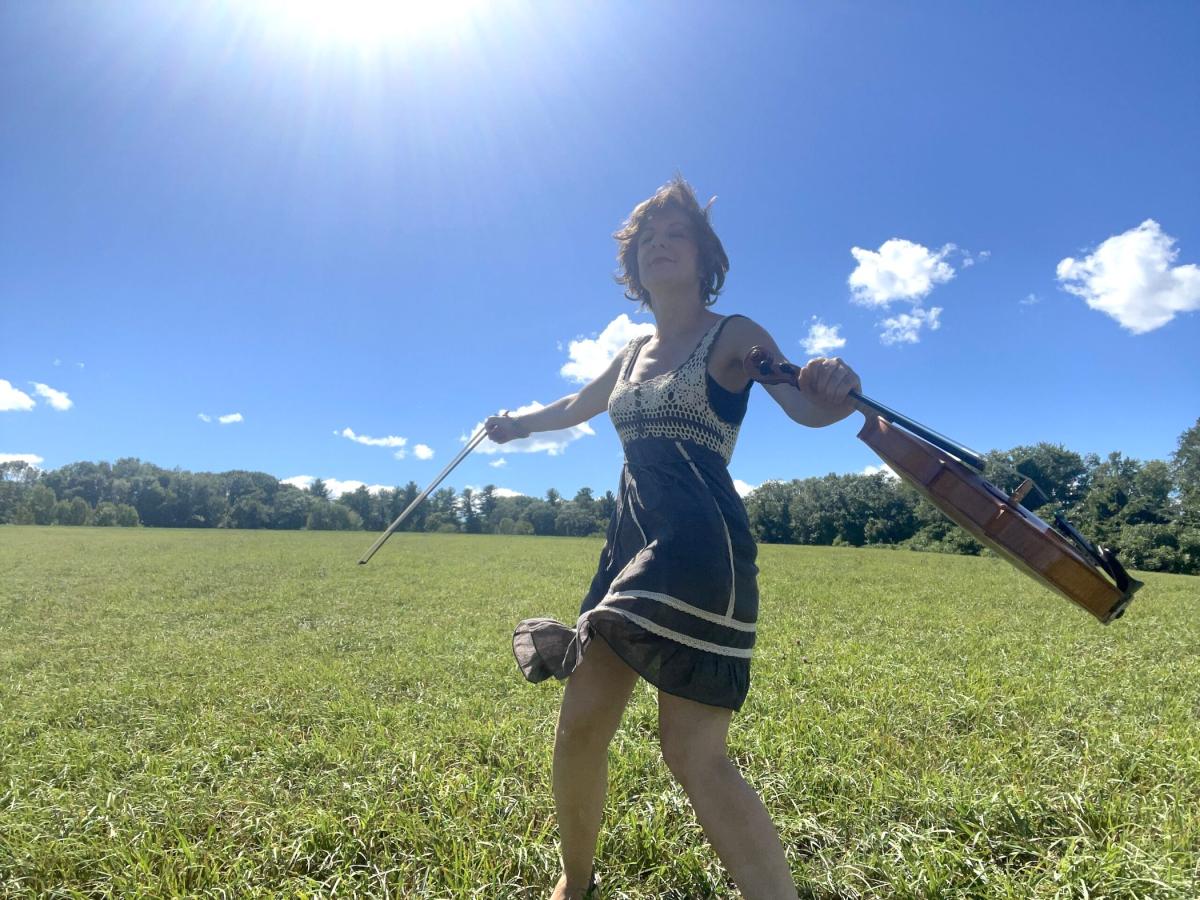 Lissa Schneckenburger will mark the release of her new album on March 7 at Club Passim.
•Among the month's highlights at Club Passim will be appearances by Irish singer-songwriter Karan Casey (March 5) and New England fiddler-vocalist Lissa Scheckenburger, both of whom have brand new albums out. You can read interviews with them elsewhere in this issue.
Coming to Club Passim on March 30 at 7 p.m. will be one of the most influential purveyors of modern Scandinavian music, Väsen, whose work has made fans of many Celtic musicians and listeners. As teenagers, Olov Johansson (nyckelharpa) and Mikael Marin (viola) would visit with older musicians in Sweden's Uppland region, who passed along their knowledge and love of Swedish folk music. The pair later joined forces with Roger Tallroth, whose innovative 12-string guitar accompaniment brought a new dimension to the traditional repertoire: components of rock, jazz, and classical. Over time, the trio integrated its own tunes into the mix, while collaborating and performing with musicians from around the world. Tallroth left the band in 2020 to pursue other musical projects, but Johansson and Marin have continued on – in fact, they're releasing their second album as a duo, "Melliken," this spring.
Tickets available through passim.org.
•Boston College's Gaelic Root series will feature a rare US appearance on March 12  by Sliabh Notes (Matt Cranitch, fiddle; Donal Murphy, accordion; Tommy O'Sullivan, guitar, vocals), which showcases the distinctive Sliabh Luachra tradition and in particular its hell-for-leather slides and polkas. Each member of the trio – marking its 25th anniversary – has impressive resumés: In addition to his masterful solo work, Cranitch has been part of bands such as Na Fili and a duo with accordionist Jackie Daly; Murphy is a founding member of the popular trad/fusion group Four Men and a Dog; O'Sullivan has recorded two solo albums and another with renowned uilleann piper Paddy Keenan. The show will be at 6:30 p.m. in Gasson Hall on BC's main campus. 
The Kane Sisters, Liz and Yvonne, will play at BC on March 23 at 6:30 p.m. at Connolly House (300 Hammond Street). The Connemara natives originally toured with accordionist Sharon Shannon's band The Woodchoppers, and went on to build a following of their own with three acclaimed albums, "The Well-Tempered Bow," "Under the Diamond" and "Side by Side," showcasing their highly developed unison fiddle playing and Sligo/East Galway influence. Their newest album, released last year, is a tribute to the celebrated, and enigmatic, East Galway fiddler Paddy Fahey.
Gaelic Roots events are free and open to the public. Go to bc.edu/irish/events for details.
•A locus for the area's Cape Breton community, the Canadian American Club in Watertown is often a venue for other kinds of Celtic music, and on March 16 it will be the setting for a 7:30 p.m. concert by Open the Door for Three, sponsored by the Boston Uilleann Pipers Club (which runs a terrific monthly session at the Can-Am). Highly accomplished Irish traditional music performers, Maine-based spouses Liz Knowles (fiddle) and Kieran O'Hare (uilleann pipes, flute, whistle) and Irish-born Chicagoan Pat Broaders (bouzouki, vocals) also are known for their astute musical scholarship, with a penchant for digging through print or audio sources to find often rare or obscure gems from Ireland, Scotland, and elsewhere. Their appearances range from Carnegie Hall to L'Olympia in Paris, as well as Shanghai, São Paulo, The Kennedy Center's Ireland 100 festival, the Celtic Colours festival in Cape Breton, Milwaukee Irish Festival, and in The Masters of Tradition series in Cork. Locally, they've played at such events and venues as Féile Cheoil Boston, "St. Patrick's Day Celtic Sojourn," and Boston College's Gaelic Roots series. 
Go the Boston Uilleann Pipers Club Facebook page at facebook.com/BostonUPC for concert information.
•City Winery Boston will present Canada's Enter the Haggis on March 12 at 7 p.m. Well into its third decade, "ETH" has brought together a prodigious – even quirky – blend of rock, fusion, bluegrass, traditional Celtic fare, agitpop, folk, and other strains. Recent years have seen the band add an extra dimension and energy source in the persons of fiddler Rose Baldino and bass guitarist Caroline Browning – also known as two-thirds of the House of Hamill – joining Craig Downie, bagpipes, guitar, keyboards, whistle; Brian Buchanan, fiddle, guitar, mandolin, accordion; Trevor Lewington, guitar, mandolin, keyboards; and Bruce McCarthy, drums. From head-banging, arena-friendly Celtic rock to more nuanced, lyrical, indie-type offerings, ETH combines a versatile repertoire with sociopolitical conviction – all of which is in evidence on their most recent album, "The Archer's Parade," which they released at the very beginning of the pandemic. 
Transcendent Quebecois band Le Vent du Nord will perform on March 29 at 7:30 p.m., in association with Global Arts Live. Throughout its two-plus decades, the band (Nicolas Boulerice, hurdy gurdy; Oliver Demers, fiddle; Simon Beaudry, guitar, bouzouki; Andre Bruent, fiddle; and Rejean Brunet, accordion, bass) has continually shown vitality and inventiveness in incorporating contemporary material – some of it their own compositions – alongside the traditional, and with an awareness of global influences. They've also broadened their already considerable appeal through various projects, such as "Le Vent du Nord Symphonique" – collaborations with the Portland Symphony and Orchester Symphonique de Québec – and involvement in the annual "La veillée de l'avant-veille" year-end event in Montreal. Not surprisingly, the band has a bushel of honors and nominations from, among others, the Juno Awards, Canadian Folk Music Awards and North American Folk Music & Dance Association.  
More at citywinery.com/boston
•As you might guess, the Irish Cultural Centre of Greater Boston in Canton has a marathon St. Patrick's Day in store, beginning at 11 a.m., featuring a number of area musicians such as Joey Abarta, Nathan Gourley, Colm Gannon, Niamh Healy, Patrick Bowling, Adam Hendy, and Skeaf Bridge, along with Jackie O'Riley Traditional Irish Dance, Greene-O'Leary School of Irish Dance, O'Shea Chaplin Academy of Irish Dance, HPK Academy of Irish Dance and others.
There's also an 8 p.m. concert with the band Green Road and soprano Clodagh Kinsella, all with Co. Wexford connections. Green Road combines Irish folk and ballad standards with a country and bluegrass tint, from "Galway Shawl" and "Leaving of Liverpool" to "Only Our Rivers Run Free" to "Sonny's Dream" – a celebration of "the connections between folk music at home and abroad," as they say. Its members ( P.J. Sinnott, lead vocals, five-string banjo; Jon Reville, mandolin, tenor banjo; Tony McCabe, bass, vocals; Ned Wall, uilleann pipes, low whistles; Fergal O'Hanlon, guitar, vocals) boast extensive experience in Ireland's pubs and clubs, sessions and fleadhs, and theater and TV performances.
 Kinsella performs a repertoire of well-known Irish American concert hall classics by the likes of John McCormack and Frank Patterson, but that only covers part of her portfolio. A violinist and pianist as well as a singer, she attended the Royal Irish Academy of Music and has given solo performances of such works as Mozart's "Vesperae solennes de confessore," Haydn's "Stabat Mater," and Handel's "Messiah." She has also been part of Ensemble Dagda, regarded as one of Ireland's most vibrant "HIPster" (Historically Informed Performance) ensembles, bringing playful, engaging arrangements to lesser-heard works of 17th-century music.  
For event and ticket information, see irishculture.org.